Image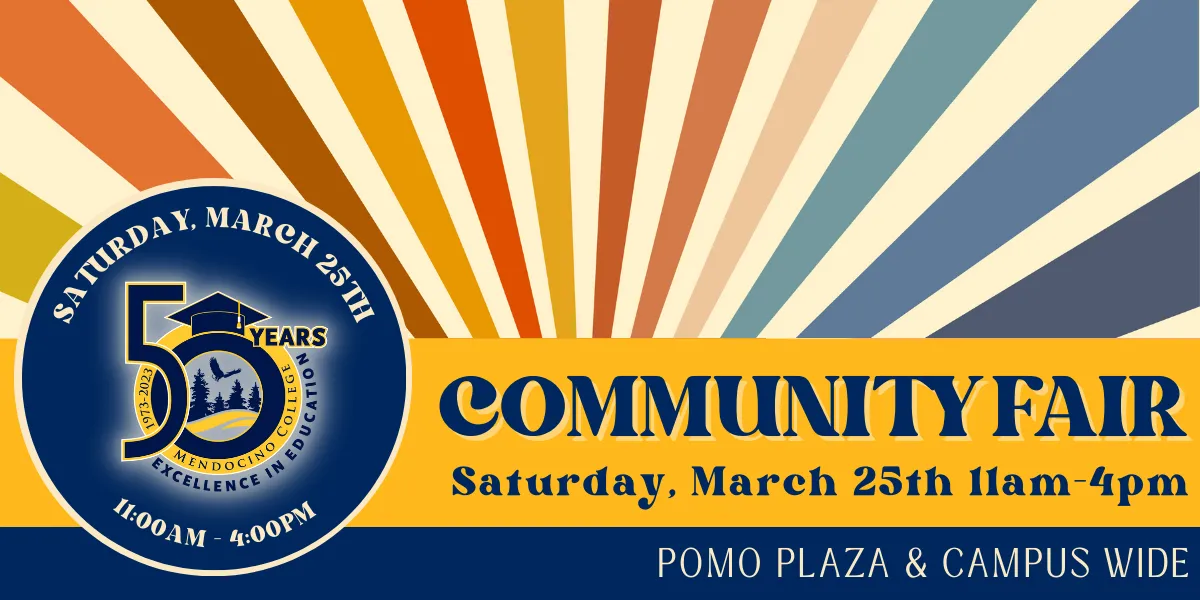 Join us in celebrating our 50th anniversary at a free family-friendly community fair!
Time

Pomo Plaza Stage

Sports

Other Activities

All Day

All events and activities are FREE - No registration is required!

11:00am

Batting Practice / Throw & Catch

Baseball Diamond

Kids Zone Facepainting

-

 Lawn Games

-

Car Show

-

Food Vendors

-

Pastels under the Oaks

-

Ceramics

-

Gardening Activity

-

Culinary Arts Demo

-

AND MORE!

11:30am

 

Intro to Disc Golf

Disc Golf Course

Gardens Tour

Meeting Point

12:00pm

Kids Storytime

Library

12:30pm

 

Basketball Shoot Around

Gym

1:00pm

Aztec Dancers

Pomo Stage

Putting Competition

Disc Golf Course

Yoga Class with Jeff Brunner

Dance Studio

1:30pm

Ballet Folklorico
-
SPACE Dancers

Pomo Stage

New Play Showcase

Library - 4210

2:00pm

City of 10,000 Buddhas  performance

Pomo Stage

Volleyball 'All Comers' Game

Volleyball Sand Court

Gardens Tour

Meeting Point

2:30pm

'Once' Preview

Pomo Stage

Piñata

Under the Oaks

3:00pm

Point Arena Manchester Pomo Dancers

Pomo Stage

Pilates Class with Dena Watson-Krasts

Dance Studio

3:30pm
Letter from the President
2022/23 marks an unprecedented time in the history of Mendocino College.
It is our 50th anniversary––a moment in which we can reflect on our past triumphs and look forward to a bright future for this institution and its students. The Mendocino-Lake Community College District was formed in September 1972 by vote of the residents of the Anderson Valley, Laytonville, Potter Valley, Round Valley, Ukiah, and Willits Unified School Districts. In 1974, the district grew to include the Lake County districts of Upper Lake, Kelseyville, and Lakeport. In 2017 the Mendocino coastal area join the district through a transfer of territory from College of the Redwoods. From our humble beginnings offering courses in portable classrooms at the Ukiah fairgrounds and multiple locations throughout town, building a new main campus in the 1980's, constructing centers in Willits and Lakeport in 2010's, to acquiring the coast center in Fort Bragg in 2017, it has been our passion to serve the educational needs of the residents of Mendocino and Lake Counties.
We are proud to serve a rich and diverse region of California totaling over totaling 5,207 squares miles including rich forestry, fishing, lakes, agriculture, wine industry, and more. The district includes 51 towns/cities and 14 federally recognized Native American rancherias/reservations. Our program offerings and services have grown to reflect the changing nature and needs of our communities. We continue to make a significant impact on the economy in our region year after year; support a vibrant performing arts venue; targeting training in emergency services, firefighting, construction, and other technical careers; and advanced higher educational opportunities for all.
As Mendocino College celebrates its 50th anniversary, let us continue to progress, guided by our mission to partner with a dynamic community of diverse students to help them achieve their educational goals. Engagement, inclusion, community, and students will continue to be at the forefront of all we do at Mendocino College.
Mendocino College at 50 represents an inflection point for the district, as we look to the half century ahead and focus on the college we are becoming, the students we are graduating, and the world we are helping to shape.
Mendocino College: Your Community. Your College. Your Success.
Sincerely,
Timothy Karas, Ed.D
Superintendent/President
tkaras@mendocino.edu
History of Mendocino College
50th Anniversary Slideshow
1972 - A new college district was formed to serve the Mendocino County areas of Anderson Valley, Round Valley, Ukiah and Willits. Peter DeVries was named first president.
1973 - The Redwood Empire Fairgrounds was selected as the temporary site for the college until a permanent home could be found.
1973 - A name for the new college was chosen -- Gateway Community College. After just a few weeks the college was renamed Mendocino College. The Eagle was chosen as a mascot and blue and gold as the new college's colors.
1973, August - Portable classrooms arrived at the Ukiah County Fair Grounds and the first fall semester began in September with over 1,000 students enrolled.
1974, Spring - Number of students had grown to 2,312. Available space was already stretched to capacity. More temporary buildings were brought in.
1974 - Course offerings expanded each year, with students receiving instruction in the newest technology.
1974 - The Lake County Center began in a modest temporary building.
1977 - The first Willits Center office opened in a temporary location on Main Street in downtown Willits.
1977 - College Trustees purchased 127 acres of the old Yokayo ranch as a permanent campus. Ground was broken on October 21, 1983, the first building, the library, was built, and the old portables were hauled up from the fairgrounds. Classes began on the new campus in the summer of 1985.
1978 - The Willits Center was established at 11 Marin Street with two permanent classrooms and began offering day classes in Willits with evening classes in Willits, Laytonville, Round Valley, Anderson Valley, and Potter Valley.
1979 - The Lake Center moved to a larger building as student enrollment grew ever larger.
1980 - College centers in Willits and Lakeport were established. District-wide course offerings had expanded to more than 550 classes, including 120 day and evening classes in Lake County. Distance learning courses were also offered.
1980, February - Mendocino College received full accreditation from the Western Association of Schools and Colleges.
1981 -Facilities at the Fairgrounds in Ukiah became so impacted that some programs moved to other locations. The library relocated to the corner of State and Gibson streets.
1983, October 21 - Ground was broken on the first Ukiah Campus building, the library, and the old portables were hauled up from the fairgrounds.
1985, Summer - Classes began on the new Ukiah campus.
1985-86 - The Classroom/Administration Building was constructed and provided classrooms and faculty and administrative offices.
1987/88- Vocational/Technical Building and Agricultural Headhouse projects were constructed
1988 - New Child Development Lab built, featuring a round design with a central observation room.
1989 - Physical Education complex was added, giving Lake and Mendocino counties world-class facilities.
1993/94 - Mendocino College's Center for the Visual and Performing Arts was built.
1998-99 - Lake Center moves to a new 10,000 sq. ft. facility at 1005 Parallel Drive, Lakeport, one day before open registration for the Fall semester. New building includes a Learning Lab, a second computer lab and additional classroom space as well as Admin offices, counseling offices, a faculty workroom, bookstore and a parking lot.
2003 - New Science Complex started on Ukiah Campus, 20,000 sq. ft. facility, including faculty offices, will replace 2,400 sq. ft. science classes in portable buildings.
2003, August - The Willits Center adds two new classrooms, including a new home for the center's computer lab and a wireless computer network system, at the Mendocino County Museum, part of the Redwood Empire Railroad History Project in Willits.
2004 - New Science Complex opens August; 20,000 sq. ft. facility.
2006 - Measure W $67.5 million Facilities Bond Passed
Mendocino College Community Day!
Saturday, March 25th
11am-4pm
Ukiah Campus - 1000 Hensley Creek Road
50th Anniversary Gallery Exhibit
May 13, 2023 - June 30, 2023