Image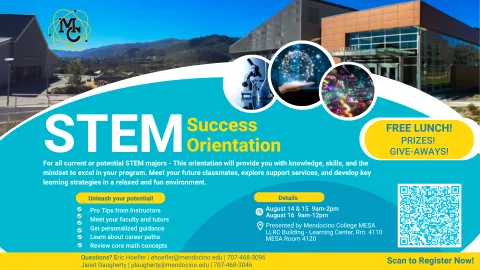 For all STEM majors or potential STEM majors - This orientation will provide you with knowledge, skills, and the mindset to excel in your program. Meet your future classmates, explore support services, and develop key learning strategies in a relaxed and fun environment.
Unleash your potential!
Pro Tips from instructors

Meet your faculty and tutors
Get personalized guidance
Learn about career paths
Review core math concepts
Details
DATES: August 14 & 15 9am-2pm - August 16 9am-12pm
LOCATION: Mendocino College MESA / LLRC Building - Learning Center, Rm. 4110 / MESA Room 4120
CONTACTS: Eric Hoefler | ehoefler@mendocino.edu | 707-468-3096  /  Janet Daugherty | jdaugherty@mendocino.edu | 707-468-3046
Remote access to MESA staff and our group of tutors via video chat and phone is available, please see below or call 707-468-3096.
To live chat on your computer, follow these directions below to get started:
Have your college ID or state-issues ID card available.

Use Chrome or Firefox for your browser. See below for technical support.

Have your webcam ready.

Have your microphone or a headset with a mic ready.

When you see a green light on the page by the staff member, just click on "Knock on Door" to begin chat.

Log-in with your MyMendo username and password.
*All video chats are recorded.*
Join the Mendocino College MESA Community
Are you studying for a career in science? Want to be a mathematician or computer scientist? Plan on being an engineer or a doctor? MESA can help!
MESA is a learning community for students pursuing four-year degrees in the fields of mathematics, science or engineering. MESA helps students achieve in the classroom, progress academically, and develop professionally.
Students who have on-campus friends with similar interests and career goals, and who support and motivate each other toward learning, are more likely to succeed in college. MESA can connect you with just such a group of friends. In addition, tutoring, study groups, and academic advising provide program participants the academic support to ensure success. 
Field trips, networking, and professional development activities are all part of the MESA experience that connect you to a community of learners, on campus and off. The Mendocino MESA center also offers 5 FREE prints a day, text book and calculator rentals as well as microwave, fridge, coffee pot use and a convenient pokestop.
Interested in registering for MESA? For information on how to register, here is new student and returning student registration information. Questions? Stop by MESA in room 4120 of the Library Learning & Resource Center, call (707) 468-3023, or e-mail MESA@mendocino.edu. We are open Monday-Thursday 9AM-8PM and Friday 9AM-5PM.
Abigail Au's journey at Mendocino College began in 2014. Now, almost four years later she is finding herself with opportunities and experiences she never thought possible.
In her Sophomore year of high school Abigail could barely keep a D in her Algebra II class, so her mom suggested that she start taking classes at the college to earn extra credits. After her first semester, she discovered that the college was a much more effective study environment than high school for her, so she continued taking a few college courses each semester while continuing high school.
By her Junior year of high school, she had started to gain the confidence she needed to excel in school. She was earning much better grades and began developing a whole new social life on the college campus. In talking with her peers and professors, she started to learn about the many support programs and services Mendocino College offered. After discovering MESA and the Learning Center, Abigail decided to dedicate a lot more time towards Mendocino College, so she transitioned to being a full-time college student and part-time high school student. She began to get involved with campus clubs and met people who inevitably played a big role in her academic life. Within one semester, she was being recruited as a Phi Theta Kappa member and got her first job as an English tutor in the Learning Center where she met Janet Daugherty, the Learning Center Coordinator. Janet and the Learning Center broke down barriers to success for Abigail. Having a job on campus and having Janet's support helped her stay focused and on campus, which made it easier for her to focus on school.
In her first semester in MESA, Abigail met Dr. Amanda Xu, the program director. She says she considers Amanda a role model and that her guidance and encouragement led her to do many things that will shape her life forever. Joining MESA allowed her to part take in several different trips and provided many scholarship opportunities. With the MESA program, she experienced white water rafting for the first time and successfully created a STEM project for a NASA fellowship. Abigail says, "Because of the motivation and confidence I have gained, I can now proudly say that I am the Vice President of MESA, I am the Vice President of Phi Theta Kappa, and I am surpassing all the expectations I have had for myself as a tutor and as a student."
Juan Carlos decided to attend Mendocino College after he opened rejection emails from both of his top two choices for college. To say the least, he was depressed and disappointed.
"My first time walking through the campus felt like my "walk of shame." From all the rumors of how tragic it is to go to a community college clouding my brain, the path to my first class seemed to drag on," says Carlos. However, he says, as soon as the class started, he began to realize that the courses he was taking at Mendocino College were equivalent to classes he would take in the first two years in any other college - just less expensive in tuition and boarding.
What Carlos says helped remove the "blindfold" for him was meeting two amazing Mendocino College professors, Roger Ahders and Marcus Fredrickson. "Professor Adhers taught as if Calculus 3, Linear Algebra or Differential Equations was as easy as riding a bike. Dr. Fredrickson made chemistry comical even though I had a tough time trying to comprehend the subject" says Carlos. He then decided to join the Math Engineering Science Achievement (MESA) Program, which supported him through the rest of his time at Mendocino College. Carlos attributes the always friendly faces of peers and mentors who are willing to help with questions about homework, directions, class registration, and even college transfer applications. According to Carlos, "Amanda Xu, the MESA Director, never failed to inform me of any opportunities, such as internships and scholarships. She even hired me to be the Work Shop Leader for both Linear Algebra and Calculus 3!"