Image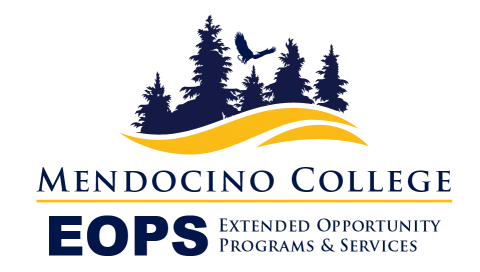 EOPS has reached its capacity for Fall 2023. We are currently NOT accepting new EOPS Applications. The application will reopen in November for the Spring 2024 semester.
Extended Opportunity Programs and Services (EOPS) was established to help community college students from economically and educationally underserved backgrounds succeed in their educational goals and transfer to a four-year institution.
At Mendocino College, the goal of EOPS is to help you succeed in your educational goals. We provide educationally under-prepared and economically underserved students with the tools needed to get the most out of what college has to offer.
The EOPS Program enhances your educational success through academic counseling, textbook assistance, and a variety of valuable support services.
As a team, the EOPS Staff offers you guidance in a supportive atmosphere that promotes independence, self-esteem, and overall personal success.
Services
Extensive Educational Planning (gives students a plan listing all the classes the student will need to take each semester in order to reach his/her goal)
Academic Advisement
Priority Registration
Book Voucher or Book Grant
Set of school supplies (given at the beginning of each semester)
Required Materials Voucher
One-on-One Tutoring
Fee Waivers for Transferring to a university
Textbook Lending Library
Payment of graduation caps and gowns
Payment of Membership Dues to Phi Theta Kappa Honor Society
Work Study Grant
Spring 2023 Hours

Monday- Friday: 9 a.m.- 5 p.m.
Need immediate EOPS assistance? Email us at eops-mc@menodcino.edu
The EOPS Office is located in the Financial Aid/EOPS Office, MacMillan Hall, Room #1130
EOPS Counselors are located in the Counseling Office, MacMillan Hall, Room #1000
Contact Information
EOPS Program
1000 Hensley Creek Road
Ukiah, CA 95482
(707) 468-3113 or 468-3115
fax: (707) 468-3197
eops-mc@mendocino.edu
Instagram @mendocinoeops