Dear Colleagues,
With the festive season upon us, I would like to take a moment to thank you—our outstanding trustees, faculty, staff, and students. You have demonstrated unparalleled commitment, passion, and care to Mendocino College and to those we serve.
The last day of the fall semester was Friday, December 11. We started the semester acknowledging that this was one like no other that has been planned at Mendocino College. Faculty delivered our courses and provided counseling to our students online, on Cranium Cafe, on Zoom and in person where necessary in new ways—with PPE, in small groups, sanitizing as they go. We are proud of the work everyone has done to support students in continuing their learning through these unprecedented conditions.
We also appreciate our students for their perseverance and dedication to their own learning. Of course, this delivery of instruction and services was only able to occur because of the fine work of the staff in all of our departments whose work also changed dramatically during this time.
A special appreciation to our IT and HR departments who supported all of us in our work and to the dedicated employees who have continued to show up on campus in the Library, at the Centers, and the Facilities department who kept our facilities sparkling clean and operational.
I would also like to thank Katie Fairbairn for her years of service here at Mendocino College. She is retiring this month after 25 years. From 1986-2010, Katie held positions in Admissions and Records and the Career Center and as the Administrative Assistant to the Dean of Student Services. In 2010, Katie began her current role as the Executive Director of the Foundation. Since 2013, the annual Foundation Gala has raised over $470,000 and overall contributions raised are $3,800,000. Katie's leadership and passion were key to these successes.
As we plan for another semester mostly online, we also have our eyes on being able to invite our students back soon after. We are proceeding with caution and will wait for more information before any decisions are made, but we are at least feeling optimistic enough to imagine it.
This year we have faced unprecedented challenges, which we met as a united community. There is still room for celebration even when the world is upside down. I feel fortunate for being part of MLCCD these last six months. You're all stars.
So as the fall semester wraps up, let me wish you a joyful and restful holiday season. I look forward to resuming our important work together in January.
Dual/Concurrent Demographic Update
At the November 2020 Board of Trustees meeting, there was a request for demographic information of dual/concurrent enrollment students. Below is a demographic snapshot of dual/concurrent enrollment students between fall 2019 and fall 2020.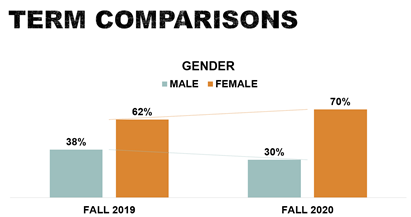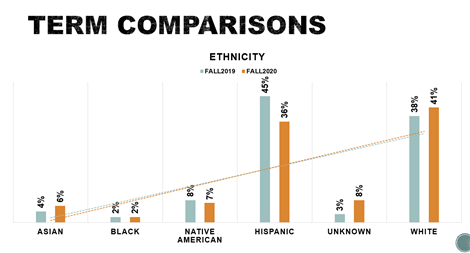 Work Experience Focus
Work experience courses in the California Community College system have undergone significant regulatory changes. Additionally, there are significant differences between work experience in the K-12 system and community colleges. The California Department of Education is the K-12 governing agency and the Chancellor's Office is the governing agency for community colleges. Funding mechanism and types of work experience are different in the two systems.
A basic difference is the funding for work experience. Work experience is a course in community colleges funded through course enrollment. There are no special/additional funds generated through or for work experience. Most community college work experience opportunities are tied to programs of study (majors).
Below is brief synopsis of work experience in both systems:
K-12 Programs Work Experience Education (WEE) Program Descriptions (California Department of Education)
Work Experience Education is a course of study, which the governing board of any school district or other Specified Local Education Agency (LEA) may establish and maintain in accordance with the provisions of the California Education Code (EC). The California Code of Regulations (CCR), Title 5, prescribes the standards and operations guidelines for acceptable programs. Each Local Educational Agency (LEA), if it elects to conduct a WEE Program, must submit a Secondary District Plan for WEE to the California Department of Education for approval (Note: LEAs include school districts, county offices, consolidated programs, cooperatives, migrant education regions and charter schools).
Work Experience Education Guide
California Community Colleges Work Experience (Chancellor's Office: California Community Colleges)
Title 5 Regulations § 55256.5. Work Experience Credit. (a) One student contact hour is counted for each unit of work experience credit in which a student is enrolled during any census period. In no case shall duplicate student contact hours be counted for any classroom instruction and Cooperative Work Experience Education.
The maximum contact hours counted for a student shall not exceed the maximum number of Cooperative Work Experience Education units for which the student may be granted credit as described in section 55253.(b) The learning experience and the identified on-the-job learning objectives shall be sufficient to support the units to be awarded.(c) The following formula will be used to determine the number of units to be awarded: (1) Each 75 hours of paid work equals one semester credit or 50 hours equals one quarter credit. (2) Each 60 hours of non-paid work equals one semester credit or 40 hours equals one quarter credit. (3) Units may be awarded in 0.5 unit increments.
The student/instructor ratio in the work-experience education program shall not exceed 125 students per full-time equivalent academic coordinator.
[Ref: Title 5. Education; Division 6. California Community Colleges; Chapter 9. Fiscal Support; Subchapter 1. Attendance; Article 5. Attendance Accounting Standards]
Work Experience at Mendocino College, Cooperative Work Experience Education (CWEE)
Mendocino College has a long-standing offering of Cooperative Work Experience. Units in Work Experience allow a student to explore employment, develop as an employee, and earn units while they learn on the job. Students work with a Work Experience faculty member and the student's employer to develop learning objectives. The employment (volunteer or paid) they count toward CWEE should be work that is new to them. The student tracks their own progress in meeting their learning objectives, and by the end of the term, they provide a self-assessment of their own learning, and the employer provides and evaluation for the faculty member to assess. Students can earn units in Introduction to or General Work Experience when they are exploring employment and improving their skills and knowledge. In these courses, any type of work is suitable. An Occupational Work Experience course is intended for students developing job and learning objectives related to their academic and career goals. Finally, our Internship and Practicum Courses are designed for students who have advanced toward the end of their program of study and are engaged in work which builds on the academic learning they have completed at Mendocino College.
Enrollments in Work Experience have been steady until the pandemic.
| | | | | | | | |
| --- | --- | --- | --- | --- | --- | --- | --- |
| Semester | Fall 2017 | Sp 2018 | Fall 2018 | Sp 2019 | Fall 2019 | Sp 2020 | Fall 2020 |
| #Students | 48 | 69 | 68 | 94 | 44 | 52 | 13 |
Some special projects in Work Experience have been our collaboration with the Construction Boot Camp in Ukiah and work with Fort Bragg High School, where about 40 students were enrolled with us in CWEE.
In light of the low enrollments during the pandemic, Dean Aseltyne and VP Polak are taking this year to re-assess work experience. They and the Career Hub Coordinator, Lauren Simmonds, have met with CWEE community college colleagues across our region, have attended conference sessions and gathered much information about programs across the state. We are working on a plan to integrate our CWEE opportunities into the Career Hub and considering how it fits into our Guided Pathways plans. 
Executive Leadership Statement
Commitment to Greater Equity and Anti-Racism
In a year that has sharply focused our attention on injustice beginning in May 2020 with the killing of Mr. George Floyd, and the further deaths of Breonna Taylor, Ahmaud Aubrey, Eric Garner, Michael Brown, Sandra Bland, Trayvon Martin, and Tamir Rice. The events of the past year remind us of the perseverance of racism. Perhaps, for some of us, it could be easy to feel distant from the rest of the country's strife in our relatively peaceful rural counties. However, our own local social fabric is woven by its own historical and structural racism. The Executive Team at Mendocino College supports the Academic Senate and their resolution on Black Lives Matter and practicing anti-racism, and we are adding our own voices in solidarity.
On June 3, 2020, California Community College Chancellor Eloy Ortiz Oakley delivered a "Call to Action", to address structural racism and ensure that college communities and students have access to an equal opportunity. The California community colleges represent and serve one of the most diverse populations in the world in terms of race, ethnicity, language, culture, national origin, socio- economic class, age, physical ability, sexual orientation, and religious beliefs.
This reality should strengthen our resolve to stay engaged in equity work in our district and to work harder against racism (overt and structural) and toward social justice.  We can make a difference by infusing equity, anti-racism, empathy, and care into our curriculum, our services and each of our interactions with students.
As practitioners and policymakers we will utilize social justice perspectives in making decisions to improve the success of minoritized groups. A social justice perspective is defined as being conscious of how institutional racism shapes educational access, educational trauma, opportunity, lack of culturally relevant practices, and success in the U.S. for people of color, justice-impacted families, and other minoritized groups.
We know that this has been an extremely challenging time for our community, and we know more challenges will confront us in the days ahead. Many of us are still facing the effects of wildfires or disease on top of the pressures of longstanding systemic injustice.
Yet in times of crisis, we can be made stronger by our human connections. Please take a moment to check in with your co-workers, colleagues, friends, and family. An encouraging word and a moment of focused listening can be an important source of support for those close to us.
In Service,
Superintendent/President Karas; Vice-President Administrative Services Cichocki; Vice-President Student Services Velasco; Vice-President Academic Affairs Polak
Administrative Services Update
The Legislative Analyst's Office (LAO) published its Fiscal Outlook for Schools and Community Colleges.  The following is the summary from that report:
"Dramatic Rebound in the Outlook for School and Community College Funding. Each year, the state calculates a "minimum guarantee" for school and community college funding based upon a set of formulas established by Proposition 98 (1988).When the state enacted the budget in June, it had anticipated steep declines in state revenue and the minimum guarantee. Based on the much stronger revenue projections in our outlook, we estimate the 2020-21 guarantee is up $13.1 billion (18.5 percent) over the June budget act level. We estimate the 2021-22 guarantee is up another $595 million (0.7 percent) over our revised 2020-21 estimate. Under a law enacted in June, the state also would be required to make a $2.3 billion supplemental payment on top of the guarantee in 2021-22. After accounting for various baseline adjustments—including prior-year revisions, a 1.14 percent statutory cost-of-living adjustment (COLA), and required deposits into the Proposition 98 Reserve—we estimate the Legislature has $13.7 billion in one-time funds and $4.2 billion in ongoing funds available for allocation in the upcoming budget cycle.
Legislature Will Face Major Budget Decisions in the Coming Year. Under our outlook, the state has enough one-time funds to reverse all of the payment deferrals it implemented in the June 2020 budget plan. By paying down deferrals, the Legislature could improve cash flow for schools and community colleges and reduce pressure on future Proposition 98 funding. Regarding ongoing funds, we think the Legislature should reassess the supplemental payments after reviewing all of its budget priorities. The funding decline these new payments were intended to address no longer exists, and the minimum guarantee is projected to grow faster than the cost of the COLA over the next several years. Regardless of its decision about supplemental payments, the Legislature might want to set aside some 2021-22 funding for one-time activities. Such an approach creates a buffer that helps protect ongoing programs in case the guarantee drops in the future. Potential uses for this one-time funding include addressing student learning loss, paying down future pension costs, and building reserves."
Following the LAO report, the Chancellor's Office offered this advice: 
"Given the uncertainly and threat posed by the ongoing pandemic, prudence is encouraged until resources fully materialize. The Fiscal Outlook, however, presents an important finding –the opportunity to retire community college payment deferrals adopted in the June 2020 Budget Act. Paying down deferrals could improve cash flow for colleges and protect ongoing programs in case the guarantee drops in the future. Further, the report illustrates resources for some modest investments that support continuity of education and a more equitable recovery, all which align with the California Community Colleges 2021-22 System Budget Request."
We will learn more about the current 2020/21 budget and projections for the 2021/22 budget when the Governor's January Budget is released early next month.  For the time being, we will remain cautiously optimistic.
From Custodial Supervisor Tony Risch:
I am pleased to share some of the custodial team efforts over the past semester, that were above and beyond their basic daily cleaning and sanitizing duties. In addition to keeping things clean, safe and sanitary for our students, guests and faculty:
Michael Willcut from the Coast Center freshened up the wood shop before late semester classes began.
Coni Trejo and Silvia Rodriguez freshened up the CDV Center mid-semester for the littlest students on campus.
And of course thank you to Custodians Maria Zuniga, Elfego Ruiz and Homero Delgado who participated in the completion of the projects.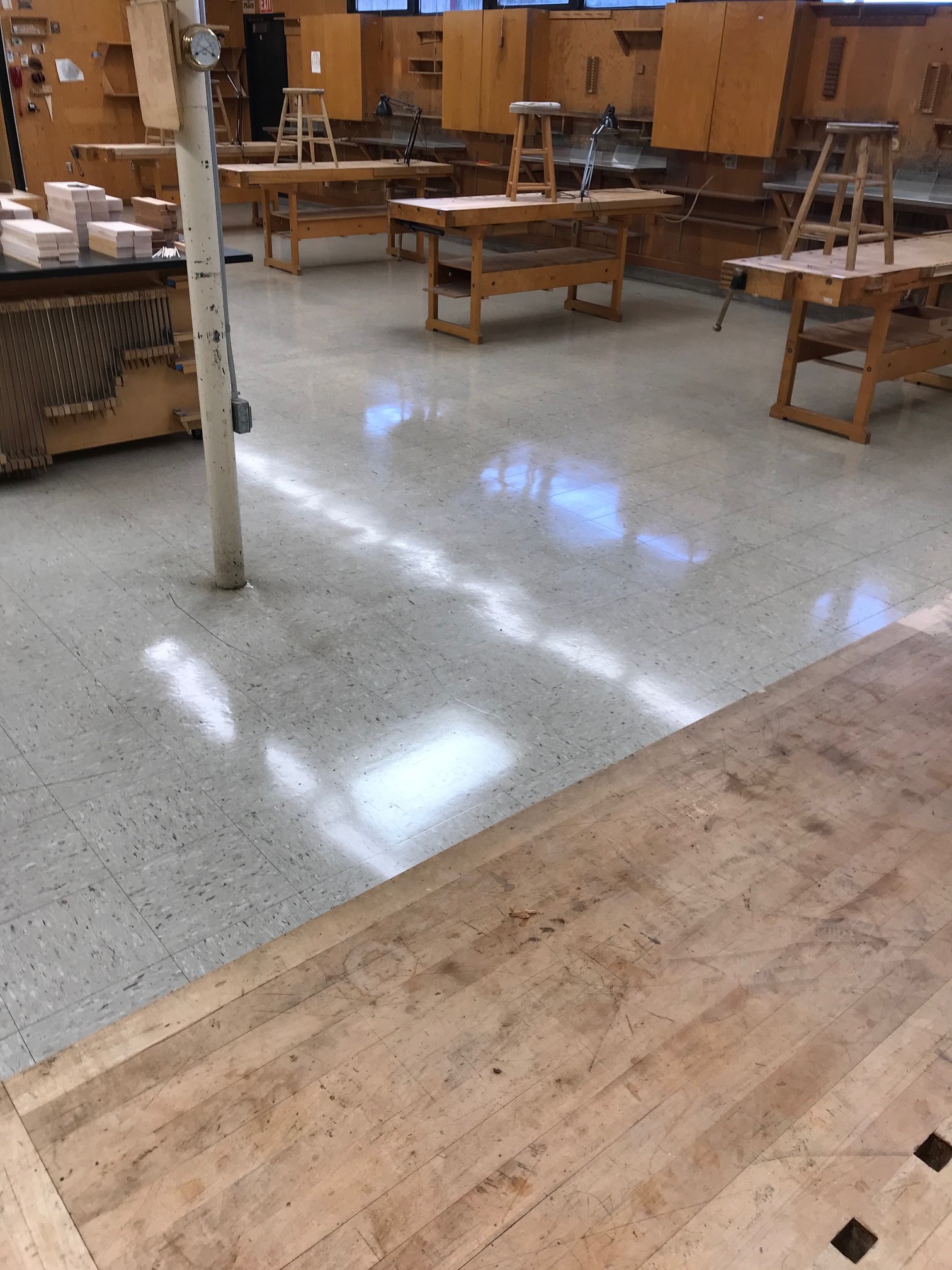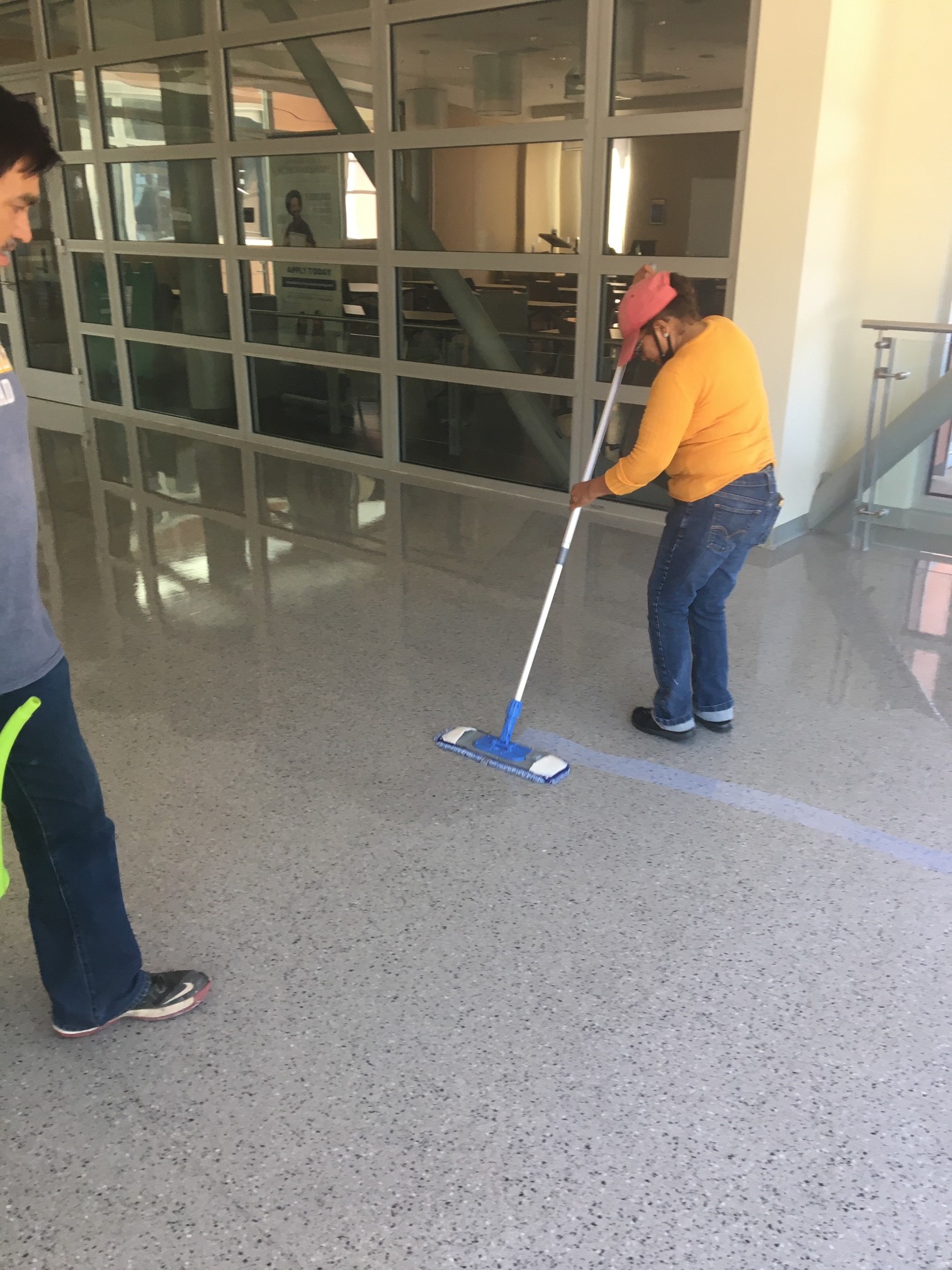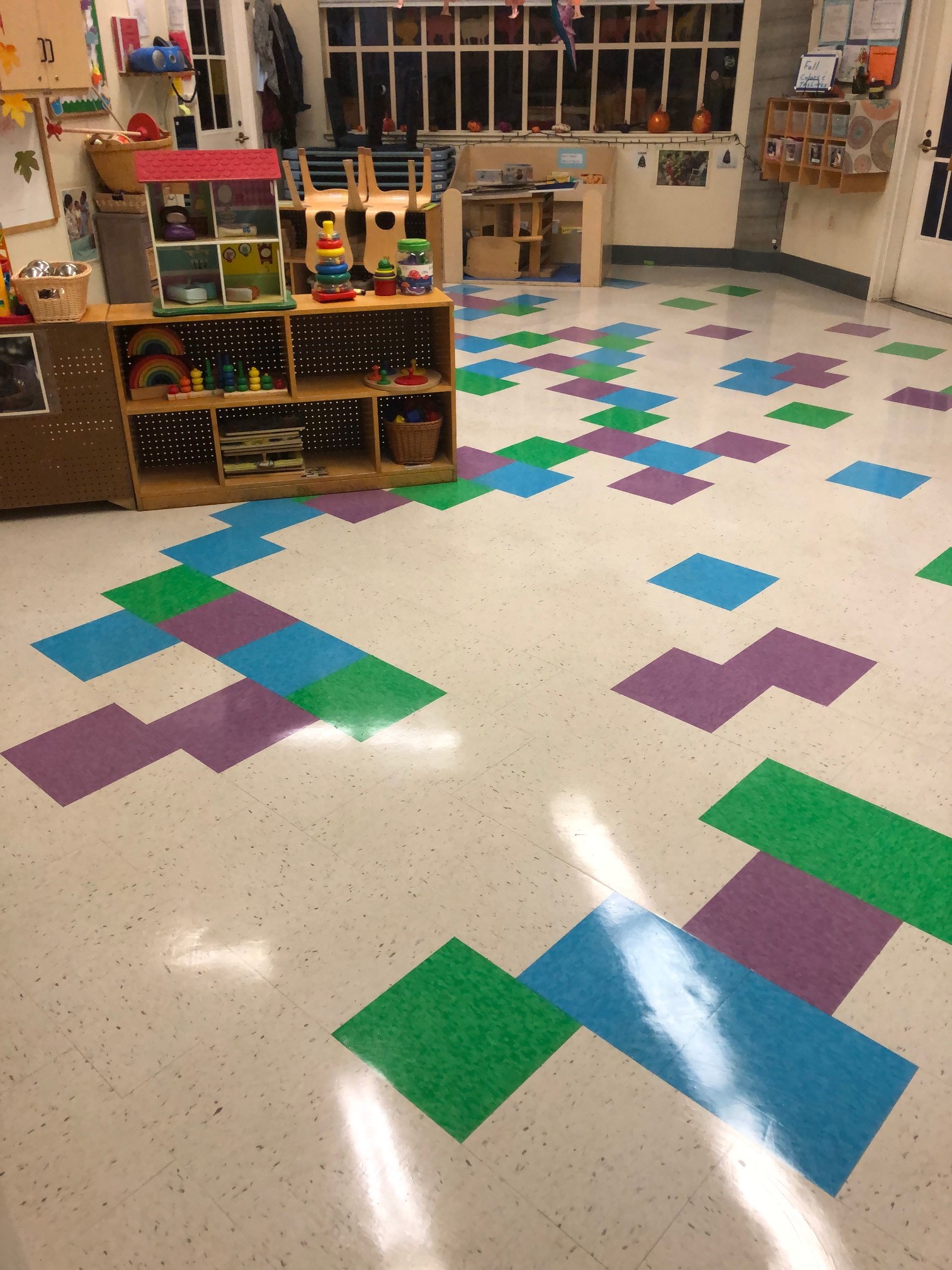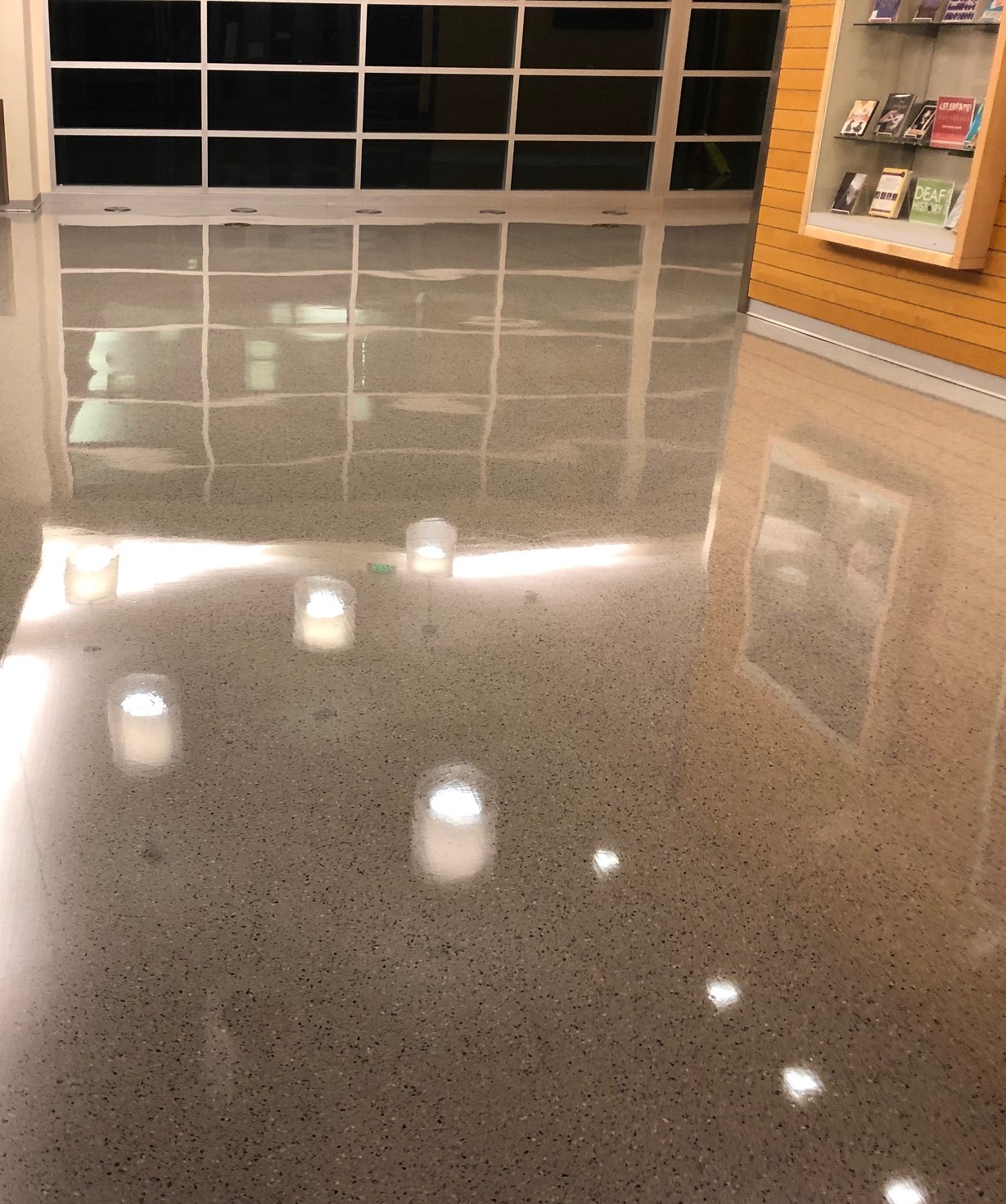 Academic Affairs Update
Three K-12 school districts in our district were awarded K-12 Strong Workforce Program Grants for 2020-21, totaling $381,925: 1) Agriculture Pathways Improvement, Potter Valley Unified will receive $85,000 to increase student access to dual enrollment courses at Mendocino College, create a farm to table program and increase the number of students earning industry certificates; 2) Anderson Valley CTE Academy, Anderson Valley Unified will receive $236,925 to increase opportunities for students to complete graduation requirements aligned with Career Pathways, prepare students for college and career by aligning graduation requirements with CTE standards and collaborate with Mendocino College to give students hands-on experiences in high school; 3) High School Radio Station Upgrade and Community Integration, Mendocino Unified will receive $60,000 to improve transmission and streaming capabilities of the Mendocino High School radio station and increase the amount and variety of station programs, and develop pathway crosswalks and connectivity to Mendocino College Digital Arts and Media certificate program was funded. Mendocino College provided grant guidance, letters of support and CTE program pathway improvement strategies input through the grant writing process.
The Library: The college Library will host drive through return events on December 14 and 15 to assist students in returning materials borrowed from the Library, the Art Department, and other college programs. Throughout the pandemic, the Library, along with the Centers, has remained open and has been a key contact point for students. In addition to providing books, internet access, and limited study space, the Library has already distributed Chromebooks, hotspots, take-home experiment kits for the Chemistry Department, art supplies to art students, and now is also hosting the college Food Pantry.
Canvas support continues: Mendocino College faculty continue to provide assistance to their colleagues about how to best use Canvas. For spring, this work will kick off with a Zoom training on January 6, introducing some of the finer points of Canvas use and answering questions from faculty preparing their spring Canvas shells. There will be regular Zoom meetings throughout the spring semester to share Canvas "tips and tricks." In addition, at the beginning of the semester, Emily Hashemian, who teaches a course on being a successful online student, will provide two training sessions for students where she will show them how to use Canvas and provide tips for successful online studies. 
From Choir Instructor Janice Timm:
"While choir is not really a great thing to teach (or take) online, we were able to complete a recording of one of our pieces to showcase!"
Here is a link to the students of the Vocal Jazz Ensemble (MUS285/585) singing
"Painted on Canvas" by Gregory Porter, arranged by Kerry Marsh
December Symposium 
This month's Mendocino College Symposium, titled Understanding our New Wildfire Crisis: Can We Tame the Blazing Beast? was led by Instructor Chris Ineich. A recording of his talk can be found on the Symposium webpage. Thank you to all of the faculty who continue to make this important series a success. Talks will continue through the spring semseter. 
Career Education
Digital Arts & Media update from Professor Kirk Fuller:
Here are two final project videos that came out of my Introduction to Video Production Course this semester:
All of my students used their own gear or found other ways to make it work this semester due to COVID-19 restrictions. The final video projects were diverse in topic areas and ranged from animation to full-fledged production like Matt's video about reading. What is exceptional about all of them is each student was the writer, director, photographer, graphic designer, editor and producer for their own video. Usually we have production teams in the class but because most students did not feel comfortable meeting in person, this was the only option. As an instructor this semester, I found that being available for one on one zoom calls to help students in a timely manner with their technical problems was essential. We would normally do that in class during lab time. With Zoom, we were able to make appointments, share screens, and resolve most issues. 
Centers
As the fall term comes to an end, the Centers are preparing for Spring. Dual enrollment offerings remain strong at locations across all three Centers, with pathways expanding and new dual enrollment instructors coming on board. In order to prepare dual enrollment instructors, especially during remote instruction, the college hosted a district wide dual enrollment orientation last Wednesday, with representation from all high school partners. Each Center is also hosting regional high school Zoom meetings, with principals and counselors from each site, to share best practices and coordinate resources. This has already led to shared instructional ideas that have resulted in increased offerings. The spring term will bring minimal on site classes at each location. Ceramics and Fine Woodworking at the Coast Center, Culinary, English, ESL, and Agriculture in Covelo through the North County Center, and the Emergency Medical Technician course at the Lake Center. Each location is also working towards developing on ground discipline wide course scheduling templates, for when we return to in person instruction. 
Student Services Update

In Person Student Services
Multiple areas, including Admissions & Records, EOPS, Financial Aid, IT and Counseling, provided in-person support to students in alignment with open registration for the spring semester. Over two weeks, staff were on campus multiple days for three hours at a time to assist students in-person. While students are highly encouraged to perform all their tasks and seek assistance remotely, it is understood that some students require in-person assistance due to technology or connectivity difficulties. Procedures were put in place to follow the most up-to-date public health advisories and all involved wore masks and remained socially distant. While student attendance was low, those that received support were extremely appreciative of the assistance provided by our staff.
Native American Heritage Month Celebrations
Mendocino College transitioned to hosting a month long celebration of multiple events in celebration of Native American Heritage instead of a single, large fall gathering. Our Native American and Other Populations Outreach and Support Specialist, Malissa Donegan was instrumental in convening the Native American Heritage Month celebration workgroup to plan these series of events. The workgroup also included Gayle Zepeda, Apryl Guisasola, Janelle Meyers Bird, Tony Novelli, Monica Whipple, Minerva Flores and Antonio Lopez. While all members contributed to the execution of this month-long celebration, it must be noted that Malissa Donegan and Gayle Zepeda led most of the planning sessions and were directly involved in all the virtual sessions. They are both to be commended and saluted for going above and beyond in order to honor and celebrate our local Native American community. We were able to record the rich and powerful presentations and they are available on our college website. 
The response from the community has been very positive. Facebook posts for this event reached over 1,400 individuals. Comments from those that registered and attended included:  "Big o", "Love how you were able to do Zoom get togetherness", "Thank you for your time and service. I love my community and when we celebrate together we get stronger and find ways to help one another and follow our values.", and "Thank you for this opportunity".
Professional Development
In November, the entire Disability Resource Center staff participated in a virtual two day training that was hosted by the California Association on Postsecondary Disability and Education. The training focused on topics such as legal issues and preventative measures, connecting with students in the virtual world, models of different support programs, LD testing/temporary accommodations, and more.
CAMP Program Manager Dr. Mariana Martinez participated in the CAMP Consortium meeting recently. This was partly a working meeting in preparation for the CAMP Statewide Leadership conference, which will be held March 5 and 6, 2021, virtually and hosted by Santiago Community College. CAMP. Dr. Martinez will be working on a social hour program for the CA CAMP/HEP Professional Development conference in February (virtually).
Registration Campaigns Continues
Multiple student support programs, such as EOPS, First Year Institute (FYI) and CAMP, are performing spring registration campaigns to boost enrollments. For example, of the current FYI cohort of 126 students, 78% have registered for Spring 2021. Students who have not registered (from all 4 cohorts) are being contacted to offer assistance with scheduling counseling appointments or registration. Additionally, Outreach Specialist Manuel Galicia and Counselor Brenda Estrada are working on identifying and onboarding new FYI students.
Similarly, CAMP has begun their 21-22 cohort recruitment and has developed a new CAMP postcard and other material to provide outreach. Director Martinez is in the process of making the CAMP application a Dynamic Form, which will make the process easier for prospective students.
Spring Front Loading Activities
Mendocino College will offer students multiple workshops at the beginning of the spring semester to help prepare students for the new semester. For example, the First Year Institute (FYI) staff will offer virtual workshops on January 13 and 14. Workshop topics will include time management, communication and online learning strategies. They will also hold a drive-up pick-up day for students to gather requested items such as the FYI textbook, Chromebook and calculator from the Lending Library. The CAMP and EOPS programs will also hold similar "drive-up" events to distribute materials to students in support of their studies this spring semester.
Finish Line Scholars Program
Mendocino College is one of 34 colleges to receive part of the largest philanthropic gift given to community colleges in the nation. The California Community Colleges Chancellor's Office, in partnership with the Foundation for California Community Colleges (Foundation CCC), recently announced that the $100 million pledge will help eliminate regional educational gaps by providing scholarships to students who are well on their way toward a finish-line goal of completing a certificate or degree at a California community college or transferring to a university and emergency financial aid to students facing unexpected financial hardships. Mendocino College will receive up to $125 thousand in the first year, and another $125 thousand in the second year. Because of the impact of the COVID-19 pandemic on students, 100% of the first year's grants may be used by colleges to provide students emergency financial aid.
Caring Campus
On November 18, Classified leadership presented to managers the work they've been engaged in throughout the semester with Caring Campus. Classified staff met for four coaching sessions with Jordan Horowitz, Chief Operating Officer for the Institute for Evidence-Based Change (IEBC), about developing behavioral commitments among staff in support of student success.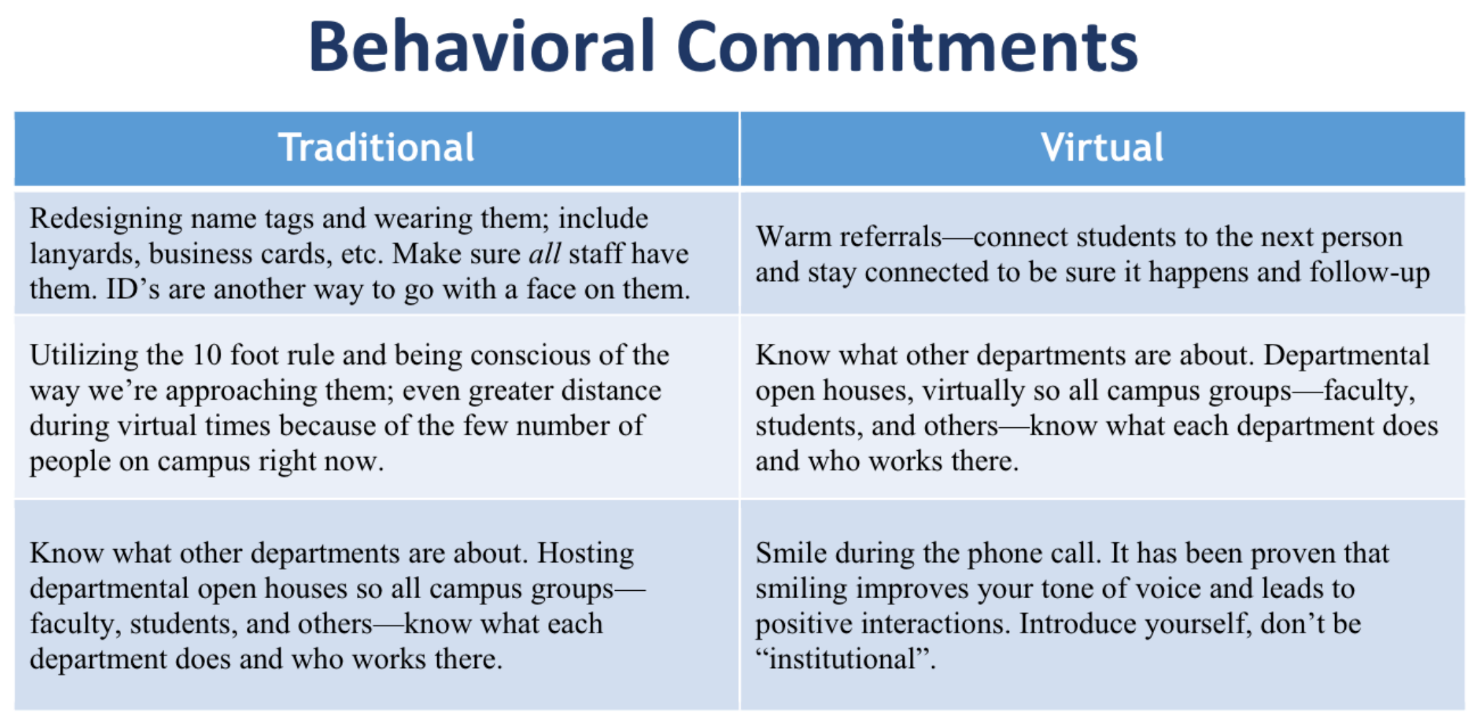 Vice President Velasco met with Classified Senate President Mayra Sanchez and staff member Kris Bartolomei about spring preparations to ensure this work continues through the next semester. Classified leadership is tentatively scheduled to present to the campus community about this initiative again at spring in-service. Additionally, they will be working within Classified Senate to ensure that the different behavioral commitments are communicated throughout campus and effectively executed.
As part of our college engagement with IEBC and Classified leadership, the Caring Campus initiative has been a mainstay of college-wide conversations, particularly within student-facing areas. Classified staff who participated in the coaching sessions reported back to their colleagues regularly. It is through their hard work and continued engagement that this initiative's potential for positive impact for our students will continue to be a focus of our institution's efforts for continuous improvement.
It should be noted that staff from IEBC regularly commented at how incredibly engaged and impressive our staff were throughout this process. They praised those involved, particularly Classified Senate President Sanchez, Vice President Lauren Simmonds, Tony Novelli, Jeana Thompson and Kris Bartolomei, for their support of this initiative.