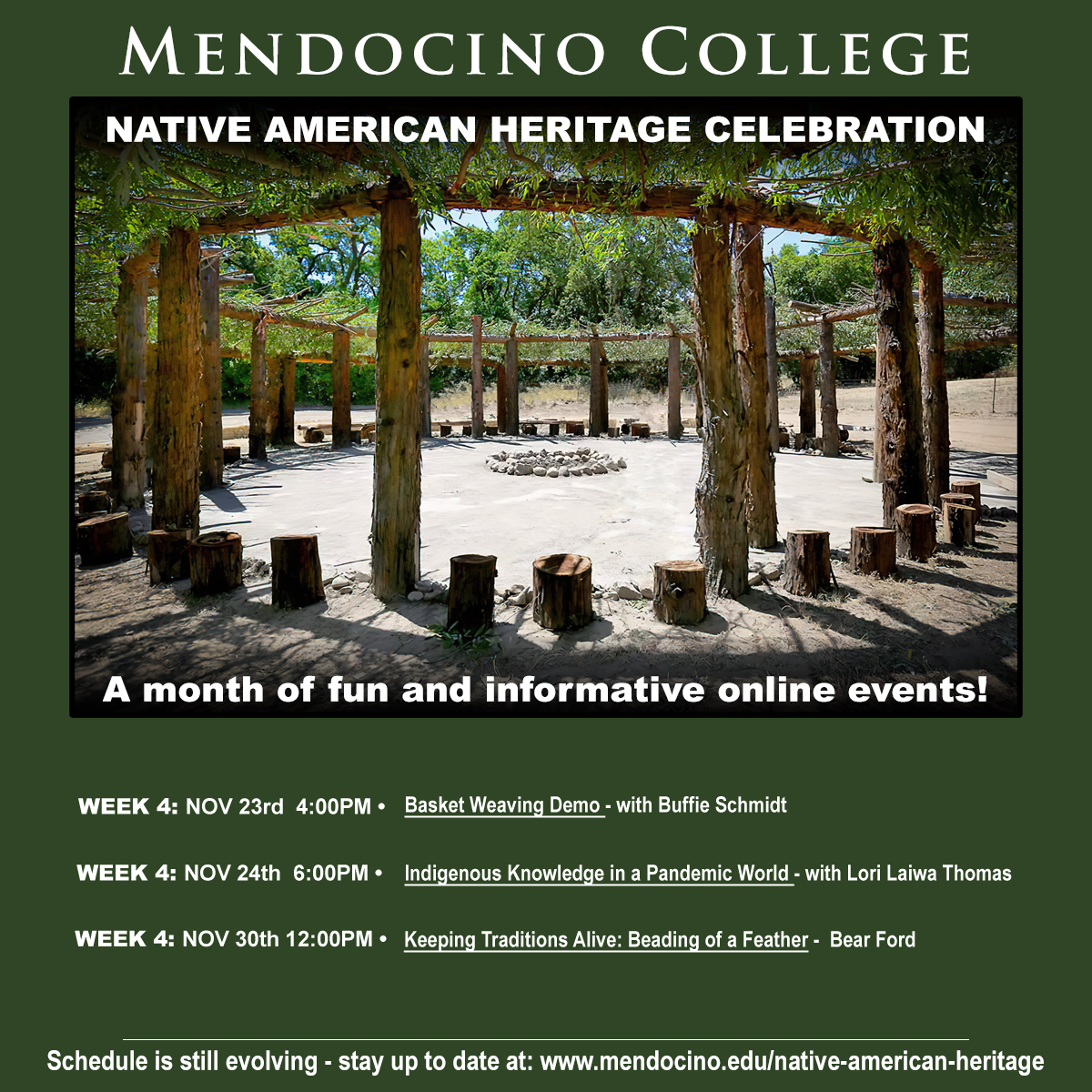 Welcome to the homepage for the Fall 2020 Native American Heritage Celebration - a month-long collection of online presentations and discussions relevant to the community. 
The opening ceremony and following events reflect both the College's deep respect for Native Americans and our desire to strengthen mutually beneficial relationships with our local Native communities. This is just part of our ongoing equity work to strengthen ties with local communities and native sovereign nations. We hope to create a more inclusive campus culture, show respect for our Native students, promote social justice and inspire success among the diverse communities we serve.   
Please register for these events so we can keep you up to date with last-minute changes, additions, and new resources that help support the local community.
Contact for the event is Malissa Donnegan, who can be reached at mdonegan@mendocino.edu. If you have a business or educational program you would like to be listed on this page, please provide that information to Malissa.
Thank you!
SCHEDULE
Tuesday, November 3rd, 2020  12:00PM Pacific Time
Native American Heritage Month Opening Ceremony
This event has passed. View the recorded webinar
Thursday, November 5th, 2020  6:00-7:00 PM Pacific Time
Balancing Culture, Family and Marriage: Presented by Rose and Tony Steele
This event has passed. View the recording
Thursday, November 12th, 2020  6:00-7:00 PM Pacific Time
Women are Sacred: with Debra Ramirez and Diana Elliott
This event has passed. View the recording. 
Monday, November 16th, 2020  3:30 PM Pacific Time
Creating Pathways to Success with Mikela Jones and a Panel of Current Pomo Pathway Students
This event has passed. View the recording. 
Monday, November 23rd, 2020  4:00PM
Basket Weaving Demo with Buffie Schmidt
https://cccconfer.zoom.us/j/98874943890
Tuesday, November 24th, 2020  6:00PM - WE APPOLOGIZE, THIS EVENT HAS BEEN CANCELLED. 
Indigenous Knowledge in a Pandemic World with Lori Laiwa Thomas
Monday, November 30th, 2020  12:00-2:00PM
Keeping Traditions Alive: Beading of a Feather with Bear Ford
https://cccconfer.zoom.us/j/96668938745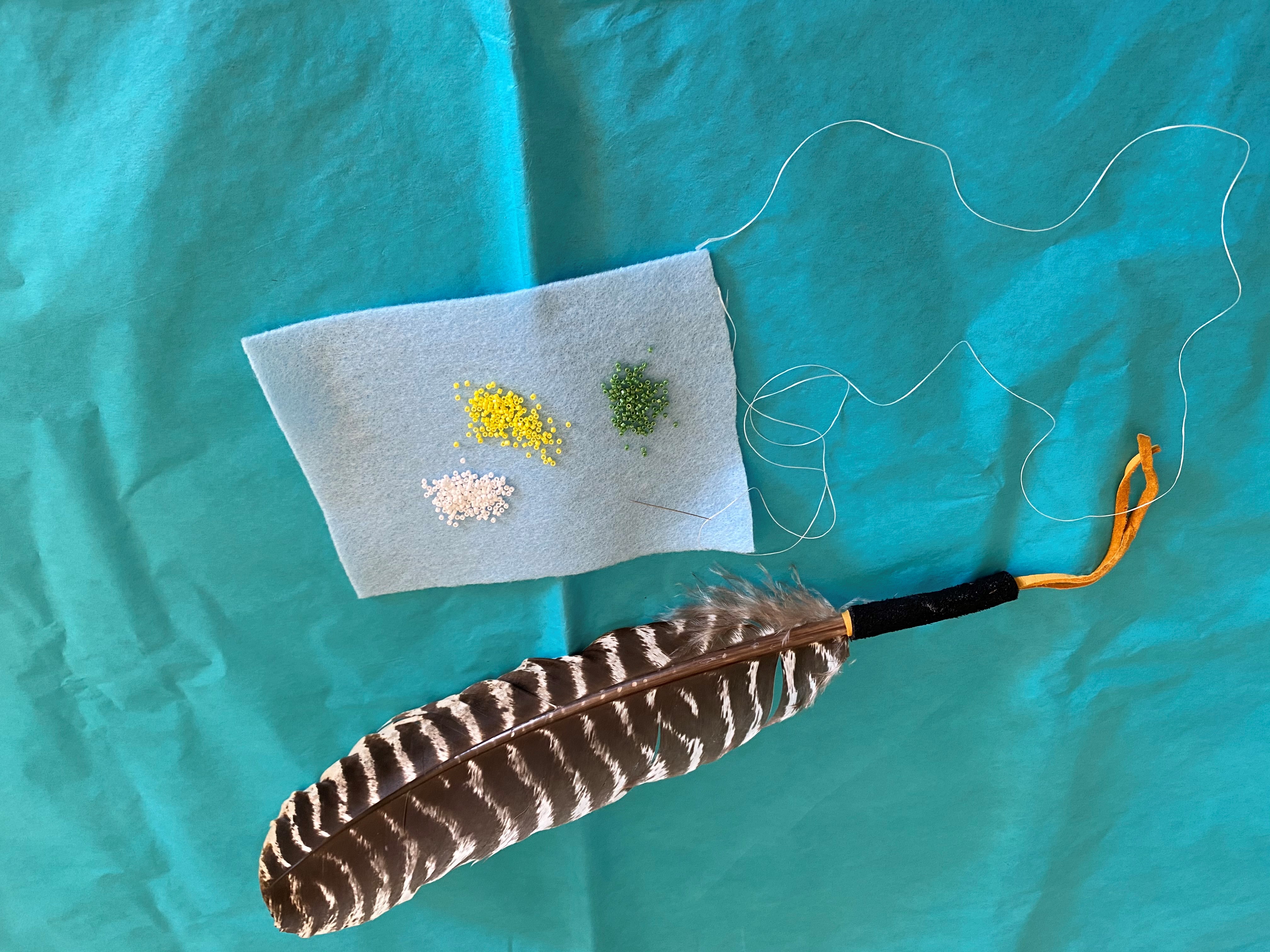 Materials needed:
1 Feather
A piece of Leather (see picture)
2-3 different colors of Delica 11/0 beads or sead beads
Beading thread
Beading needle
If you need assistance finding materials, please contact Malissa Donegan at mdonegan@mendocino.edu.
ADA Compliance: Persons with disabilities needing accomodations, please notify the Public Information Office phone at 468-3012 or email at jbird@mendocino.edu no later than 24 hours prior to the scheduled meeting or event.
PRESENTERS AND GUESTS
Sonny Elliot, Chairman, Hopland Band of Pomo Indians
Debra Ramirez, Chairperson, Redwood Valley Band of Pomo Indians
TeMashio Anderson, Community Member, MC Board of Trustees Member
Dr. Timothy Karas, MC President/Superintendent
Ulises Velasco, MC Vice President of Student Services
Rose Steele
Tony Steele
Diana Elliott
Mikela Jones
Students of the Pomo Pathway program
Lori Laiwa Thomas, MC History Faculty
Buffie Schmidt
Bear Ford
PROGRAMS
Mendocino College Pomo Pathway program - open to all tribal members
RESOURCES
If you are an active Mendocino College student and do not have reliable access to a computer or internet, the college Library in Ukiah may be able to help. Currently the Library is checking out Chromebooks and wireless hotspots to any students who needs them free of charge.  The items are good for the entire semester and available to any registered student after signing an agreement form.  Hotspots are on a renewing monthly cycle and provide LTE speeds for the first 20gigs. The library's hours are 10am-6pm Monday through Thursday, and 10am-2pm on Fridays.   For more information, please visit the library's website at https://mclib.mendocino.edu or contact libraryhelp@mendocino.edu for assistance.
Thank you to the 2020 Native American Heritage Month Planning Committee for organizing this year's events:
Antonio Lopez, Dean of Counseling and Student Programs
Apryl Guisasola, Equity Counselor
Gayle Zepeda, Instructor, Human Services 
Janelle Meyers Bird, Director of Community Relations & Communication
Malissa Rene Donegan, Native American and Other Populations Outreach Support Specialist
Monica Whipple, MLACE Administrative Assistant
Tony Novelli, Marketing & Community Relations Specialist