The month November is special in many ways. On Veterans Day, we paused to honor those who have selflessly served to protect our country in the past and those who are currently serving. When our Veterans return home, they continue to make positive impacts on our country, bringing tremendous skills to their communities and to our workforce. I humbly and sincerely say thank you to those who have served, continue to serve, and to their families. 
November is Native American Heritage Month. MLCCD began with an opening ceremony on November 3, 2020. We were honored to have several tribal leaders speak. The speakers included MLCCD Trustee TeMashio Anderson. As part of his welcome, Trustee Anderson addressed the assembled group in Pomo. 
As I stated in my message at the opening ceremony, Mendocino College sits in the land of the Pomo People, past and present. We recognize that Mendocino College has benefited and continues to benefit from the use of this land. Consistent with our values, we will work to strengthen our relationship with native peoples. A goal of mine is to visit the tribal leaders and councils in Mendocino and Lake Counties.   
A significant piece of information that was shared by VP Velasco at the ceremony was that MLCCD has the second highest percentage (4.71%) of Native American students in the California Community College System. The only district with a higher percentage is our neighbor to the north, Redwood CCD at 5.3%. There are several events to celebrate Native American Heritage this month. Information can be found at https://www.mendocino.edu/native-american-heritage. 
Student Spotlight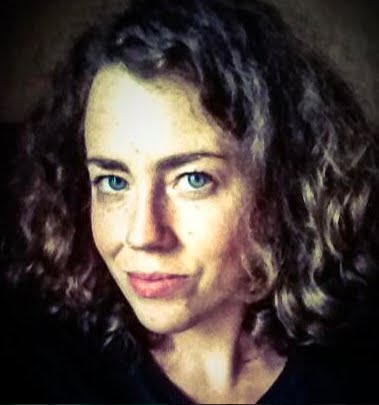 Megan McDaniel is a farmer, re-entry woman, and student who decided to return to school at the age 34 after a 20 year absence from education. According to Megan, "I was terrified to return to school having left the system at the age of 15 without graduating."  Returning to school to earn a degree was a dream and in the Spring of 2018, she decided to make that dream a reality.  Since arriving at Mendocino College, she has completed 62 units (57.0 transferrable) with a perfect 4.0 grade point average. She received the Foundation's Academic Excellence and Carl J. Ehmann Scholarships. She will graduate from Mendocino College later this fall with two degrees in Liberal Arts, with an emphasis in sociology and also in education.
McDaniel and her partner live off the grid in Mendocino County and proudly produce 80 percent of their own food. They raise legumes, grains, nuts, fruit and tree crops. She has a certificate in permaculture which draws from several disciplines including organic farming, agroforestry, integrated farming, sustainable development, and applied ecology.
She credits Counselor Emily Hashemian with helping her navigate the college system and extends high praise to professors Poturica, Rawlinson and Xerogeanes for their excitement and dedication to their subject matter. "The faculty at Mendocino College are outstanding and I had a fantastic experience, thanks to all of them," stated McDaniel.
A farmer by love and instinct, she plans to attend Sonoma State University in the future to obtain a Bachelor's Degree in Liberal Arts with an emphasis in Ecology.  Her future plans include creating an ecology program for young children to teach the benefits of reducing one's carbon footprint on the world. 
Academic Affairs
Symposium
The second lecture in the Mendocino College Symposium series is scheduled for Tuesday, December 1 at 6pm. In his lecture, titled Understanding our New Wildfire Crisis: Can We Tame the Blazing Beast?, Mendocino College faculty member Chris Ineich will discuss the increase in catastrophic wildfires in our region.  
For direct links to lectures and for ongoing updates about the series, please visit: www.mendocino.edu/symposium.
Agriculture Department
The Agriculture Department did tremendous work to pivot the fall plant sale to the COVID environment. Instead of a sale over a few days, the sale transformed to a month long event. This took a great amount of work and dedication by staff and faculty. I am pleased to say that I benefited from the sale and there are now three table grape vines on my family's home in Greece. 
In the past year, the department also took on the colossal project to replace the rotting and collapsing shade house, a central structure and public space in the agriculture area at the Ukiah campus.
The structure was disassembled by the Agriculture Department and the Greenhouse Projects class in winter 2019/20-spring 2020 prior to COVID-19. After the pandemic hit, the project was put on hold due to the lack of funding and students on campus to build the new structure.  
Thankfully the funding for the materials to complete the project were recently secured by Dean, Dennis Aseltyne, through the Strong Workforce Grant.
The construction of the structure, from concrete work to the assembly, was completed with the help of the agriculture department student employees and facilities staff, Tony Lombardi, Nicholai Murray, and Tony Toste.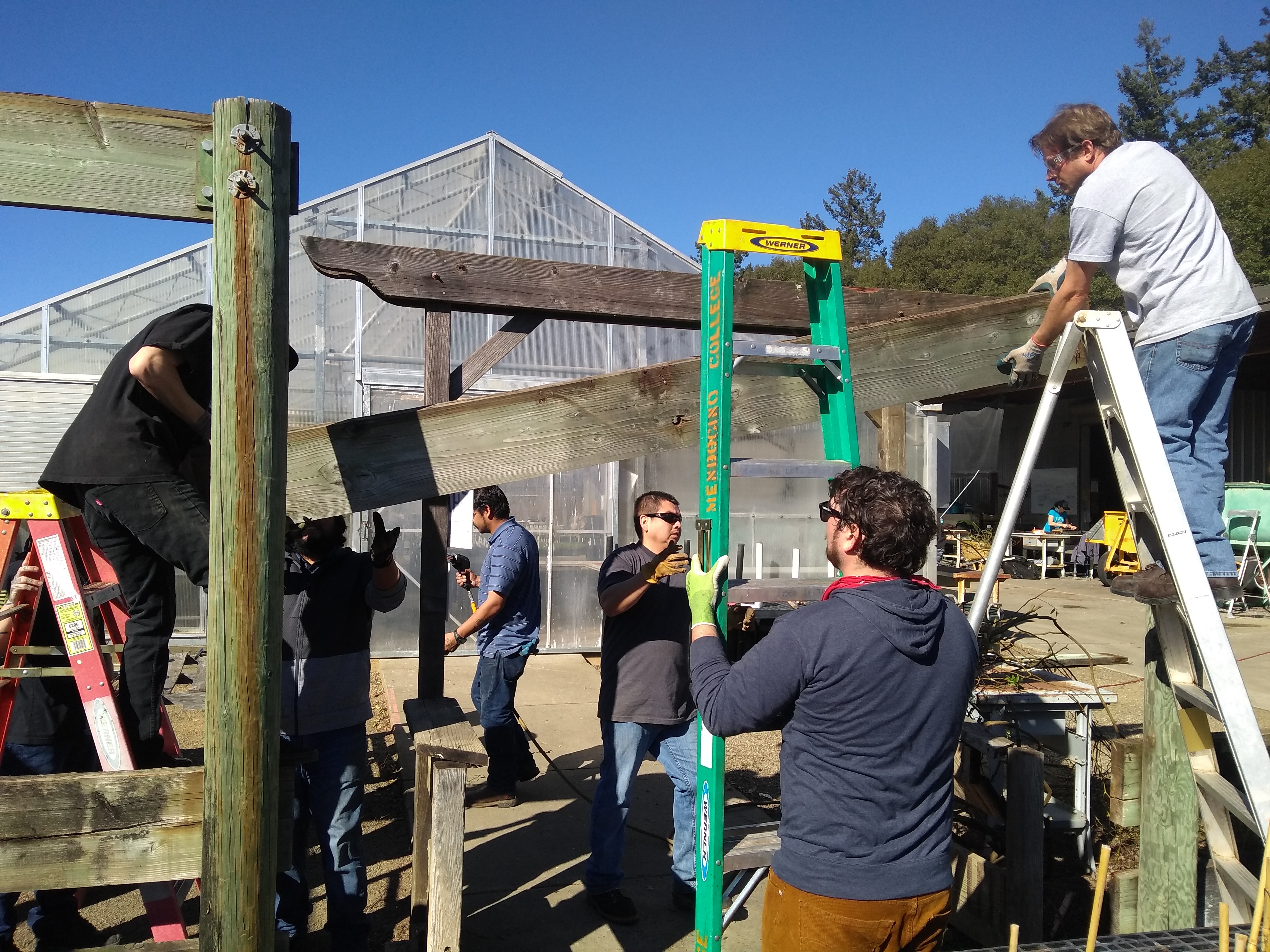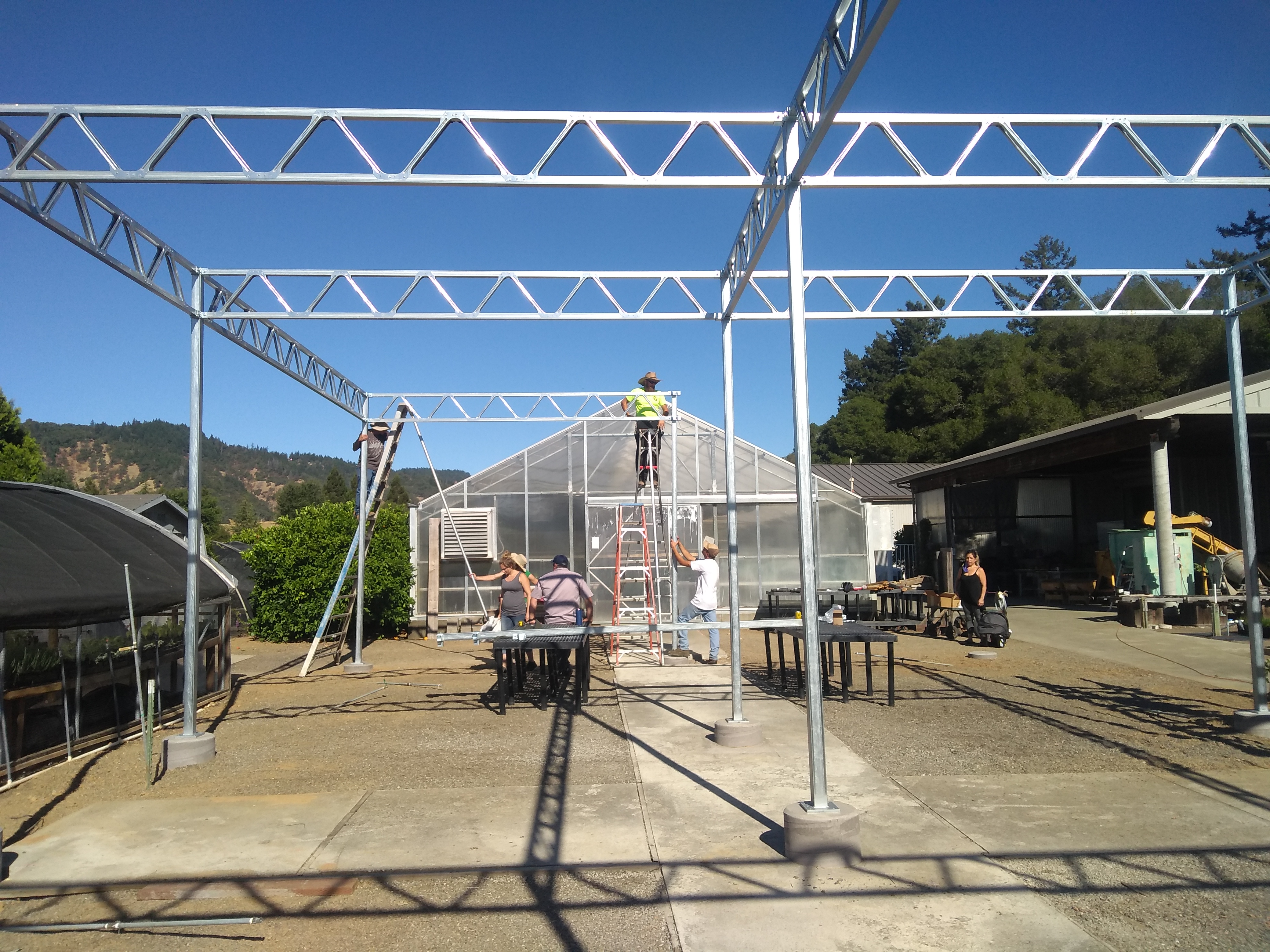 Dual/Concurrent Enrollment
MLCCD has focused on dual enrollment and partnerships with K-12 districts as part of our strategic directions. Since the regulatory changes (AB 288) in 2016, MLCCD has pursued the implementation of College and Career Access Pathways (CCAP) agreements. Our first CCAP began in fall 2019. Prior to CCAP agreements, dual enrollment was offered through instructional service agreements with school districts. These agreements provide a foundation for dual enrollment and enrollment growth in the K-12 student sector. 
Agreements 
MLCCD has approved CCAP agreements, which allows dual enrollment at high schools, with the following K-12 Districts. Even though we don't have CCAP agreements, we still provide dual enrollment at all the sites below except Leggett. Anderson Valley is progress. 
Fort Bragg Unified 
Willits Unified 
Upper Lake Unified 
Mendocino Unified 
Round Valley Unified 
Lakeport Unified 
Kelseyville Unified K-12 Sites
Pre-COVID pandemic MLCCD has offered dual enrollment courses on-site at the following high schools: 
Ukiah HS 
Clear Lake HS 
Fort Bragg HS 
Willits HS 
Upper Lake HS  
Mendocino HS 
Laytonville HS 
Kelseyville HS 
Anderson Valley HS 
Potter Valley HS 
Round Valley HS 
Pt. Arena HS 
We also have offered classes at Sanhedrin HS (alternative school in Willits), Willits Charter School, the Accelerated Achievement Academy, and South Valley High School 
Enrollment Trend 
Enrollment of K-12 students in MLCCD has been rising. This growth has been possible by the approval of CCAP agreement with our partner K-12 districts. This segment is one of the few areas that has not declined due to the pandemic.   
Pre-pandemic K-12 enrollment has provided enrollment growth for the district, which counter statewide declines due to the strong economy. 
Other news in Academic Affairs 
Acting on a new amendment this academic year to Title 5, an ad hoc committee was formed to learn and lead on the Credit for Prior Learning (CPL) guidance information from the Chancellor's Office. CPL is college credit awarded for validated college level skills and knowledge gained outside of a college classroom. The CPL ad hoc committee is composed of cross discipline faculty, staff and administrative members. We are developing our own CPL rubric to use with all students at Mendocino College. Many students in Career Education courses possessing college skills/ knowledge, students with military backgrounds, and many others will benefit from the new CPL amendment to Title 5. 
On November 18 at 10 am, we will host a CPL Zoom presentation from state recognized experts Kate Mahar and Sunny Greene. Kate and Sunny have both been Guided Pathways Regional Coordinators appointed by the Chancellor's Office. They will share CPL materials with our faculty, including available valuable tools and resources to successfully build our CPL protocols. 
Administrative Services 
Cash Deferrals 
As discussed during the budget presentation at the last meeting, the 2020/21 State budget included substantial deferrals of cash payments from this fiscal year to next fiscal year.  The deferrals total $5.2 million for the District. VP Cichocki and Director Atherton, in consultation with our external auditors, have spent considerable time creating and analyzing cash flow projections. The cash projections were reviewed with the Planning and Budgeting Committee (PBC) on November 3, 2020. The projections show that the college will have sufficient funds within all the funds of the college to remain cash solvent during the deferral and payback period. Administration will continue to monitor the cash flow projections and will update to actuals each month. Should the deferrals continue into next fiscal year, the college will likely have to take on the expense of borrowing funds, such as participating in a pooled Tax and Revenue Anticipation Note (TRAN). 
Information Technology (IT) 
The IT Department, working with the Technology Committee and constituent groups, recently completed the creation of a 2020-2023 Technology Action Plan to guide the district's efforts to expand the use of technology to support staff and students. The plan provides a description of the current status of technology, makes recommendations for improvement, and provides a list of actions through the 2022/23 school year. The plan will be reviewed and updated on an annual basis to monitor progress and make any needed adjustments to meet changing needs. The plan was presented to PBC on November 3. 
Remote telephones 
Working with the district's telephone contractor, Telecom Services, the IT Department is implementing a system to let college staff answer their regular office phone lines from a Mitel phone installed at their house, or "soft-phone" software on a smartphone or computer to improve our ability to support students and staff during this remote working and learning period. Staff have been picking up voicemail messages remotely, which requires a call-back. This new system will allow them to answer the incoming calls just as if they were working in their office. 
Centers  
In order to assist students with onboarding for the spring, all three centers are extending their in person service hours to four days per week for two weeks prior to the holiday break and two weeks prior to the term start. 
The Lake Center is excited to welcome new full time Center Assistant, Machiko Shimada. Machiko has been with the district in part time positions for over a decade. Machiko has been employed as a student worker, as part-time math faculty, and also as a part-time classified employee with the Learning Center, MESA, and most recently the Lake Center. The Lake Center is very lucky to have her varied experiences supporting Lake County students.   

Sonoma State will be partnering with the Woodland Lake Campus and the Mendocino College Lake Center, through their extension program. Sonoma State will be offering the last two years of a BS in Business as a hybrid program with courses on ground at both locations and online. This is an amazing opportunity for our students to obtain a bachelor's degree in Lake County. Applications are now being accepted and will close in March. 

The Coast Center began a six-week intensive woodworking program on October 26, welcoming a small cohort of 10 students to approach the hands-on experience needed to complete the course. The North County Center is taking this time to reimagine on ground marketing and have just installed a large 72-inch monitor to share college events. This replaces an often-overlooked small monitor tucked in by the vending machine. We look forward to welcoming students with clearly visible information. 

While on ground courses have dramatically decreased, all centers have taken this time to formalize pathways and enhance structured support for our High School dual enrollment partners. Regional meetings uniting our three Lake County High Schools, six North County High Schools, and three Coastal High Schools will all be taking place by early spring, with an end of term conference bringing all dual enrollment partners together to share best practices. Although trying, these meetings would likely not have occurred without our newfound exposure to virtual meetings.   
Student Services
Spring Registration Campaigning 
Several Student Services programs are currently conducting a spring registration campaign. For example, the First Year Institute is contacting students in all 4 cohorts (1 current, 3 prior) in order to schedule them for a counseling appointment in preparation for spring registration. 90 percent of current cohort students have been scheduled to meet with a counselor. They continue to reach out to prior cohorts to encourage them to schedule a counseling appointment. Once registration opens, they will begin follow up texts, emails, and phone calls to encourage students to register. 
Workshops 
October 15 marked the last workshop for the Latinx Heritage Month series. These workshops were organized by CAMP staff, and overall, the series had 44 participants. Of all the workshops held in the series, the Loteria and Arte and the Yoga with Gris events were the most attended. 
The Financial Aid Office is continuing to do virtual Zoom Workshops with the high schools in the district to assist high school seniors in completing the FAFSA or Dream Act Application. To date, they have assisted 106 students in completing the application. Some workshops were rescheduled due to the PSPS but they will continue with these efforts up to the March 2nd priority deadline to file the financial aid applications.
FYI Counselor, Brenda Estrada, held a Stress Management/Self-Care workshop via Zoom on Wednesday, November 18. Information can be found in the November 2020 FYI News Update on the FYI home page.  
Spring Front Loading Activities 
FYI staff are beginning to plan activities to front load students with success strategies for the spring semester.  Current FYI students have reported a need for help with time management, communication and online learning strategies. We plan on offering Zoom workshops prior to the spring semester that will address these student needs. 
College Assistance Migrant Program 
In October, CAMP Director Mariana Martinez submitted the CAMP-HEP Annual Program Report (APR). This APR is for the 2019-2020 cohort, which is the first year of the new 5-year grant we received in 2019. Due to decreased numbers in the program as a result of the pandemic, the program was worked with the Office of the Director of Communications and Community Relations to develop advertising spots in the Al Punto newspaper as a form of outreach and recruitment. CAMP is focused on recruiting for spring semester and working on outreach, recruitment, and developing a pipeline for future CAMP scholars. Director Martinez has reached out to various high school administrators (target high schools), Mendocino-Lake organizations and agencies, and on campus departments to be part of the CAMP Advisory board. The advisory board will meet at end of November. All these efforts are being made to ensure long term sustainability and support for the program. In October, CAMP Director Mariana Martinez was awarded two awards: NASPA 2020 Mena/Valdez Award - Latinx Inclusion and 2020 WESTOP TRiO Achiever Award. The CAMP Department is also pleased to hear that a previous alumni profiled student, Sandra Gonzalez-Hernandez, is now working the Counseling Department. It's always great to see students return to Mendocino College after completing their studies!
Financial Aid Update 
The Financial Aid Office identified 220 enrolled students who haven't completed the required federal verification process. The department utilized the Campaign feature within Admit Hut, a technology tool to improve student contacts, to communicate with students who fell into the category to continue to process their financial aid file. The interactive proactive text messages were sent to the students giving them instructions on how to complete the verification process and their next steps. 22.1 % of the students who were contacted interacted with the AdmitHub's chatbot, Eddie the Eagle. 
Professional Development: EOPS Conference 
EOPS staff, Nancy Heth, Juvenal Vasquez, Jenny Yang, Fernando Calderon, Emily Hashemian, and Yuliana Sandoval attended the CCCEOPSA (California Community College EOPS Association) Conference held virtually on November 5-6. The theme of the conference was "EOPS/CARE/NextUp: A Transformational Movement: Then, Now, Always!". During the conference, the staff attended sessions on best practices, discussed strategies to build efficiencies, and engage and stay connected with our team and students during these unprecedented times. They also received an update from Legislative Advocacy and the Chancellor's Office. 
Transfer Information for Students 
To support our students on target to transfer and eligible to apply to a California State University (CSU) or University of California (UC) for fall 2021 admission, an email with detailed information was disseminated. This email will be followed up with at text, utilizing AdmitHub to remind the students to check their student emails to see this important and timely information.  
EOPS/CARE Advisory Committee 
Per program requirements, the EOPS/CARE program has an advisory committee that meets twice each academic year. Once at the end of Fall and again at the end of Spring. The committee assists in developing, implementing, and maintaining effective extended opportunity programs and services. The committee is updated on the program (i.e. number of students served, funding, services offered etc), and new policies and/or changes to policies are shared with the committee to get their feedback. Members of the advisory committee include: 
Ukiah High School Counselor Ana Jacinto Cawthon, CalWORKs Job Services Unit Supervisor Chris Kier, Round Valley Tribal TANF Director Cindy Hoaglen, MCOE Workforce Development Coordinator Clinton Maxwell, Project Sanctuay Shelter Manager Debra Ramirez, Sacramento State University EOP Enrollment Management Coordinator Jose Mejia, Sonoma State University Outreach Advisor Moises Gonzalez, Department of Rehabilitation Counselor Margaret (Panely) Rodier, FYI Program Manager Monica Flores, Child Development Center Director Janis Wood in additional to EOPS/CARE students, staff and faculty. 
Disability Awareness Round Table 
The Disability Awareness Round Table is hosted by Mendocino College's Tascha Wetzel twice a year in October and April. It has been in existence since 1989. It brings together college, school district, and county office of education employees and agencies who provide services and resources to students with disabilities. Typically, representatives for Department of Rehabilitation, Redwood Coast Regional Center, Pinoleville Pomo Nation Vocational Rehabilitation Program, Ukiah Valley Association-Habilitation, Mendocino Private Industry Council, Mentor Network, and Transition Partnership Program attend. The format consists of sharing/presenting information about Mendocino College with the focus on how it impacts students and students with disabilities; agencies sharing their current issues in hiring, programming, and budgets; and a general question/answer period about common concerns. The focus is on sharing of information and keeping each other up to date on current issues.