Fall 2021 Planning 
We are in the process of finalizing our Fall 2021 schedule of classes over the next several weeks. We are planning on increased on ground/face-to-face classes at all locations. We also anticipate some on-ground open hours for student support and academic services. We will follow social distancing, face mask, and other guidance by local and federal authorities as we transition to increased face-to-face courses and services.  
The college has a "Transition Group", which consists of classified staff, faculty, and management leaders brainstorming ways to get more students/employees back on campus in a timely and safe manner. The college is also surveying students to gather input about how that might look. Mendocino College will continue primarily remote instruction this summer 2021 session. 
COVID Vaccinations 
We have good news on the vaccination front! In working with Mendocino County, we were able to offer vaccines to the remaining employees on our interest list. At this point, any employee who indicated an interest in the vaccine has had the opportunity to receive one. We had about 200 people on the interest list. Nicole Marin, HR Director, did a great job handling a very chaotic county process. Also the "call center" team of Nicole Marin, Eileen Cichocki, Ulises Velasco, Mac Lowjowski, Cindy Chapman, and Kris Bartolomei were outstanding. We are well ahead of most colleges statewide in providing vaccination opportunities to employees. Vaccinations are not allowed to be mandatory by the District. 
Institutional Effectiveness Partnership Initiative 
A team of administrators, faculty, and staff spent Thursday, Feb. 11, hosting meetings with a Partnership Resource Team of peers throughout the state as part of the Institutional Effectiveness Partnership Initiative. A District must apply to participate in the initiative, which we did in November 2020. There will be two meetings with the Partnership Resource Team leading to the development of a plan. The State will award us about $200,000 one-time funds to fulfil the plan objectives. The award letter should be coming to the Board in June 2021. This will assist Mendocino to accomplish the goal we set out in our Quality Focus Essay for Accreditation.  
Research and Grants Update
Research and Grants is pursuing new federal HSI grants with the first college meeting being held Friday March 12, organized by President Karas and facilitated by Directors Monica Flores and Minerva Flores.
Director of Institutional Research and Grants, Minerva Flores has been busy moving all Program Review forms (IA AND IB) to office 365 forms, which will make our process much smoother going forward.
Data Analyst, Isabel Lopez has provided data links to all of our disciplines that looks at the past three years to formulate narrative for the program review part II. CTE 2 year review has been pulled out of program review and a Qualtrics repository has been created for CTE 2 year review for use in the fall of 2021. Director Minerva Flores has also created a new data link for CTE disciplines that provides CTEOS survey information along with employment projections 
Director Minerva Flores has also recently joined the Board of Directors for MCHC and Adventist Health and will be part of the planning committee for the RP student success conference. 
Puente Project 
Mendocino College began dialog with The Puente Project, https://www.thepuenteproject.org/, administered through the University of California, Berkeley in January 2021. The Puente Community College Program is an academic, counseling and mentoring program of support for students to build the skills necessary for success in both academic and career goals while in community college. Students enrolled in the Puente program work closely with their Counselor, English Instructor and Mentor to prepare for transfer to four-year colleges and universities. The Puente project began at Chabot Community College, in Hayward, CA. 
There are now 64 California Community Colleges participating in the Puente project. There are 115 community colleges in California, and Mendocino College would be the first college in the North/Far North region of the state to join. Mendocino College would join beginning July 2021 with a year of training and program development. The first student cohort would begin in Fall 2022. New colleges joining the Puente Project receive seed funding of $30,000 for the first year and $15,000 in the second year to defray costs. 
There is also another Puente Program focused on high schools administered through the University of California, Berkeley. Statewide 43 high schools participate in this program. 
Athletics 
Mendocino College opted-in to Spring II athletics. Softball and Baseball seasons will be from March 27-June 23. The California Community Colleges Athletics Association has modified the season, practice parameters, competition/game practices, and playoffs to safely allow athletics to resume. Mendocino College will have COVID testing and other compliance measures in place to allow the resumption of sports. Unfortunately, spectators will not be allowed at games. Thank you to the coaches, players, trainers, and Athletic Director Matt Gordon for working together to make this a reality. 
Career Speaker Series and Spring Job Fair 
The spring session of the Career Speaker Series brings business professionals from a variety of fields to speak with students, job seekers, and community members via Zoom webinar to support career exploration and workforce development. The Career Speaker Series is a regional effort and is open to North SF Bay Area counties. The program runs ten Wednesdays, 4-5 p.m., starting on Feb. 24th. 
CAREER SPEAKER SERIES 
February 24 – May 5  
Wednesdays, 4:00-5:00 p.m. – All presentations via Zoom 
Link to live speaker line-up:  Speaker Schedule 
REGISTRATION: Career Speaker Series Webinar Registration Link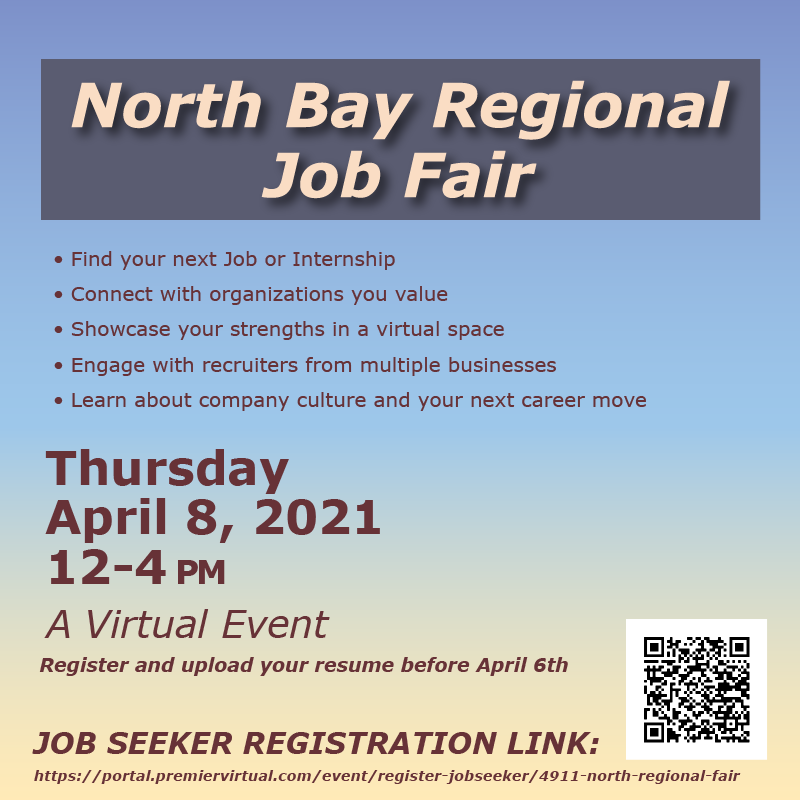 Budget Update 
The Chancellor's Office published financial updates to apportionment allocations on Friday, February 26, 2021. This updated information will positively impact the financial position of the college. The information was a recalculation of the apportionment for last fiscal year, 2019/20 and an updated calculation for the current fiscal year, 2020/21. The information was reviewed by PBC on March 2, and will be used to inform the upcoming 2020/21 April Revise Budget which will be presented to the trustees for consideration next month. 
Academic Affairs 
Centers and Dual Enrollment 
The Centers continue to build our partnership with our high school dual enrollment programs. Each region; Lake, North County, and the Coast are now meeting routinely to share local resources and develop increased opportunities for students. With limited faculty available in our rural areas, courses are often not able to be taught, due to lack of instructors. The high school teams are creatively looking at ways to adapt the current remote learning environment to enhance educational opportunities when we return to on ground instruction. This includes the potential to for an instructor at one high school to teach a course on ground at their site, while simultaneously instructing via Zoom to students at another high school. Much of this is still in the works, but it is very promising what opportunities await the centers based on the tools we have learned to utilize in the past year.  

Dual enrollment recruitment for next academic year will also soon be underway. Dual enrollment parent videos have been created in English and Spanish to introduce parents to the idea of college classes at the high school site. (KHS video link as an example: https://youtu.be/Ci_GilPUQZQ). A general student targeted video has also been made https://youtu.be/kXFRsZpgANA. We hope this information assists high school students and their parents in planning for their future dual enrollment college career. 

Equity Professional Development 
 
The Equity workgroup of the Guided Pathways Leadership Team is sponsoring professional development with two cohorts of faculty this semester.  A group of 10 Mendocino College faculty have taken a course entitled "Best Practices in Community College Teaching" offered by CORA Learning. CORA (the Center for Organizational Responsibility and Advancement), is a widely respected professional educational organization committed to training faculty to better service historically underrepresented and underserved students. The cohort supplemented the online course with group meetings to discuss the course content and how it can be applied at Mendocino College. This course was facilitated by Rebecca Montes, Brianna Zuber, Janet Daugherty and Minerva Flores and ran from early February through March 5 when the cohort members met in a live zoom with Dr. Sim Barhoum from San Diego Mesa College.

A group of 27 faculty are currently taking an online class entitled Equity and Culturally Responsive Teaching created by @ONE (the online network of educators) and facilitated by Distance Education Director Vivian Varela, with assistance from Brianna Zuber, Rebecca Montes, Minerva Flores and Janet Daugherty. The course runs from March 1 through March 26 and coaches faculty on how to create inclusive experiences that empower all students to achieve their full intellectual capacity through applying the principles of Culturally Responsive Teaching and Learning to their online courses.   

Career Education 
 
The Strong Workforce Program year 5 plan for Regional and Local projects for 2021/2022 was submitted on February 28, 2021. The plan will fund many projects, including: 

Auto Technology will develop electric and hybrid automotive curriculum content to teach students to service electric/hybrid vehicles and develop and repair electric charging station services. Instructors will continue to earn new industry certifications in this rapidly developing transportation technology. Strong Workforce Program funding will purchase current industry standard equipment to build an innovative Electric/Hybrid Automotive Technology program. 

The Agriculture program will continue to improve Agriculture facilities such as a mist house, a shade house, a greenhouse, and a viticulture  demonstration area; additionally, we will expand our plant sciences course offerings.  

In Computer Informational Systems, a CTE faculty/staff is developing the use of cutting edge technologies by purchasing and sharing how to use "Clear Boards" during instruction. These new technologies allow an instructor to write, draw or calculate on a clear board that is displayed to students on Zoom and Canvas courses.  

In a  cross discipline approach outdoor classrooms are being designed and installed on the Ukiah campus at the Pomo Plaza and the Big Theater. The plan is to further develop outdoor classrooms at all three  centers in Ft. Bragg, Willits and Lakeport by continuing to purchase outdoor educational furniture an outdoor instructional technologies to meet our students and communities career educational needs.  

Nursing
 
Second year Mendocino College Nursing students worked side by side with nurses from Adventist health and other health care providers this week at Alex Rorabaugh Center to administer 1000 Covid 19 vaccinations. Each student was able to competently administer 50-75 vaccines under the supervision of Nancy Goodman and assisted in the afternoon by Peggy Goebel. Ginger Bushway coordinated all student requirements and schedules. The students did a fabulous job and were complemented by Adventist staff and multiple community clients.

This is a wonderful example of Mendocino Nursing Students gaining confidence, competence and serving their community during a time of crisis. As required by the CDC, all student vaccinators completed the CDC vaccinator course online, received their two doses of the vaccine at least two weeks prior to the clinic as required by the CDC, California Public Health, and Adventist policy. Students practiced excellent CDC protocol, kept six feet apart, wore masks, goggles and washed hands frequently.

We have made a commitment to Adventist Health to continue to partner with their clinics with supervised students here in Ukiah through mid-May. We have also made a commitment to partner with the County and EMS at the Ukiah Conference Center to provide faculty supervised students at their Friday clinics through mid-May.
We are all very proud of the professionalism, dedication and skill of our students. Pictured below are: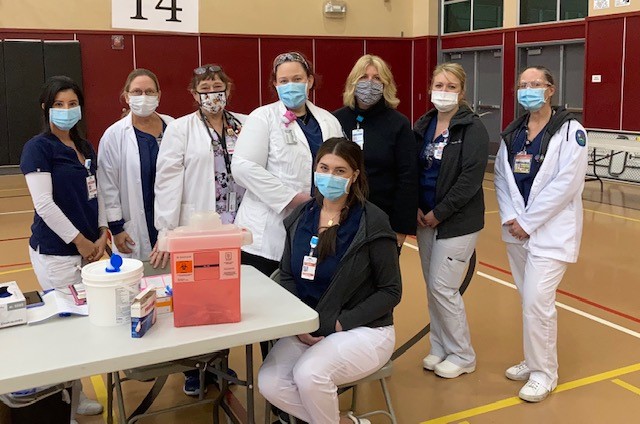 Students: Erin Henchell, Heather Eldridge, Andrea Maples, Danielle Mcallum, Summer Norbury
Faculty: Nancy Goodman, Peggy Goebel
Adventist Staff: Jill Bartlomei
Student Services
In-Person Support Services 
Multiple student support services will once again provide in-person assistance to students in preparation for Summer and Fall enrollment. Scheduled for April 19, 20, 26 and 27, staff from Admissions & Records, Counseling, Financial Aid, EOPS and IT Support will be available on campus. Our services will be available for three hours each day to assist students who may have connectivity issues or just need in-person assistance. Students will be able to get help completing their application, finalizing documents, enrolling in courses, or getting IT support. While students will still be encouraged to complete all items remotely, staff will be available in person for this limited time. The same safety/health measures followed during the Fall semester when these in-person services were provided will be followed to ensure the safety of faculty, staff and students. 

Mental Health Symposium

A virtual Mental Health Symposium was offered to faculty and staff on Wednesday, February 10. Mental Health Counselors Jeremy Lawyer and Rachel Young offered assistance to faculty and staff on how to support students with mental health needs during the remote learning environment. They provided insights on how to direct students to available resources and strategies on self-care.  A follow-up Symposium was provided on Wednesday, March 3. Our Mental Health counselors will continue to develop support services for students to meet their needs. 

Early Alert Update 

During Spring In-Service, faculty were able to attend a session on the updated Early Alert process. The feedback by instructional faculty has been very positive on the recent improvements. As a result, there has been an increase in the use of the Early Alert process. The implementation of an added step in the process to ensure a "closing of the loop" has had positive effects thus far. Counselors are now following up with both students and faculty to keep everyone informed of the status of the Early Alert. Additionally, this has increased communication and collaboration amongst counselors. Students are often served by multiple programs/counselors, but by improving this process there has been a reduction in duplication of efforts. 

Continuity of Support Services for First-Year Students 

In anticipation of the end of the HIS grant, the Counseling department and our outreach team is anticipating some restructuring of resources and personnel to maintain the level of services to first year students.  At the most recent Counseling Department meeting, Outreach staff presented the status of their work and invited counselors to virtual venues to participate in the outreach and matriculation process with new students. As our College prepares for an expansion of services, Dean of Counseling & Student Programs Antonio Lopez is working with multiple areas to better align services so that new students in the 2021-2022 academic year have an experience that replicates aspects of the FYI program. 

College and Career Success (CCS) Course Development 

As a department, counselors are assessing, reflecting and collaborating on the College and Career Success (CCS) course development process. Utilizing the Guided Pathways framework, counselors identified department accomplishments and challenges over the last six years. The details of this work is being archived and will continue to be updated as counselors continue to assess the CCS Program Review process. Early in this work, it was determined that CCS courses are in alignment with multiple Guided Pathway pillars. Additionally, as these courses have proven to be successful to program cohorts, expanding these course offerings to the general student population will be a goal moving forward. 

Workshops 

Staff led workshops continue this month. Our staff are leading helpful sessions on completing the financial aid application, on developing excellent study skills and on staying motivated. While several programs are developing these sessions, such as FYI or the Pomo Pathway program, all students are invited to attend. 

CAMP Wellness Package 

The College Assistance Migrant Program (CAMP) held a Wellness Package drive-thru pick up event at the end of the February. The Wellness Package included the new CAMP t-shirt, materials for March CAMP workshops, and goodies. For CAMP scholars in Willits, Lake County, and Fort Bragg, we shipped their packages so that they did not have to come to the main campus. These wellness packages help keep students engaged and enhance their remote learning experience.  

Advisory Committee 

The CAMP program held an Advisory Board meeting recently. During this meeting, the program staff shared information about this semester's Outreach and Recruitment activities, CAMP counselor Saturday availability, and the most recent collaboration with Migrant Education. As an advisory board, we are also working on doing more collaborative partnerships and promote events, programming, and services to better support students. 

Outreach Postcard Campaign 

The First Year Institute (FYI) will be sending bilingual (English/Spanish) postcards to high school seniors during the second week of May.  High school students (just like college students) are receiving many emails and digital notices. This postcard campaign is being conducted to try to cut through the digital overload students are experiencing so that students and/or parents can reach out to FYI staff for help with Summer and/or Fall onboarding at the college. 

Self-Completed Progress Reports 

FYI students are currently completing online self-completed progress reports that they will share with their counselor through March. This is a practice FYI uses to help students learn how to keep track of their progress in courses and learn how to seek support when needed.