Black History Month 
February is Black History Month, a celebration acknowledging the achievements of the African descendants who have shaped American history. Every February, we purposefully recognize the lasting contributions Black people have made to our society. Please take a minute to acknowledge the moments that define … or have been defined by … Black people and Black culture in our nation and around the world. Mendocino College is sponsoring events on February 11 and 24, 2021. For more information, please visit https://www.mendocino.edu/blackhistorymonth  
As we continue to face a global pandemic, allow the celebration of Black History Month to serve as a reminder of the multiple contributions made by Black Americans and other ethnic communities. We commemorate Black History Month by continuing the essential work of self-reflection and strengthening our resolve to stay engaged in equity work in our district and to work harder against racism (overt and structural) and toward social justice. 
The recognition effort of Black History Month begins in 1915, half a century after the Thirteenth Amendment abolished slavery in the United States. The Harvard-trained historian Carter G. Woodson and the prominent minister Jesse E. Moorland. In 1926, the Association for the Study of African American Life and History (ASALH) sponsored a national Negro History week, choosing the second week of February to coincide with the birthdays of Abraham Lincoln and Frederick Douglass. The event inspired schools and communities nationwide to organize local celebrations, establish history clubs and host performances and lectures. 
In 1975, President Ford issued a Message on the Observance of Black History Week urging all Americans to "recognize the important contribution made to our nation's life and culture by black citizens." Since 1976, February has been officially designated as Black History Month. 
Student Spotlight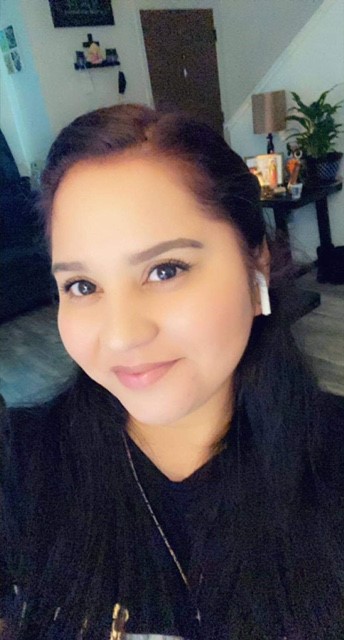 Recent Mendocino College graduate Maricela Gallardo was hired in December 2020 as an ESL Program Specialist. Maricela already knows Mendocino College well, not only as a student who received her AS in Business Management and Business Accounting in May 2020, but also through experience working in the Learning Center, the library, and for the MESA Program.
In her new role, Maricela has been instrumental in her support to language learners at Mendocino College. Transitioning to online learning has been a big challenge for ESL students, many of whom have not studied online in the past or have very little experience with technology in general.

The ESL Program saw a steep decline in fall 2020 enrollment, but with Maricela now onboard, full-time faculty member Sarah Walsh, has already seen a shift. "With the addition of Marciela's individualized bilingual student support, ESL students are not only able to register by phone and receive help logging into Canvas for the first time, but she is also meeting with students to help them access Chromebooks if needed and receive free textbooks donated by the department," says Walsh. "In a tough time, Maricela's personal touch is making it easier for students to pursue their studies in the ESL Program at Mendocino College."
Thank you Marciela!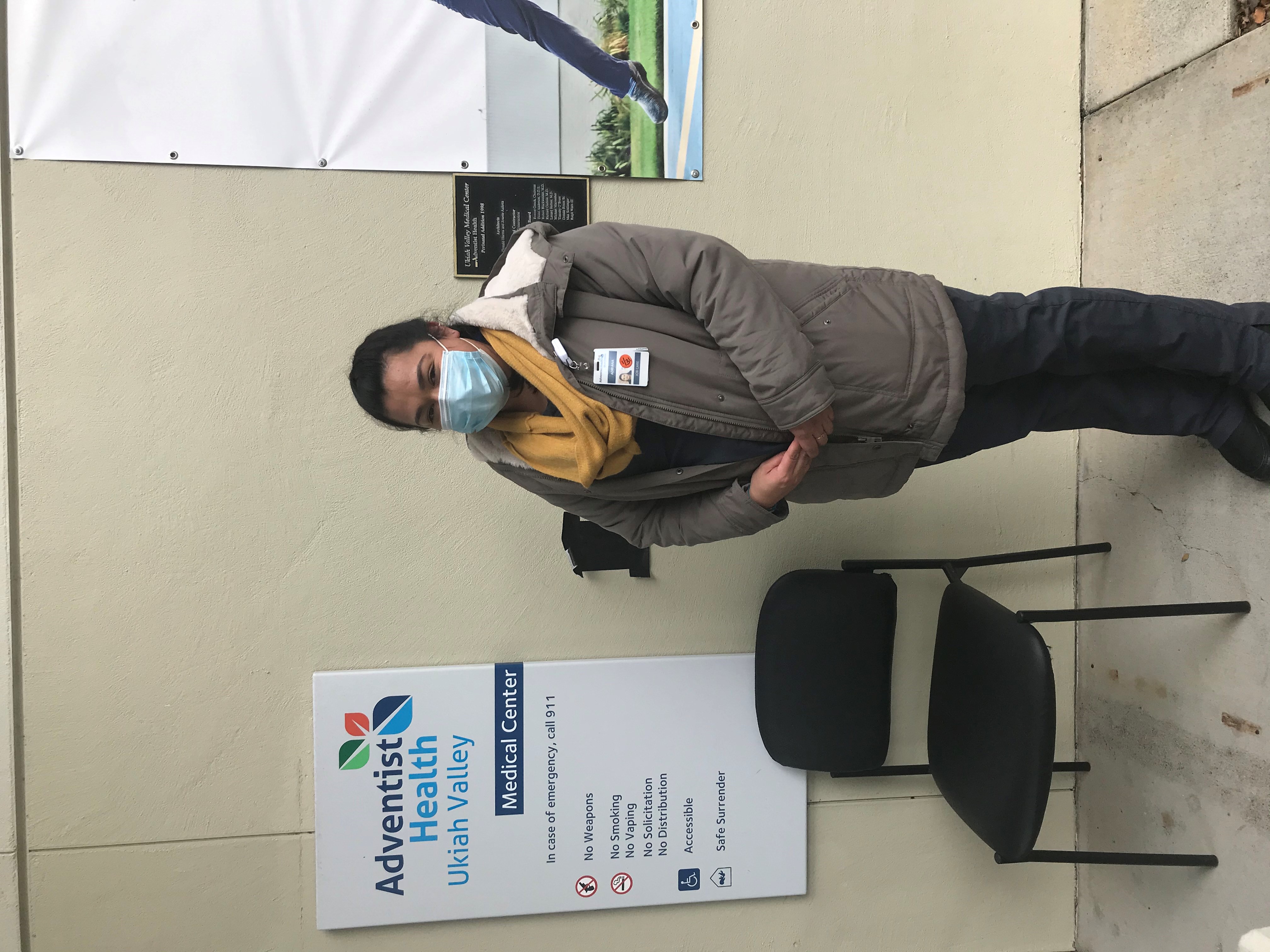 Originally from Mexico, Adriana Calderon was a dedicated student in the ESL Program at Mendocino College.  After studying ESL, Adriana went on to become a Medical Assistant through the Mendocino County Office of Education. She is now working at Adventist Hospital in Ukiah, where she is currently helping with the COVID 19 vaccination clinics. Adriana enjoys her work in the medical field and is now considering returning to Mendocino College to pursue a degree in nursing.

Congratulations on your achievements Adriana and thank you for being a front-line worker!
MESA News

Submitted by Eric Hoefler, Director – MESA and STEM Success - MESA has done a lot this semester and we are only in week four. MESA tutoring is live with 17 out of 23 STEM classes having tutoring available via PISCES and the tutor schedule was distributed to all STEM faculty. This semester we are focusing on increasing tutoring opportunities by offering sessions on Saturday for BIO, PHYS, and Trigonometry. We are trying to reach the students outside of the 8am-8pm, M-F traditional schedule, and hope this effort is successful. We polled our students and found that many STEM students felt isolated in their online studies so MESA is focusing on creating online communities this semester by grouping tutoring sessions by discipline and assigning breakout rooms when appropriate. 
MESA, in conjunction with the Learning Center, held our first tutor training and it was a big success with support from faculty and others.  MESA and the Learning Center co-created a short video in English and Spanish on how to access Pisces tutoring and it is being sent to faculty with the request it be placed on their Canvas page. We heard that the outside classroom is almost finished and we are hopeful that we will be able to utilize that space for tutoring if available. MESA and the Learning Center also held our first "Tutor Jam", a monthly Zoom event that brings together all of the MC tutors to discuss and share experiences tutoring students. 

MC MESA sent in our application for the next three year cycle of the MESA grant (2020-2023) and we are optimistic that we will be awarded the grant based on our commitment to STEM and our student results. The Chancellor's Office has implemented a new, data-driven RFA process and they are experiencing some growing pains with implementation, but we are confident they will get the kinks worked out for everyone's mutual benefit. 

Thank you for your ongoing support of STEM and MESA at Mendocino College, we are making a difference!
DE-FOMA - Thank you!

Submitted by Tascha Whetzel, Learning Disability Specialist - In reaction to the pandemic and the removal of our on-ground courses in March 2020, the transition to online education required lots of adjustments, planning and hard work by faculty and staff.

An amazing thing happened within the Curriculum Committee in the last nine months. 40 departments and 48 Full and Part Time faculty members took on the challenge of reviewing our college courses to determine which courses could be offered in the online environment.

With almost 400 Mendocino College courses without the Distance Education designation, this became a huge endeavor. Faculty were asked to look at these courses and determine if the course could be taught online (either as a hybrid or fully online) or if the courses could only be taught online under emergency situations (FOMA), such as COVID-19. This was the first step. If faculty felt that the course could meet one of these two options, they had to complete paperwork, and submit it for review by the DE Coordinator, Tech Review Committee, and Curriculum Committee. A new form had to be developed and the Academic Senate, the Distance Education Committee, and the Curriculum Committee worked quickly to create the form as well as a process for this venture.

As a result, 307 courses came to the Curriculum Committee and were approved over nine meetings in Spring and Fall. This means that 110 courses became designated Distance Education for the first time. An additional seven courses were approved hybrid. Thirteen courses were approved hybrid and FOMA. More than half of the courses (177) were approved FOMA; allowing them to be offered fully or partially online in an emergency only. This work ensures that the college will have more options when offering courses in regular times and in times of emergencies.

Thank you to all faculty who participated in this activity. Thank you to the Academic Senate and the Distance Education Committee for support and assistance.  A special thanks to the Curriculum Committee who reviewed and approved these courses which including almost 600 documents. This was a huge and successful undertaking!
Spring 2021 Enrollment Snapshot 
Below is a spring 2021 enrollment snapshot taken on January 29, 2021. Like our peers in the California Community College system, we are experiencing a year-over-year enrollment decline in spring 2021. The decline is a greater percentage than fall 2020. With the continuation of the pandemic, many people are electing not to enroll in college.  
MLCCD decline is average for our region. Other regions of the State are experiencing steeper declines in enrollment, with some district declines of more than 40%. To assist in addressing the system wide decline, the Governor's January budget proposal has identified one-time funds to be directed at re-engaging people who have paused their college enrollment or have delayed entering college due to the pandemic.  
| | | | | | |
| --- | --- | --- | --- | --- | --- |
| Semester  | Active Students | Full-Time  | Part-Time  | Number of Sections  | TOTAL FTES  |
| SPRING 2021  | 3135  | 721  | 2414  | 493  | 870.19  |
| SPRING 2020  | 4143  | 965  | 3178  | 802  | 1049.2  |
Construction Program Update  
Overview Background: On January 31, 2020, Senator Mike McGuire held a press conference at Mendocino College announcing the granting of one million dollars to the college to support our Construction program and to promote Fire Recovery throughout our district. The funding was provided to address the need for a workforce in the Construction cluster. Not only is demand strong for construction employment, but these jobs spur further economic and employment development as a result of supplier relationships and employee spending. The purpose of the investment by the State of California of $1,000,000 is to provide support for our communities' recovery by addressing the labor shortage and preparing skilled workers for improved earnings and living wage attainment.  
The college meets on a regular basis with Senator McGuire providing updates on the State's investment in the program. The Senator is supportive of MLCCD's plan and progress for expending the funds. 

Key district personnel involved in the Sustainable Construction and Energy Technology (SCT) program development are President Karas, Vice-President Cichocki, Vice-President Polak, Dean of Career Education Aseltyne, and Coordinator Woodhouse. 

SCT State Funding: The State of California awarded $1,000,000 over three years for fire recovery construction training spearheaded by Senator McGuire for Mendocino and Lake Counties. For FY2020-2021, it is anticipated that approximately $340,000 will be spent supporting the SCT program. The major cost centers are salary/benefits, facilities renovation, equipment, and outreach.  

Existing Programs and Courses. Mendocino College has existing courses and certificates in construction within our Sustainable Construction and Energy Technology (SCT) discipline. Currently these are the certificates we offer: 
SCT Construction Certificate of Achievement  
SCT Renewable Energy Certificate of Achievement 
SCT Building Efficiency & Performance Certificate of Achievement 
Construction Trades Certificate of Achievement (short-term entry-level training) 
Existing courses: 
SCT 162 Safety Standards for Construction 
SCT 164 Construction Documents I: Understanding Blueprints 
SCT 166 Introduction to Construction Management 
SCT 172 Introduction to Clean Tech 
SCT 180A Construction Fundamentals and Green Building 
SCT 180B Advanced Construction Fundamentals 
SCT 182 Residential Remodel and Repair 
SCT 184 Construction Documents II: Building to Code and Beyond 
SCT 186 Introduction to Residential and Electrical Systems 
SCT 189 Introduction to Plumbing 
SCT 190 Introduction to Photovoltaics (Solar) 
SCT 192 Residential Solar Thermal (Hot Water) 
SCT 193 Building Performance and Weatherization 
SCT 194 Efficient Heating and Cooling 
SCT 195 Introduction to HVAC Maintenance and Repair 
SCT 196 Occupational Work Experience Education 
SCT 200 Sustainability Overview 
Below is a listing of courses offered beginning Spring 2020. The program continues to expand offerings, however, due to the pandemic student enrollment has declined. Until the college fully returns to campus, student enrollment will remain low. Due to the pandemic course are offered online and not on-ground. 
Certificate and degree programs typically take students at least two year to complete. We would expect some certificate completion in Fall 2022. 

SUSTAINABLE CONSTRUCTION & ENERGY TECHNOLOGY COURSES
 
Spring 2020 
SCT-172 INTRODUCTION TO CLEANTECH SCHEMATICS 
Summer 2020 
SCT-196 SCT-OCCUPTIONAL WORK EXP. EDUC. 
Fall 2020 
SCT-164 CONSTRUCTION DOCUMENTS I: UNDERSTANDING BLUEPRINTS I 
SCT-200 SUSTAINABILITY OVERVIEW 
Spring 2021 
SCT-162 SAFETY STANDARDS FOR CONSTRUCTION  
SCT-172 INTRODUCTION TO CLEANTECH SCHEMATICS 
SCT-180A CONSTRUCTION FUNDAMENTALS & GREEN BUILDING 
SCT-180B ADVANCED CONSTRUCTION FUNDAMENTALS 
Progress to-date: In spite of the COVID-19 pandemic, solid progress has been made:  
A non-credit Certificate in Construction has been developed and approved through our local curriculum process. This includes several non-credit courses that are modelled after the Construction Corps—a short-term construction program introducing students to the various skills of the trades and preparing them for entry level work in the field.  
A full-time faculty/coordinator has been hired and has begun working this semester. Noel Woodhouse, a longtime SCT part-time faculty, will lead the redevelopment of the construction program at Mendocino College.  
An additional faculty and classified staff from the Fine Woodworking Program have had part of their workload reassigned this semester as a result of not offering Fine Woodworking classes due to the pandemic. They will assist Mr. Woodhouse in development.  
Meeting with local established collaborative boards made up of educators, businesses, and workforce development agencies, such as the advisory board for the Ukiah High School Construction Corps meeting 9/2/20 made up of local building contractors in our district and building materials supply outlets in Mendocino County;  
Building partnerships with district high schools for dual/concurrent enrollment and pathways to and through college programs including a virtual meeting with CTE faculty and administrators from Mendocino College and Ukiah High School;   
We partner with Habitat for Humanity and other non-profit builders to provide the lab/experience portion of our classes. 
We partner with the Ukiah Unified School District and their Mendocino County Construction Corps hosting a construction Boot Camp for seniors and graduated high school students introducing them to a career path in the construction trades.  
We are an active member of the Sonoma County Chapter of North Coast Builders Exchange, a strong partner of our construction programs.  
We partner with the Lake County Jail to provide onsite classes for inmates in construction (began Summer 2019)  
The SCT program actively participating in the Mendocino-Lake Adult and Career Education Consortium (MLACE) to map construction educational/career pathways. 
Current Challenges: Due to the pandemic, very few construction classes are offered this semester. While this may disrupt some momentum in enrollments in construction classes, we are hopeful that this planning period will allow us to present the community with a renewed marketing strategy as we rebuild a more robust scheduling of classes 
SCT Advisory Committee: As noted in the CTE presentation to the Board of Trustees in November 2020, the first SCT advisory committee meeting will be held in Spring 2021. Interested board members will be invited to attend the meeting. If interested in joining an advisory committee, trustees should contact the Superintendent/President Office. Meeting minutes will be available after the meeting. 

Future Work: Faculty Coordinator, Noel Woodhouse, is working with Dean of Career Education, Dennis Aseltyne, to plan for short and long-term work. These activities include:  
Renovate space and add space sheds at Ukiah campus to temporarily house program 
Build new facility on North County Center property dedicated to program. Would require significant local or state funds 
Conducting a curriculum inventory and schedule analysis to identify needed updates to curriculum and to develop innovative scheduling strategies to make our program optimally relevant and accessible.  
Other Questions: Mini houses, pond cabins or storage sheds 
The SCT program does not build and sell mini houses, pond cabins or storage sheds. Being a government agency our only mechanism to get rid of property is through a surplus process, which is not revenue generating.  

The Mendocino College Foundation could support this type of program through a foundation affiliate group. The organization, planning, and logistics is outside the purview of the district. Post pandemic with cohorts of on-ground students, the student club or affiliate could work with the foundation on such a project. 
Student Services Update 
Bi-Weekly Student Communications 
This spring semester, Mendocino College has begun sending students informational emails every other week that consolidates information from different areas. Instead of sending students multiple emails letting them know of a support service or event, multiple departments have collaborated to develop a bi-weekly email to students that is also shared on social media and through text. These emails include important dates & deadlines, upcoming workshops, campus/center hours, highlights of different departments and information on how to get help. As of now, three emails have been sent to students. The first email was opened by over 60% of the recipients, which is a great rate for informational emails.   

Finish Line Scholars Program 

In the December 2020 President and Administration Report, we included information regarding the Finish Line Scholars Program. In the time since that report, Mendocino College has received an increase of $3,000 in these funds. Now totaling $128,000 to be used in the current fiscal year, the Finish Line Scholars Program funds will be provided to students as emergency financial aid. This is a significant increase to the amounts we can typically provide to students in emergency funding. Students need to submit an application to request the funds. Our turnaround time to provide them the funding is typically within a week. In the first round of awards, $6,250 was disbursed to students. Awards averaged $520 per recipient. These are welcomed funds from our students who are experiencing significant economic hardships as a result of the pandemic.     

Mental Health Counseling 

We understand that this pandemic has been difficult for many, which is why reminding all about mental health support is vital. The counseling office has increased their in-reach efforts to make the campus community aware of the mental health supports we have in place. In a communication to all faculty, Dean Antonio Lopez provided a reminder regarding the availability of our two Mental Health Counselors. Dean Lopez encouraged faculty to share our counselors direct contact information with all students. Additionally, the most recent bi-weekly email to all students from our College included information regarding our Mental Health Counseling availability. Lastly, our college has also made mental health workshops available, which are promoted to all students.   

Phone Assistance for Students 

At the start of the pandemic, multiple departments at Mendocino College collaborated to staff the main college phone line so that students could get through a person with their questions. While that system still continues and allows students to reach staff using the main college line Monday-Friday from 8am-5pm, we have now expanded phone assistance for students. Facilitated by of our IT Department, multiple offices, including Admissions & Records, Financial Aid, Counseling, EOPS and others, staff are now able to answer their office lines from home.     

Pomo Pathway Welcome Event 

During the first week of classes, Pomo Pathway students received information on available resources at Mendocino College in order to connect them with a solid support system to begin the semester. At the conclusion of the first week, over 10 faculty, staff and managers met with Pomo Pathway students to welcome them to the semester. All spoke about the importance of the program and shared information about how to seek help to be successful.  

FYI Fall to Spring Retention 

The First Year Institute (FYI) led a successful spring registration campaign for current cohort students. Out of 126 students in the cohort, 113 are enrolled for the spring semester. This was done through persistent phone calls, emails and messages to remind students about registering for the spring semester. The 89% retention rate from fall to spring semester for the program is largely due to the work of FYI staff and faculty. 

Additional Emergency Financial Aid 

Senate Bill 116 has made funds available to provide disaster relief emergency student financial aid to California community college students. Mendocino College has been allocated $30,210 from this program to be awarded to our students. To be eligible to receive aid, the students must demonstrate financial need, be exempt from paying nonresident tuition under Section 68130.5 (AB540), and have completed the California Dream Act Application or California College Promise Grant (CCPG) application. The Financial Aid Office has communicated with students who meet these criteria and are currently disbursing these funds.