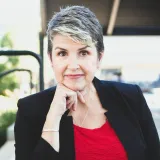 Janice Hawthorne Timm (choirs, musical theatre), is originally from Montgomery, Alabama, and has lived in the Ukiah area since 1987. She currently directs the Mendocino College Choir in Ukiah & Willits, and Jazz@5, a vocal jazz ensemble (Ukiah). In the Mendocino College Theatre Department, she was on the music leadership teams for Legally Blonde (SPR15), American Idiot (SPR17), and Once Upon a Mattress (SPR19). She also works locally as a theater music director with the Willits Community Theater, the Ukiah Players Theatre, and at SPACE.
As a choral conductor, Janice brings 40+ years' experience directing choirs and teaching singers of all ages, ranging from preschoolers to elders. Her goal is to help each person to find their voice -- and to use that voice with joy and confidence in collaborative music-making.
In 2009, Janice and her family spent a sabbatical year in Christchurch, New Zealand. While there, she was an invited presenter at Music'09 for MENZA (Music Educators New Zealand-Aotearoa). She was honored by the United Church of Christ General Synod in 2005 for "Excellence in Teaching", as the first musician to receive this award. She is active in several professional organizations including the California Choral Directors Association and the California Music Educators Association as well as their national counterparts. Janice also served as the Minister of Music at United Church of Cloverdale from 1988-2019.
Janice received her Multiple Subject teaching credential from Dominican University of California in 2007, and is also credentialed to teach vocal Music in grades K-12. Her other education includes a BA in Music from Duke University (Durham, NC), and a Master of Sacred Music in Choral Conducting from Southern Methodist University (Dallas, TX), as well as undergraduate studies in music at Huntingdon College (Montgomery, Alabama) and graduate studies in choral conducting at the University of Texas at Austin.
When not in class or at the theater, she serves on the Board of the Ukiah Symphony Orchestra, and is President of MPFA, the college's Part-Time Faculty CTA affiliated union.