Department(s):
Art and Art History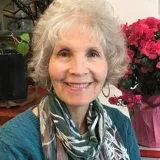 Ann is a art teacher as well as a professional watercolor artist. She has been in many group and solo shows over the years, and is currently showing her work at Northcoast Artists Gallery in Fort Bragg. Her work was recently featured at the Willits Center for the Arts and the Grace Hudson Museum in Ukiah. She is a featured artist in the current edition of Mendo Arts magazine, Fall/2015-Winter/2016. Ann received her B.A.in Art, with an emphasis in painting, from San Jose State University. She has studied watercolor and fabric design at Sonoma State, Mendocino College, and the Mendocino Art Center. She has received many awards for her paintings, and her work is in collections all over the world.
For over 25 years she has taught art to all ages privately and in the Willits Schools,including La Vida Charter School, The Willits Charter School, and River Oak Charter School in Ukiah. She has received several art grants and has taught watercolor at Mendocino College for eight years.
In 2009 she was honored as the Mendocino County Art Champion in the category of Artist. Each year, this honor is given to an artist who demonstrates artistic excellence in their chosen discipline, and shows a commitment to strengthening their community by using their artistic accomplishments to benefit the wider community.
She is a member of the Advisory Committee for the Willits Center for the Arts. In 2014 her watercolor illustrations were included in three books by local authors: Secrets of the Oak Woodlands, Composting Abbie: A Whale of a Story, and The Wind in Me.
She lives outside Willits in a rambling house with her husband, three cats and two dogs.