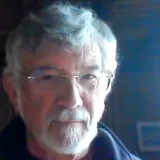 Classes:
CHM 200 Introduction to Chemistry
SCI 51A Science Resource Laboratory A
SCI 201 Survey of chemistry and Physics
Bio:
Mike Grady's job in a chemistry laboratory led to more college education, then biomedical research at UCSF, then pharmaceutical development in the Bay area. Twenty years ago he decided to try something as important but more difficult to do and that is teaching introductory college chemistry and physical science. So back to school to study science education – he's still working on that but knows for certain that everyone could and should have basic scientific literacy. He knows that is sometimes hard but that anyone and everyone can do it.
Something you don't know about me:
Mike Grady's first adult job was to analyze blood samples in a large hospital clinical chemistry lab.