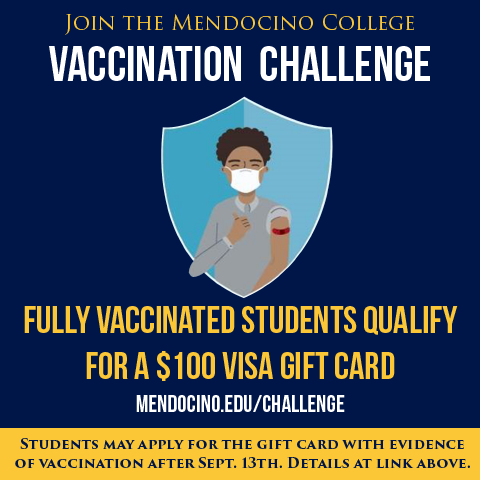 Attention Students!
Starting September 13th, Mendocino College will provide a $100 Visa gift card for each student who provides proof of being fully vaccinated.
Cards will be distributed after September 13th
Open to all students enrolled in the Fall 2021 semester in any number of units (Credit or Non-Credit)
Students can pick up cards after September 13th from the main campus (VP office, Macmillan Hall room 1020 Mon-Fri 9 am - 2 pm) or centers. Must pick up in person during hours of operation (see www.mendocino.edu/announcements for hours of operation at centers). 
Must show student or government issued photo ID and completed vaccination card.
Only one Visa card per student will be given.
To find a vaccine clinic near you, visit: https://myturn.ca.gov
For questions, contact Kris Bartolomei: kbartolo@mendocino.edu or 707.468.3253.
Looking for the facts? Check out the California For All webpage on COVID-19 Vaccines to learn all about the vaccines, how to stop the spread, and what to expect after getting the vaccine. More information can be found on the CDC's Myths and Facts about the COVID-19 webpage.
YOUR ACTIONS SAVE LIVES. GET VACCINATED TODAY!