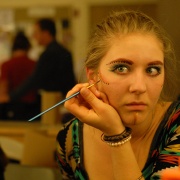 A coordinated series of classes for a cohort of theatre students.
Actor training prepares students not only for careers in theatre, but also equips students with skills of creativity, communication, discipline and teamwork—skills which are essential in all careers and in life. Theatre is thriving at Mendocino College; come join us! 
Mendocino College's Theatre Conservatory Cohort Experience allows students the opportunity to engage in conservatory style actor training on our Ukiah campus. An intensive series of acting, voice and movement classes occur each afternoon with production rehearsals in the evenings. Students are free to pursue their general education and transfer preparation courses in the mornings (and summer sessions). The cohort group follows a four semester sequence over the course of two years, after which students who have completed the conservatory sequence of classes as well as their general education requirements earn an AA degree in theatre and are prepared to transfer to 4-year institutions. Do note that meeting with a counselor to plan a sequence that fulfills the general education requirements is essential.  Students who commit to the full program of courses receive priority in production casting and benefit from an intensive theatre training experience.  For information about participating in this exciting opportunity, contact Reid Edelman at 468-3172 or e-mail redelman@mendocino.edu.