Mendocino College Repertory Dance Theater Presents:
Open Air
directed by Eryn Schon-Brunner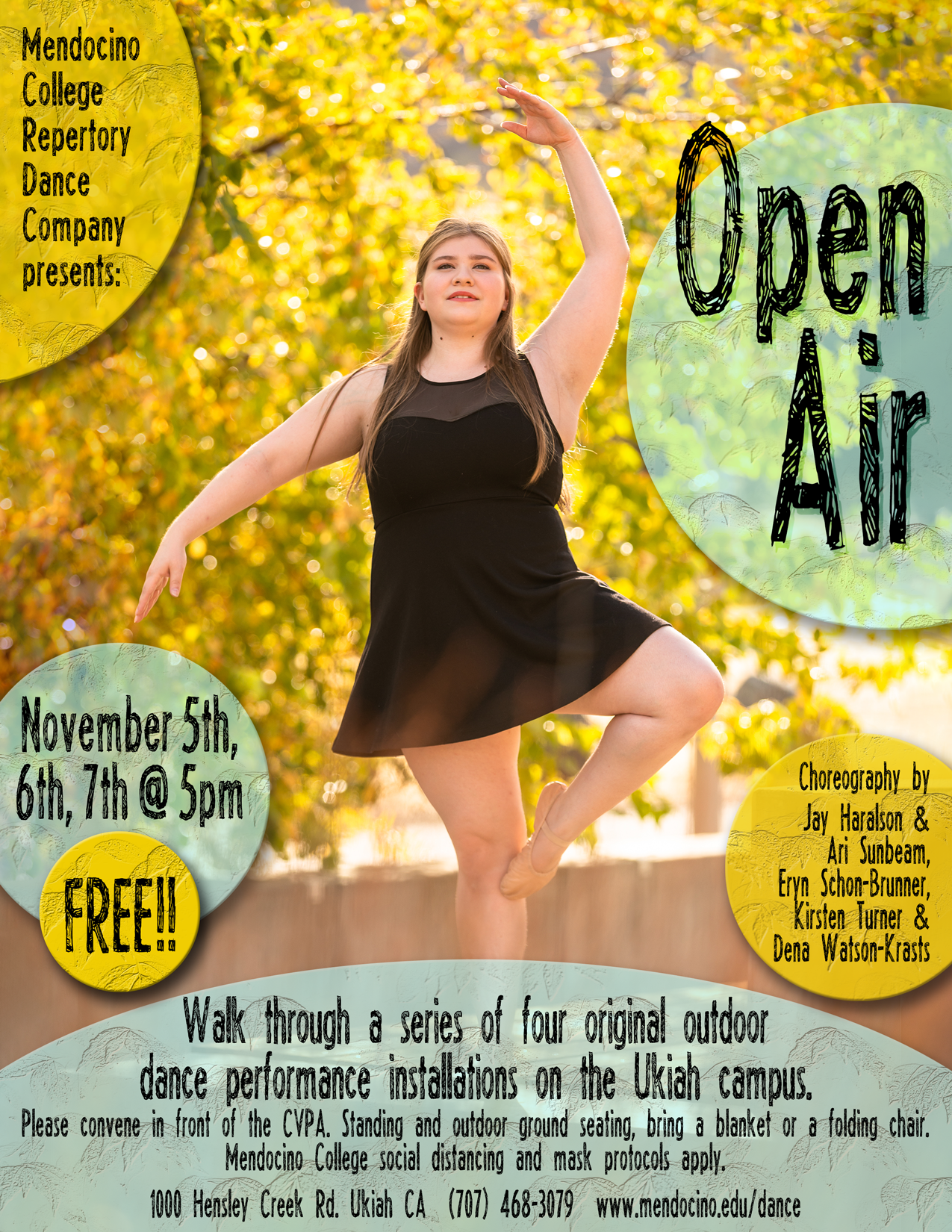 November 5, 6, 7, 2021 5pm
FREE
Note: Download a copy of the Program here!
Walk through a series of four outdoor dance performance installations within the central Mendocino College, Ukiah campus. Experience Kirsten Turner's new balletic work on an outdoor stage, followed by Dena Watson-Krasts's Oak Tree installation. Enjoy Eryn Schon-Brunner's new contemporary work in the round, and witness the dance fusion-collaboration between Jay Haralson and Ari Sunbeam on the Pomo plaza stairs.  Join us! 
Mendocino College, Ukiah campus, at the Outdoor stage in front of the CVPA.
Standing and outdoor ground seating, bring a blanket or a folding chair.
Mendocino College social distancing and mask protocols apply.
---
Past Performances
Live in the Oak Grove: Dance, Theater and Music
CLICK TO DOWNLOAD THE PROGRAM HERE
Performance art Alumni and Guests showcase short dances, skits and songs in celebration of returning to live performance. Featuring: Jas Byerley, Yves Charles, Rickie Farah, Tara Ford, Melany Katz, Kai Krasts, Jay Haralson Dance, Traci Hunt, Schuylar Marcier, Mendocicno Dance Project, Mendocino Ballet,  Ari Sunbeam, Megan Youell and more.

The show is: FREE
August 27 & 28, 2021 at 3pm
Mendocino College Ukiah Campus Outdoor stage in the Oak Grove next to McMillan Hall
Lawn seating, bring a blanket.
Mendocino College Social Distancing and Masks protocol apply.
For more information contact ebrunner@mendocino.edu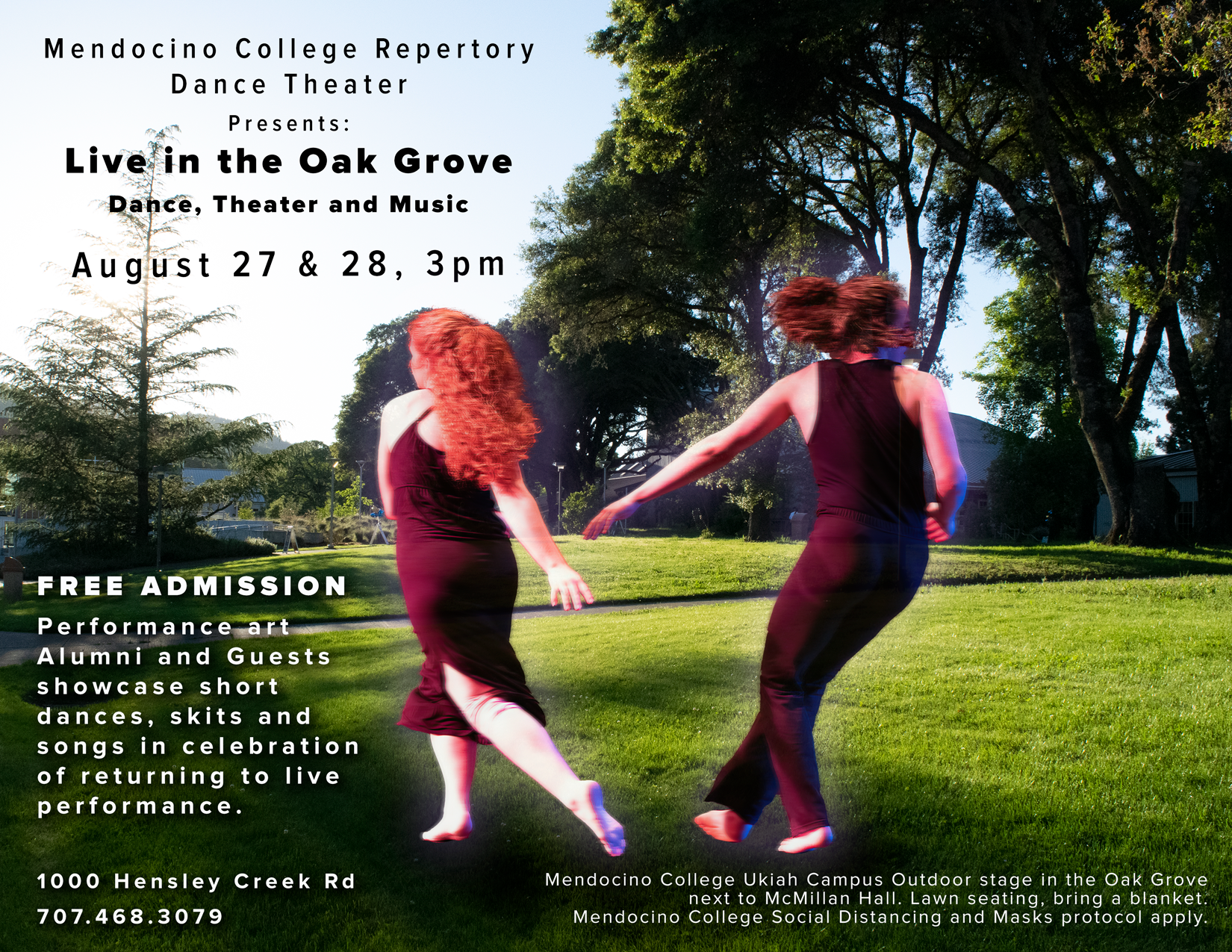 ---
Mendocino College Dance on Film Festival 2020
Dance! Dance! Dance! Film!
Mendocino College choreography students turn the Shelter in Place ordinance into an opportunity to create dance on film.  With Mendocino College Spring Dance Festival 2020 cancelled, nine student choreographers under the direction of Eryn Schon-Brunner decided to transfer their new choreographic works to film for the first virtual Mendocino College Spring Dance on Film Festival. 
On May 8, 2020, new works by choreographers Clara Carstensen, Yves Charles, Margarita Diaz, Traci Hunt, Kai Krasts, Paloma Rodriguez Irizarry, Hannah Nicole, Jonah O'Conner, and Megan Youell can be viewed at www.mendocino.edu/the-arts/art/art-gallery/current-exhibits/dance-arts. Alternately you can visit the full playlist of pieces directly by visiting: Mendocino College Dance on Film Festival
---
PERFORMANCES
Last Week 
https://www.youtube.com/watch?v=m6hbCiuI-64
Traci Hunt
Last Week, by Traci Hunt, seeks to evoke feelings of nostalgia and a melancholic relationship with the past. What happens when the events that happened last week cloud what is happening right now? Traci was inspired by her personal experience of being unable to detach her present circumstances from everything that happened yesterday, over the weekend, or last week. "I think this piece has a lot of potential to be adapted," Traci says, "and I do believe it has the potential to be further explored and fleshed out in group work on stage."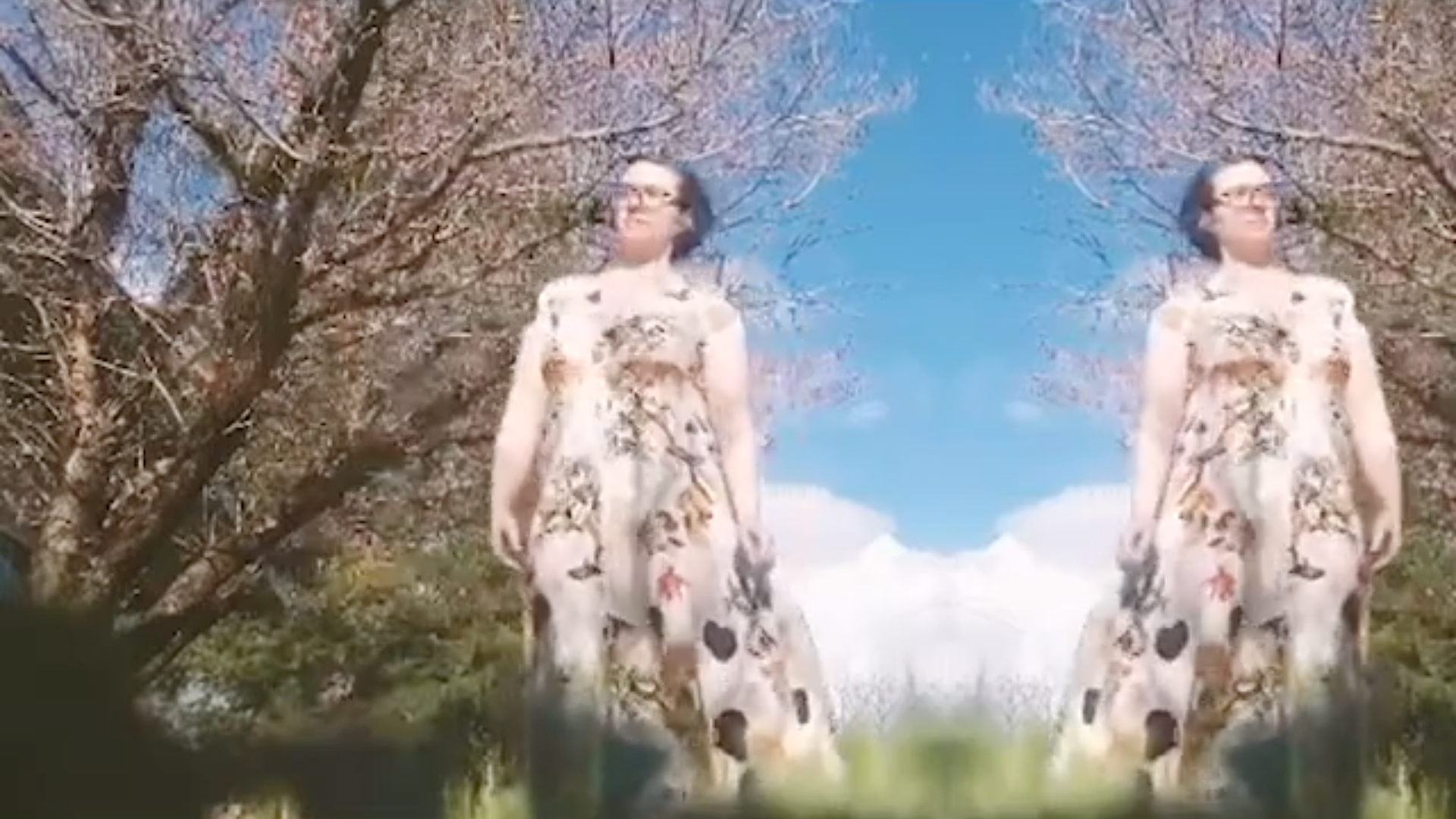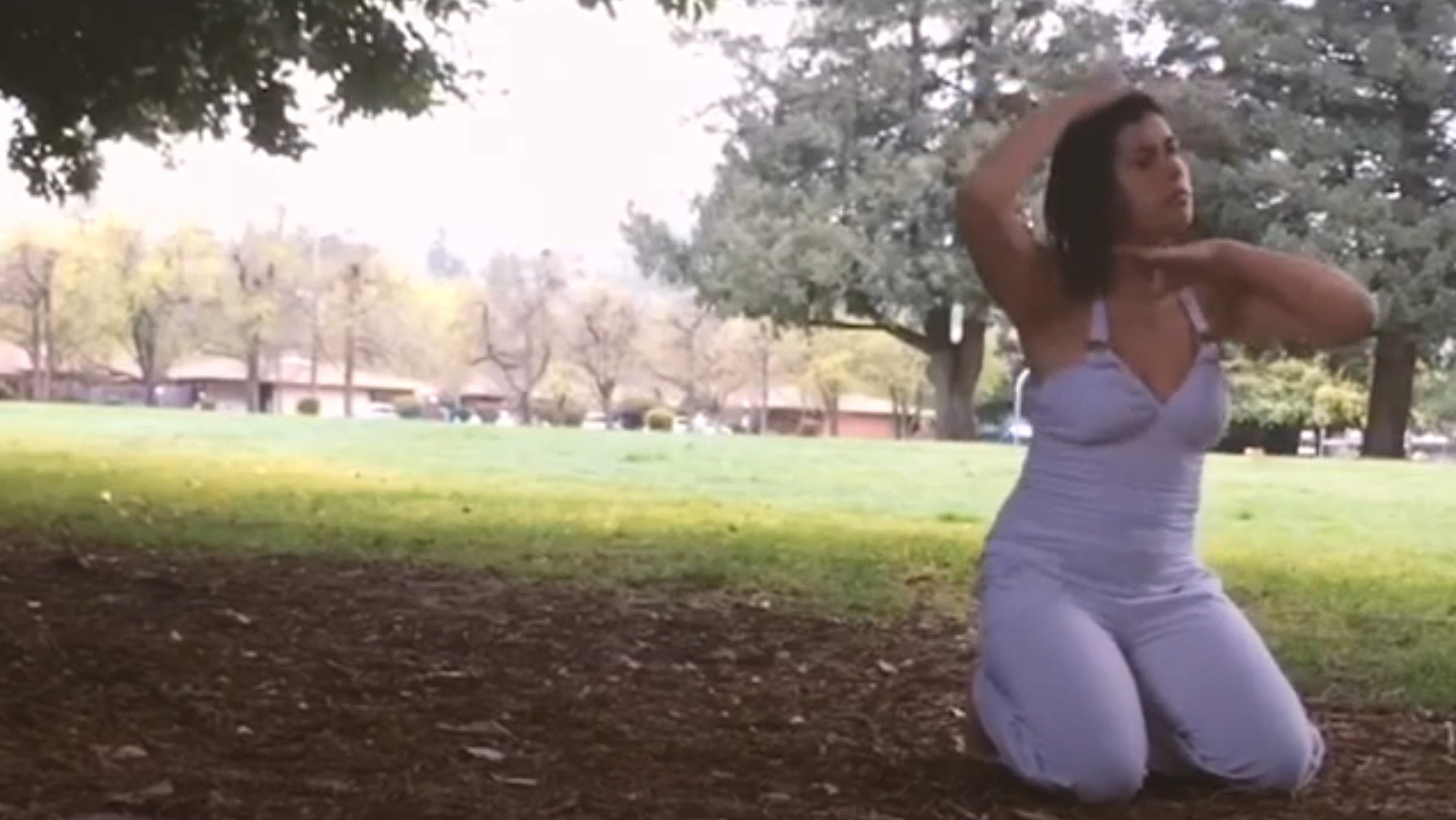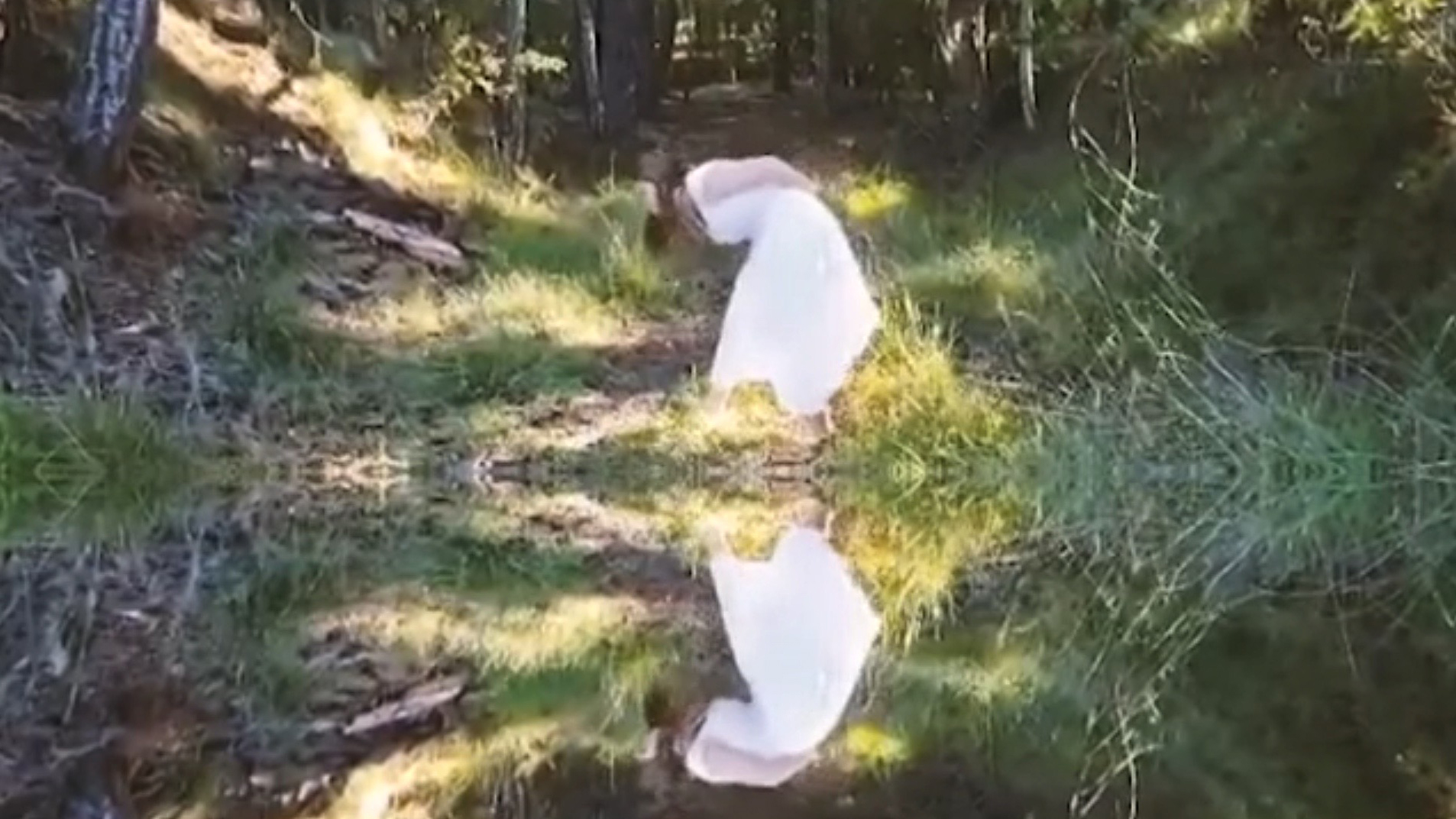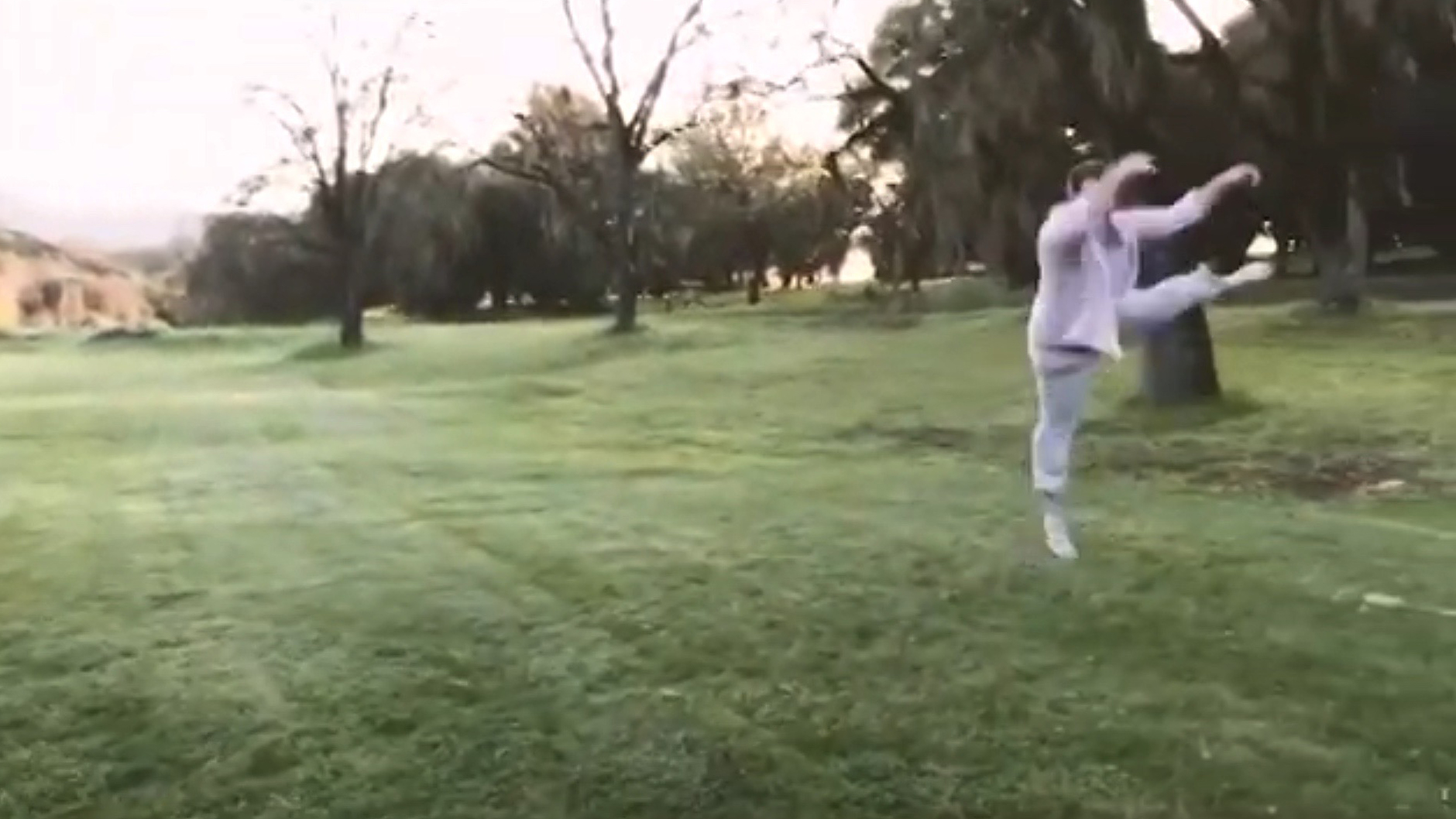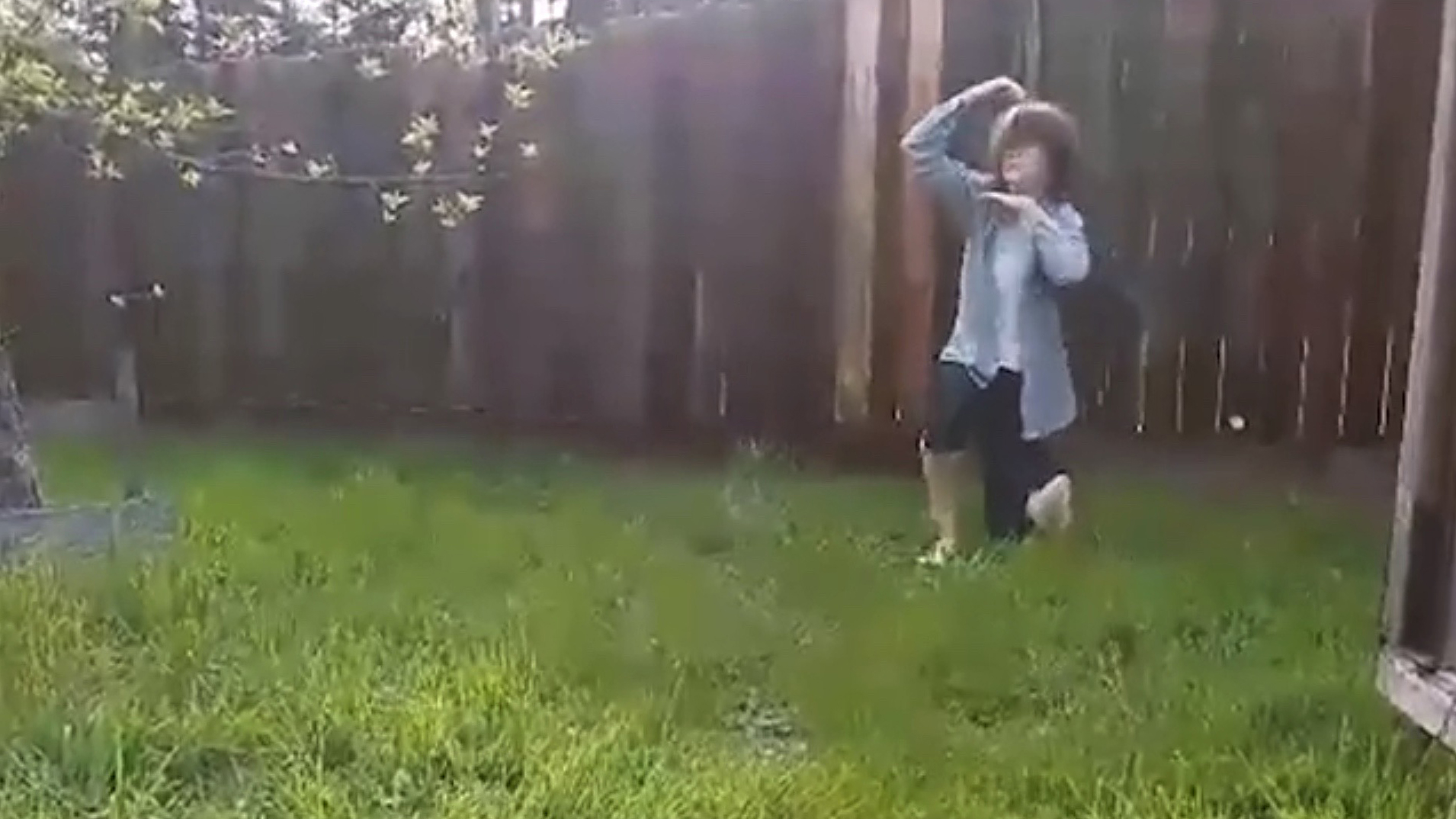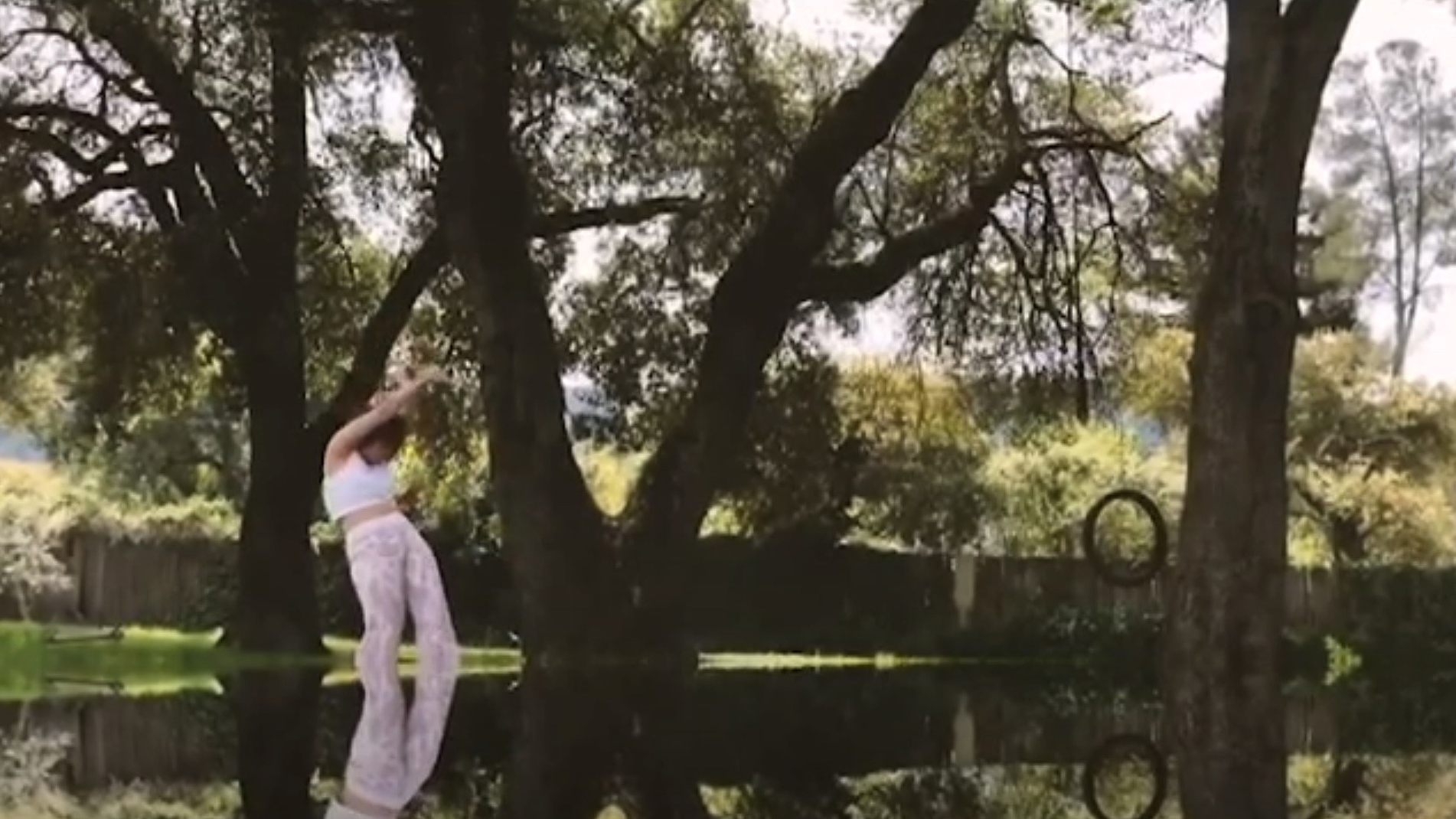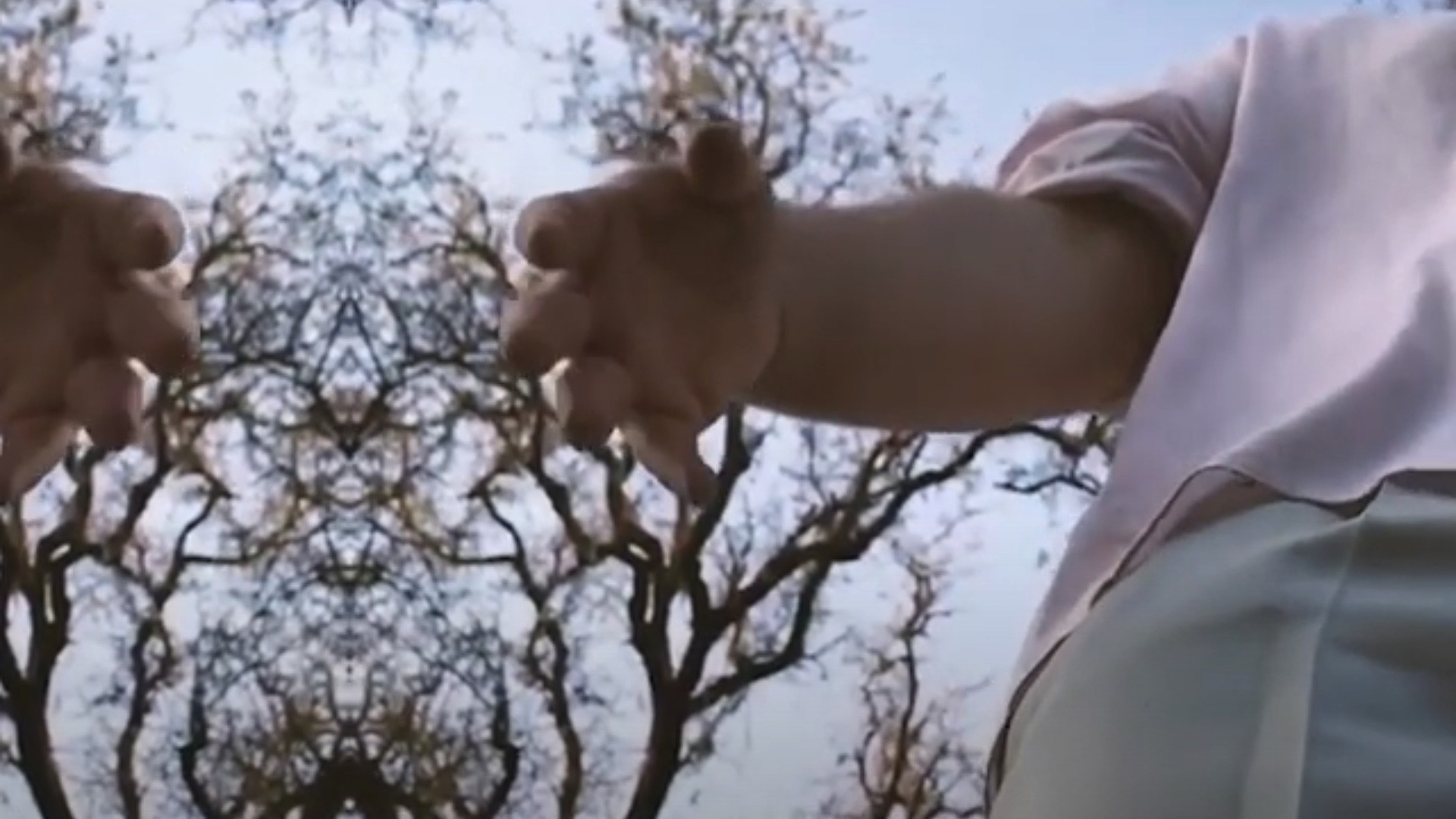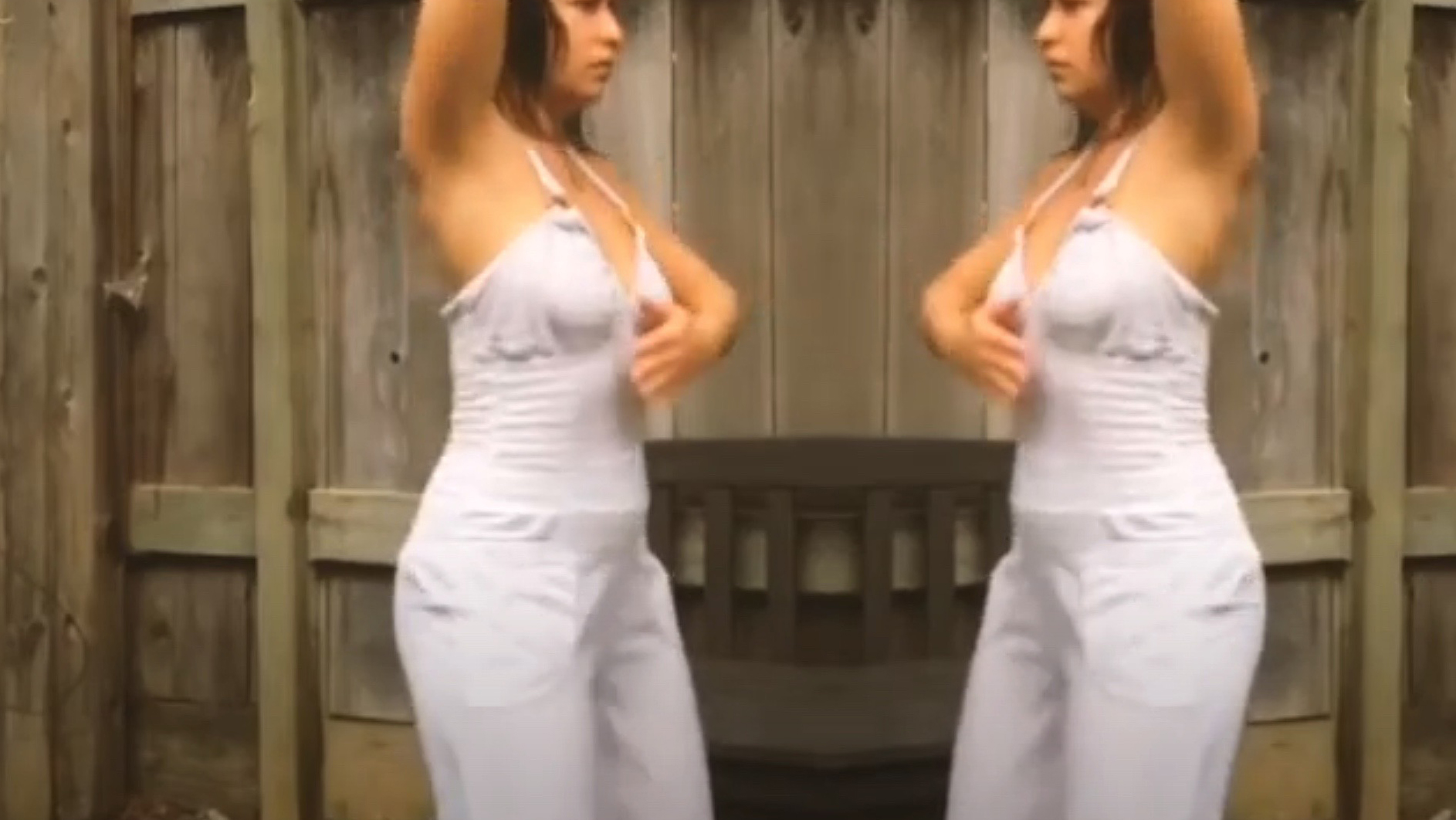 The Other
https://www.youtube.com/watch?v=TjCIM0Rlb20
Traci Hunt
The Other, by Traci Hunt, is an exploration of similarity and likeness in humans, a search to find out what we hold at our core that connects us all.  According to Justin Vernon, "It's really hard to separate and truly decipher what one person is, because you don't have one person without the other."  This piece came about organically, and the shift to video definitely changed the course of the piece and its theme. "Nevertheless," suggests Traci, "the evolution of the piece was fun to watch, and moving it to a video format allowed me as a choreographer to push the boundaries of what can be said through movement with the theme of likeness in mind."
Traci Hunt was born and raised in Ukiah and has been dancing since the age of 18. Now 22, Hunt has performed in dance and theatre at Mendocino College and Ukiah Players Theatre. She intends to continue choreographing and performing as she continues to pursue her higher education.
---
Meraki 
https://www.youtube.com/watch?v=igidecn6nBY
Hannah Nicole
Meraki, by Hannah Nicole, is a visual documentation of one dancer's exploration, due to the global pandemic of Covid-19, in a world which has been practicing social distancing, to experiment in a new environment: an abandoned garden area that was left forgotten.  Being secluded in your home for weeks on end can easily become an emotionally and mentally trying event for a person. "I was losing all inspiration for creating art," claims Hannah, "but I found that, if I forced myself to continue dancing, my mood was instantaneously lifted. That is why I made this video; because no matter what you may be going through, sometimes all that is needed is to try to 'reinvent yourself,' see things through a new perspective, push through your struggles and see how you come out on the other side."
Hannah Nicole Kolkmann is 17 years old. She began dancing at the age of six under the instruction of Kathleen Ferri-Taylor at the Cloud 9 Dance Studio. Since then she has danced under the instruction of Eryn Schon-Brunner in the Mendocino College Repertory Dance Company.
---
Quarantine Dayz
https://www.youtube.com/watch?v=pEXeZVDWHuw
Kai Krasts
Quarantine Dayz, by Kai Krasts, looks at how the youth play with the dirt and the grime of their world and situation. The piece is inspired by the nihilism occasioned by the apocalyptic world we now live in, and how the end is surely nigh. 
Kai Krasts is a dancer, actor, and regular guy who lives in Ukiah California. He has been performing for most of his life and will continue to attempt to entertain until he's dead.  
---
Work in Progress
https://youtu.be/K2ZbQT624Bw
Clara Carstensen
Work in Progress, by Clara Carstensen, is a dance about emotional pain and trying to pretend everything will always be okay, even if that only leaves you feeling numb.  It is the feeling of realizing you have lost something you didn't know you were losing. "I choreographed this dance based on a very emotional event that happened recently in my life that changed my viewpoint on trust," offers Clara.  "The title indicates that healing from emotional pain will always be a 'work in progress', and it is important to have patience with this process.
Clara Carstensen is a transferring student at Mendocino College.  Clara has been dancing since she was fourteen years old, but she has recently started choreographing her own dances.  While being fixated on dance and art, she has also immersed herself in science and technology. She is a technical lighting designer and is learning about 3D printing and computer languages.  Clara is going on to study Dance and Robotics Engineering.  She is the 2020 recipient of Mendocino College Dance Club's "Inspiring Dancer Scholarship." Contact Clara at: clara.carstensen@student.mendocino.edu.   
---
DEATH FLESH
https://youtu.be/2zzR1XJ53do
Paloma Rodriguez Irizarry
DEATH FLESH, by Paloma V. Rodriguez, expresses the waking of an emotionally dead body. The piece explores how the body's lack of sensation leads to its collapse into darkness, and, at the end, brings the mind to a point of emotional reconciliation with itself.  "It was a dark and terrifying piece for me to create," says Paloma, "because it brought out very uncomfortable feelings." The video shows fragments of the creative process and the interactions of DEATH FLESH between the dancers. The creative process started in February, 2020 as part of the Mendocino Spring Dance Festival 2020, but the piece was transformed due to the COVID-19 pandemic. 
---
LIMIT(LESS)
https://youtu.be/qqMesey7wtg
Paloma Rodriguez Irizarry
LIMIT(LESS), by Paloma Rodriguez, confronts, explores, and penetrates the invisible barriers that we face. Her work challenges how the body perceives, interacts, and transforms these realities into movement. It illustrates how the environment changes the quality of movement, and it investigates how to play with these changes.  LIMIT(LESS) is a creative response to the cancellation of the Mendocino College Spring Dance festival 2020.
Paloma Victoria Rodriguez Irizarry is a native Puerto Rican who holds a Bachelors degree in pedagogy. Her dance training is versatile and extensive, from Cuban to Russian forms. She has received professional training in classical ballet, contemporary, jazz, Spanish and Puerto Rican Folkloric dance. She continues to expand her knowledge and, in December 2019, she traveled to Israel to participate in the Gaga Dancer Laboratory Intensive Program, with Ohad Naharin. Presently she is a member of the Mendocino College Repertory Dance Company, where she will continue to grow and expand as a dancer, a choreographer, and a teacher. Contact Information: email: volar83@gmail.com, Website: https://artthroughbody.wixsite.com/palomarodriguez
---
Breath of Life 
https://www.youtube.com/watch?v=FyLRDA5kHtk
Jonah O'Connor
Suspense, Drama, and Art! All in one short video! This video conquers all of its kind, with intensity and dramatic cinematography. You will either be terrified, mesmerized, hysterical with laughter, or all of the above!
This dance illustrates the dark aspects of the pandemic—not only the medical side, referring to the Breath of Life, but also the social side, referring to the distress of having to shelter in place. "I have a newfound respect for people who create videos like this all the time, and I think I will do videos for my dance pieces in the future," says Jonah. 
Jonah O'Conner is attending Mendocino College and focusing on Dance. He is a member of the Mendocino College Repertory Dance company, and he enjoys dancing traditional forms, such as ballet and modern as well as the more contemporary forms of jazz and hip hop. 
---
Broken
https://youtu.be/lw9xtqvLhzs
Megan Youell
Broken, by Megan Youell, represents the inner thoughts and coping processes of a woman after she has experienced trauma. "I think that sometimes we all feel broken in ways," suggests Megan.
Megan Youell is an American artist and dancer, who was born in Ukiah, California on December 30, 1998. Youell started at Mendocino Community College in the fall of 2017 as a Studio Arts major. She has shown work in the Mendocino Student Gallery and has previously choreographed a piece in the 2018 Mendocino College Spring Dance Festival, called When We Break. Megan has also danced in pieces in previous Mendocino College Dance Festivals and Repertory Shows. She is currently exploring female issues, emotions, and trauma through the female figure and movement of the body. She is the 2020 recipient of Mendocino College Dance Club's "Kayla Grace Chesser Scholarship."
---
Tally
https://youtu.be/o4Zo6ZWXfmk
Yves Charles
Tally is an exploration of time, self, and environment. Shot in an empty swimming pool, the piece gives a voyeuristic glimpse into the life of a person in isolation.
Yves Charles is a dancer and choreographer from Mendocino County, CA. They have been studying dance at Mendocino College since 2016. They have a love for the abstract and offbeat, as well as improvisation of all kinds. In the fall, they will be attending Cornish College of the Arts for a BFA in Dance. They can be reached at yvesxcharles@gmail.com or (307) 388-0295.
---
DNCE 
https://youtu.be/rqB7xH9O1iw
Margarita Diaz
DNCE is a compilation of dance videos from Diaz's sleepless nights, which weaves different genres into one cohesive film about just letting yourself feel and move. When getting lost in choreography, sometimes just letting yourself go and dancing mindlessly is the answer. "This is a virtual scrapbook of my many nights of just vibing with my movement," says Margarita.
Margarita Diaz has been a member of the Mendocino College Repertory Dance Company for three years, and she has taught at the School of Performing Arts and Cultural Eduction (SPACE) for two years. She looks forward to furthering her eduction in the arts. 
---
Unidas
https://youtu.be/UR6Kxh0WrZI
Margarita Diaz & Paloma Rodriguez Irizarry 
Unidas is a project that seeks solidarity within our movement. "She moves, we move, she aches, we ache, our greatest compliment to the earth is not to follow her but to move with her," says Margarita. Unidas is a beautiful collaboration between two strong women who encourage each other to create even in difficult times.
---
Mendocino College Dance on Film Festival is just one section of the Mendocino College's virtual art work that can be viewed in the Spring Student Art Show Virtual Art Gallery. Thanks to Doug Browe and Tony Novelli, who coordinated this virtual show, in which many different Mendocino College art forms will be shared, such as paintings and drawings, ceramics, culinary arts, theater, music, and creative writings.
https://www.mendocino.edu/article/mendocino-college-virtual-spring-student-art-show-2020
---
---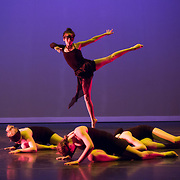 Mendocino College Spring Dance Festival 2020
Cancelled due to Shelter in Place Ordinance
---

Mendocino College Repertory Dance Company
Fall 2019 Dance Concert - ARISE
 Director: Eryn Schon-Brunner
 November 21-24, 2019
Thursday, November 21 @ 7:30pm
Friday, November 22 @ 7:30pm
Saturday, November 23 @ 7:30pm
Sunday, November 24 @ 2pm
Tickets: $15 General, $10 Students, Seniors and ASMC cardholders.
Available at the Mendocino Book Company, Mendocino College Bookstore and online at www.artsmendocino.org.
For more information, call (707) 468-3079.
A Family Friendly Event!
 The MCRDC will present four new dance works that respond to ideas of community rebuilding and recovery, loss, fear, and stress brought about by the disaster of wildfires.  The dance artists, local and national, Julie Castillo, (Julie Blackfeather, Auric Medicine, Willits), Alex Miller and Lucy Wilson (BLiPSWiTCH, Austin, Texas), Tony Valencia (DanzArts, San Diego) and Eryn Schon-Brunner (California) draw on their art form to explore the concerns that arise from the ashes after the fires, creating their own personal phoenixes. 
 MCRDC Artist director Eryn Schon-Brunner joins forces with MC Choir Director Janice Hawthorne Timm to bring choral music and dance together in a choreographic debut, A Call to Gather. The thirty-minute work will be set to Missa Druidica, created by local composer Joseph Nemeth, and will be sung by the MC Concert Choir.  A Call to Gather is a vocal and movement offering to the land and to the spirits of the past and the future, a celebration of humanity's potential to unite with respect and thoughtfulness.
---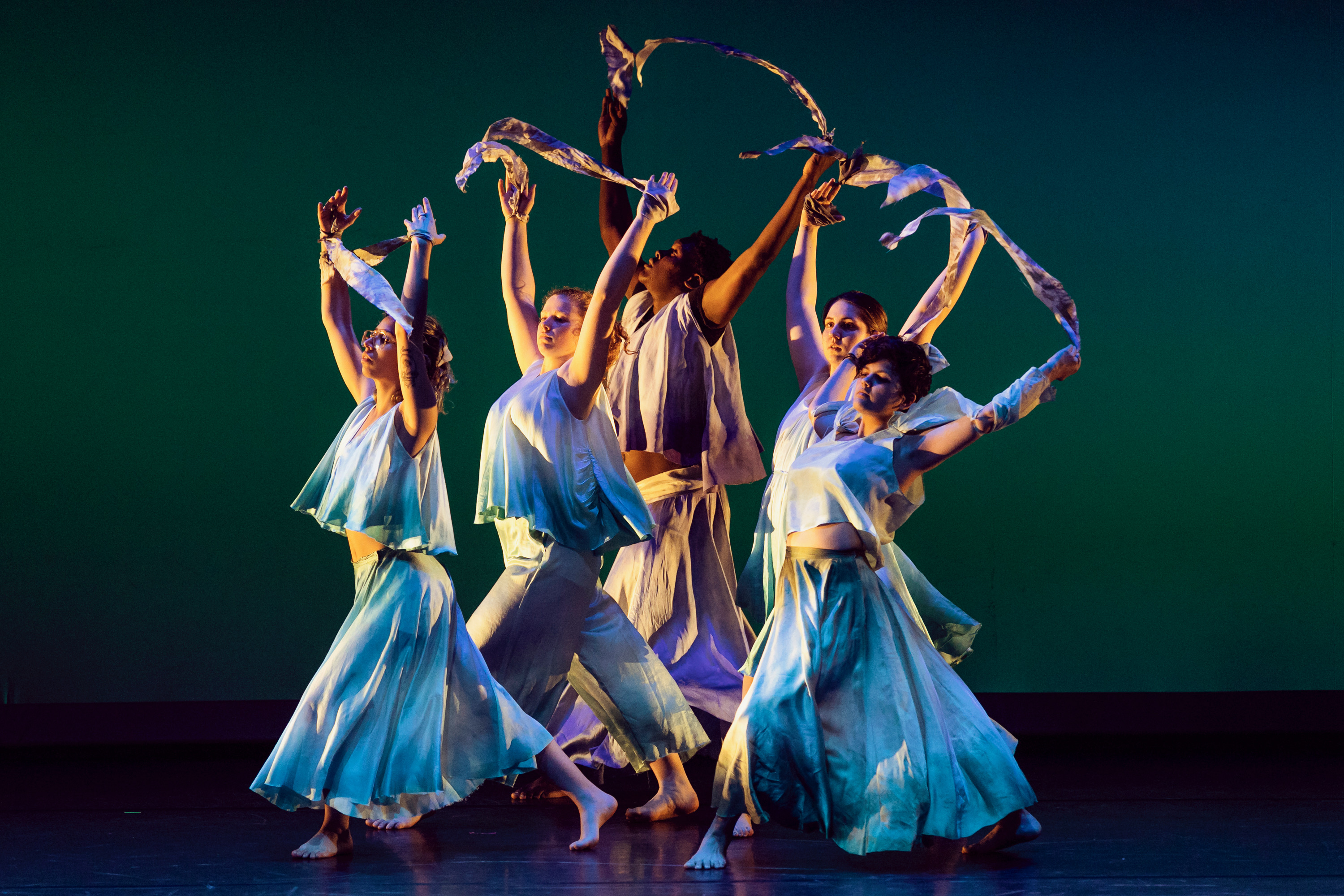 Mendocino College Spring Dance Festival 2019
     

   Sensations!

 
May 2, 3, 4 at 7:30pm  and May 5 at 2pm
An inspiring dance performance choreographed by local professional and students. Contemporary, Ballet, Hip Hop, Jazz, Tap, and more.... 
Tickets - $10 for everyone!
Advanced tickets available at Mendocino Book Company, the Mendocino College Bookstore, by calling (707) 468-3079, and online at www.artsmendocino.org
Mendocino College Center Theatre, 1000 Hensley Creek Rd, Ukiah, CA. 95482
Photography by Thomas Delgado
Dance Performance Archives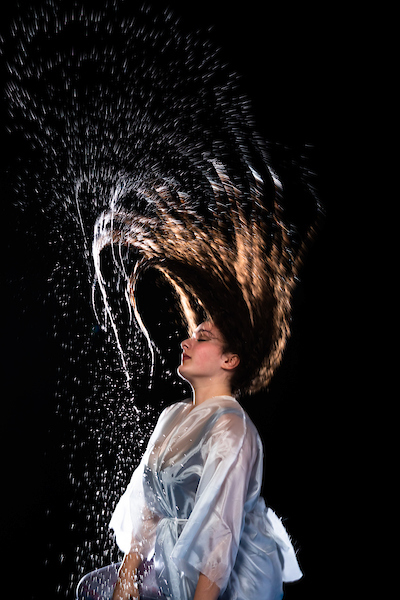 Mendocino College Dance Repertory Company Presents:
 REFLECTIONS…a dive into water, life & dance
Thursday, Friday and Saturday November 15,16 & 17 at 7:30pm, and Sunday,  November 18, at 2pm
Produced & directed by Eryn Schon-Brunner, assistant director Tara Ford. Thanks to Technical Director Steve Decker, Water will be utilized in dance, raining on stage in Water Dream, choreographed by Eryn Schon-Brunner. Guest choreographers: Amelia Uzategui Bonilla, Trudy McCreanor, Eddie Vedolla, premire works that explores relationships, the complications of retrograded action and beauty. Costumes by Kathy Katz and Video Art by Dave Wolf.
Tickets: $15 General, $10 for ASB cardholder, Seniors and children under 12. Available at Mendocino College Bookstore, Mendocino Book Company, and online at https://www.artsmendocino.org/. or call (707) 468-3079. Tickets will be sold at the door, if available, cash or check only. Mendocino College CVPA Theater, 1000 Hensley Creek Dr. Ukiah, CA. 
Experience Dance!!!
Mendocino College Spring Dance Festival 2018
May 3, 4, and 5 at 7:30pm and May 6 at 2pm
Join us for an exciting performance of Contemporary Dance, Ballet, Hip Hop, Jazz, Tap, and more.... 
Admission $10 General, $5 Students
Advanced tickets available at Mendocino Book Company, the Mendocino College Bookstore, or by calling (707) 468-3079
Center for the Visual and Performing Arts Theatre, 1000 Hensley Creek Rd, Ukiah, CA. 95482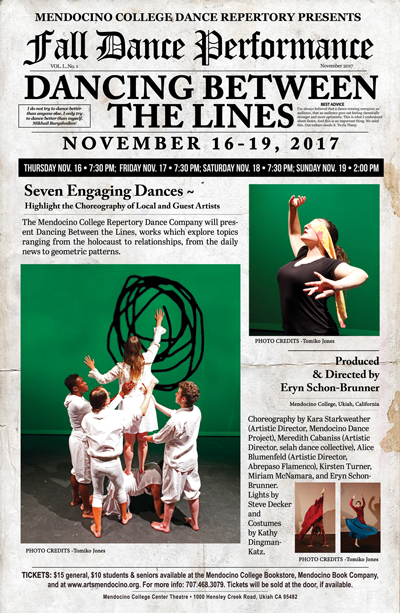 The Mendocino College Dance Department's Repertory Dance Company will present Dancing Between the Lines.  Mendocino College Repertory Dancers perform works choreographed by Alice Blumenfeld (Artistic Director, Abrepaso Flamenco), Kara Starkweather (Artistic Director, Mendocino Dance Project), Meredith Cabaniss (Artistic Director, selah dance collective), Kirsten Turner, Miriam McNamara, and Eryn Schon-Brunner.  The performance features costumes by Kathy Dingman-Katz and lighting by Steve Decker.  Performances are November 16-19, in Mendocino College's Center Theatre on the Ukiah Campus.
The Mendocino College Repertory Dance Company is a diverse group of college dancers who share an interest in dance as a performing art.  The company, which formed in 1986, is currently under the direction of Eryn Schon-Brunner.  Each fall the company spends time learning the works of 4-6 professional choreographers adding to the diverse repertory of dances the company can perform, providing young dancers with experience and connections in the dance field. 
 Mendocino College Repertory Dancer - "Between the Lines", Dancers/ Oscar Medina-Montelongo, Photo By Tomiko Jones
According to Schon-Brunner, Dancing Between the Lines explores topics ranging from the holocaust to relationships, from daily newspapers to geometric patterns.  Each choreographer uses movement as a tool to investigate subjects of interest.  The dances presented are the culmination of their artistic discoveries, an offering to the audience.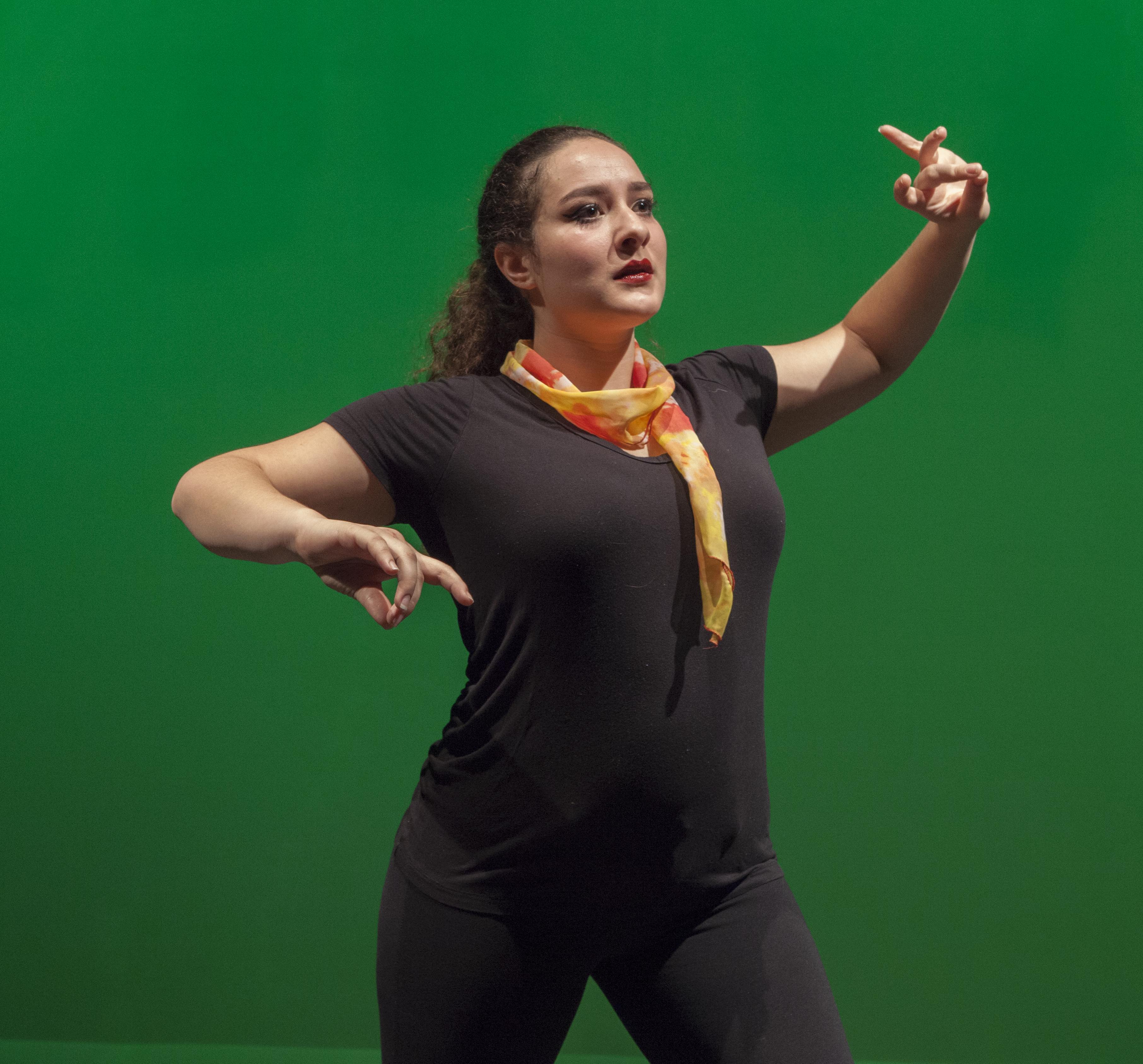 Mendocino College Repertory Dancer - "Sol y Soledad", Dancers/ Rickie Farrah, Photo By Tomiko Jones
Meredith Cabaniss, a Ukiah local now residing in Santa Barbara, founder and artist director of selah dance collective, returned home to set work on MCDRC in early September. Cabaniss reset a vibrant piece of choreography that explores The Scribble, kinesthetic force with audio, visual and kinetic elements that all come together to create another kind of being, a kind of digital double. Using video projection, she investigates the intention behind the patterns and habits that we develop because of the things that happen to us and the things we ourselves do.  Cabaniss sighs and smiles saying, "People are so much more than the worst thing they have ever done." She is "really very excited to bring [her] professional artistry to Ukiah and share the many styles and forms she has explored since she left."  
  Mendocino College Repertory Dancer - "Scribbles", Dancers/ Eleazar Brown, Kevin Klay, Jasmyn Haralson, Owen Browne, Carolina Torres - Photo By Tomiko Jones  
Guest artists Cabaniss, Blumenfeld, and Starkweather have motivated and inspired the MCRDC dancers, encouraging them to 'fine tune' their dance technique, while staying true to what they love about dance.  Alice Blumenfeld, an International Flamenco Artist, guided the Repertory Dancers through a sultry rhythmic exploration of one's connection to others amidst feelings of solitude and loneliness.  Blumenfeld describes Sol y Soledad is an exploration of finding the scarf and our connections."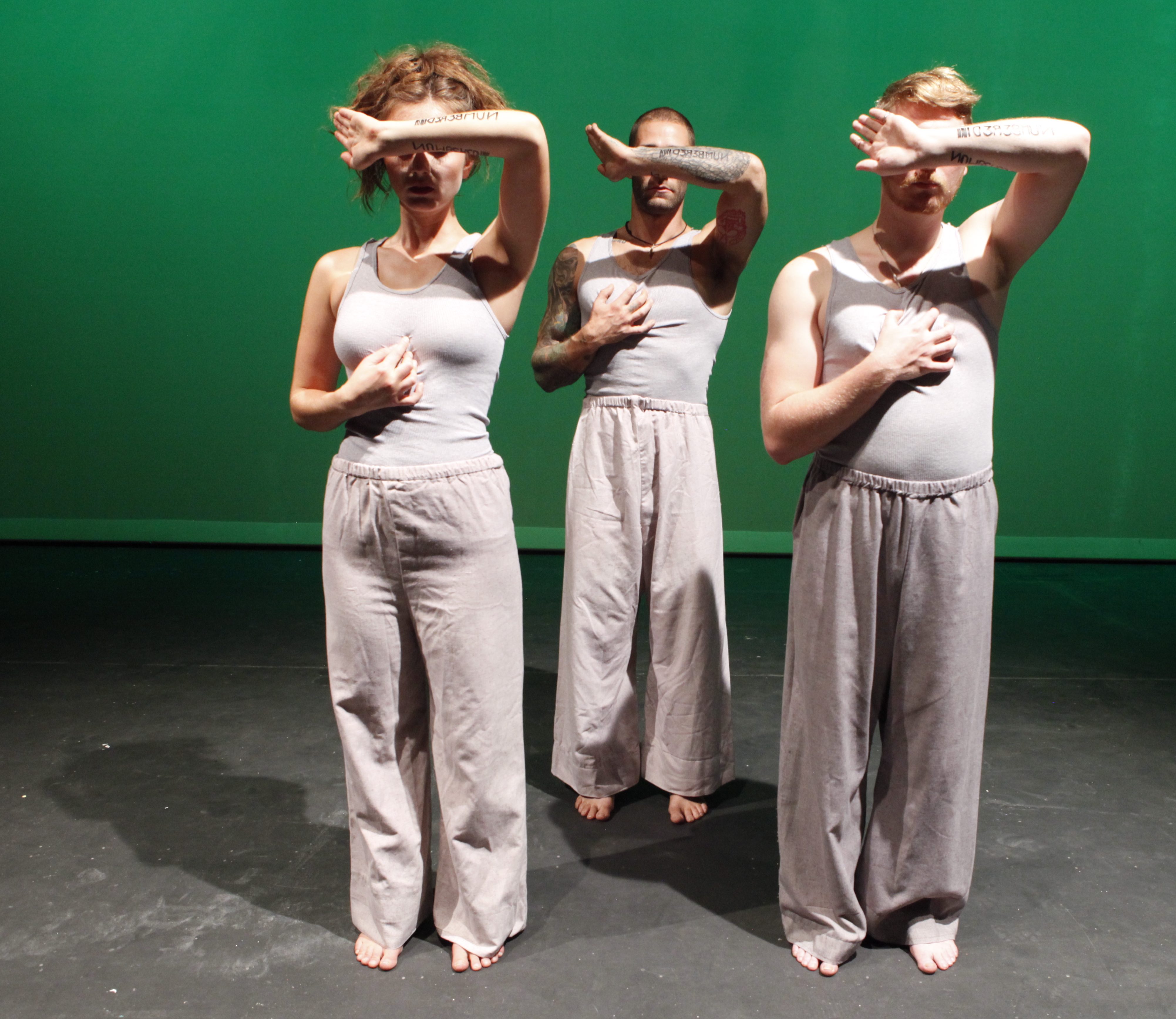 Mendocino College Repertory Dance Company - "Numbered", Dancers/ Lhasa Summers, Brian Teate, Ari Sunbeam - Photo By Tomiko Jones
Closer to home, Starkweather has spread her "desire to create a vibrant dance community on the [Mendocino coast]," into the heart of Mendocino County.  The choreography she set on the MCRDC has moments which defy gravity, with elaborate partner work, stunning energetic phrases, and playful sequences.  Influenced by her time dancing for Bandaloop, the foremost San Francisco-based aerial dance company, she shares her knowledge of how a body can efficiently move through space while investigating relationships between dancers.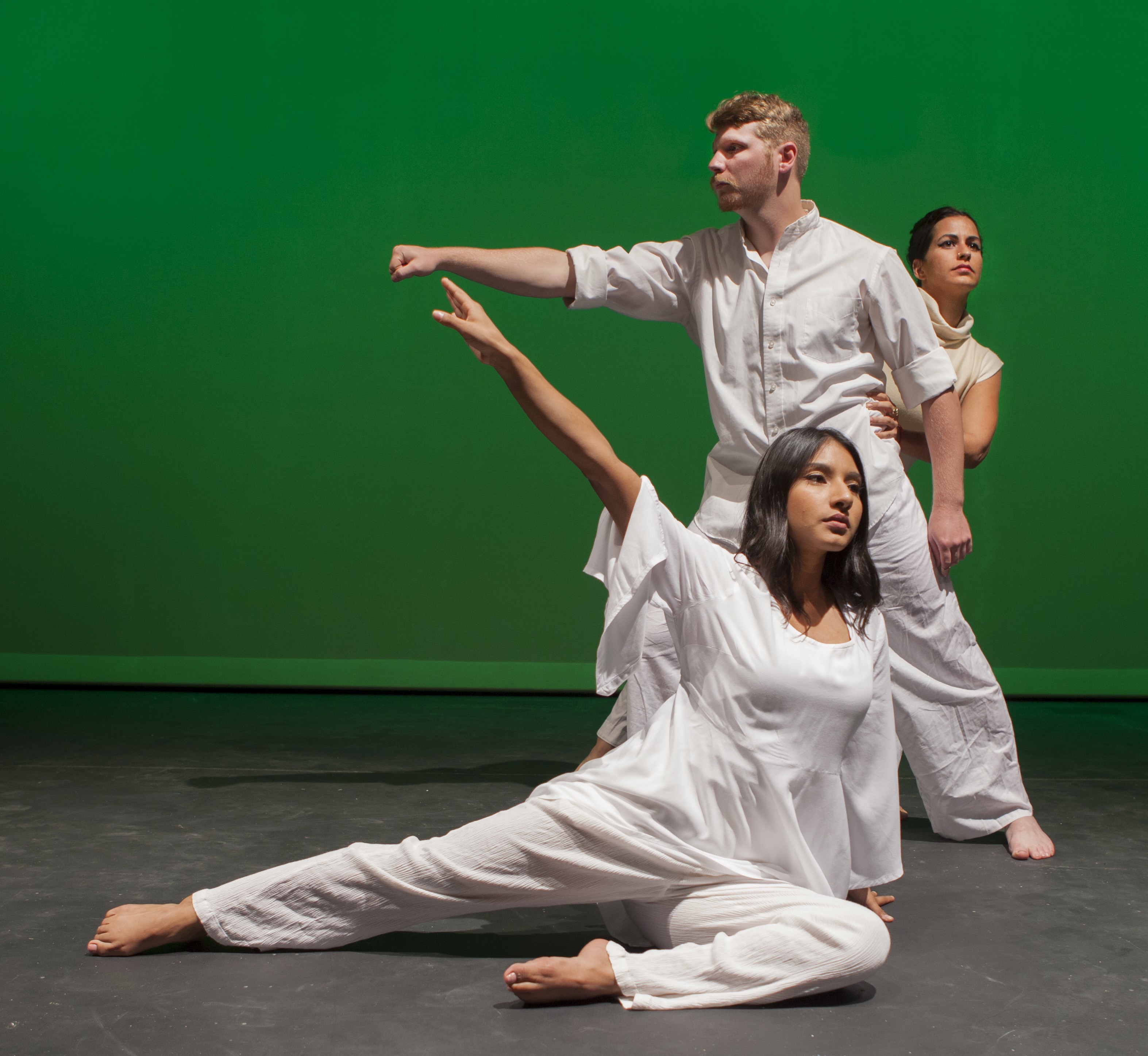 Mendocino College Repertory Dance Company - "Relations", Dancers/ Rocio Ramos, Ari Sunbeam, Paloma Rodriguez - Photo By Tomiko Jones
Local choreographers Kirsten Turner and Miriam McNamara have reflected on personal and cultural histories in the works they have set on the Repertory dancers this fall.  Kirsten Turner expanded Chan Chan, a tribute to her maternal lineage to Havana, Cuba. Invoking Cuba's sultry Latin feel, in a ballet influenced by Latin dance forms. While, Miriam McNamara, pays homage in Numbered, to the victims of the Holocaust, specifically those who were interned in concentration camps, such as Auschwitz and Birkenau, where prisoners were tattooed with identification numbers. 
Eryn Schon-Brunner asked the dancers to draw on what they find in today's newspaper to weave their own truths into, Between the Lines, an physical investigation of how the steady stream of digital and printed media impact us over time. She asked the dancers, "Where do we hold the information we take into our minds in our bodies, how does it affect us, what do we do with it?" Schon-Brunner will also premiere, I Choose, I Reject, a dance addressing the idea that each day, each minute, each moment is filled with choices and rejections, some simple, some complex. It is the stockpile of our choices that makes us who we are, defines us as individuals, the sum of our actions and opinions. Both dances will be accompanied by the haunting vocals and musical arrangements of Lindsey Chapman.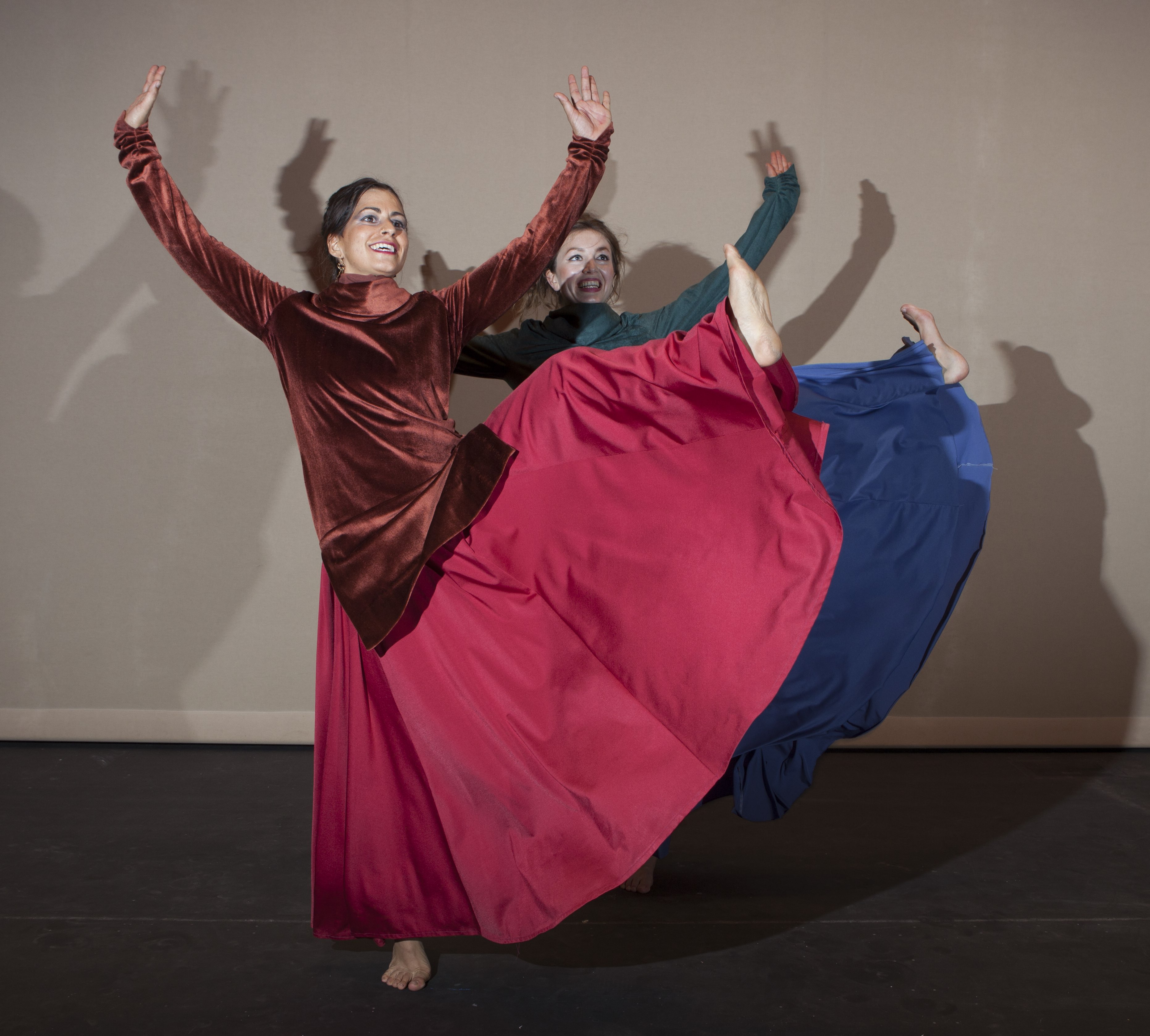 Mendocino College Repertory Dancer - "I Choose, I Reject", Dancers/ Lhasa Summers, Paloma Rodriguez - Photo By Tomiko Jones   
Dancing Between the Lines will run for one weekend only.  Performances are Thursday, Friday, and Saturday, November 16, 17, and 18 at 7:30PM, and Sunday, November 19, at 2PM.  Tickets: $15 general; $10 ASB cardholders, seniors and children 12 and under.  Tickets are available at the Mendocino College Bookstore, Mendocino Book Company, and online at www.artsmendocino.org.  Tickets may also be purchased at the door, if available. Audiences are encouraged to purchase tickets in advance.  Get your tickets today!  For more information, please visit www.mendocino.edu.