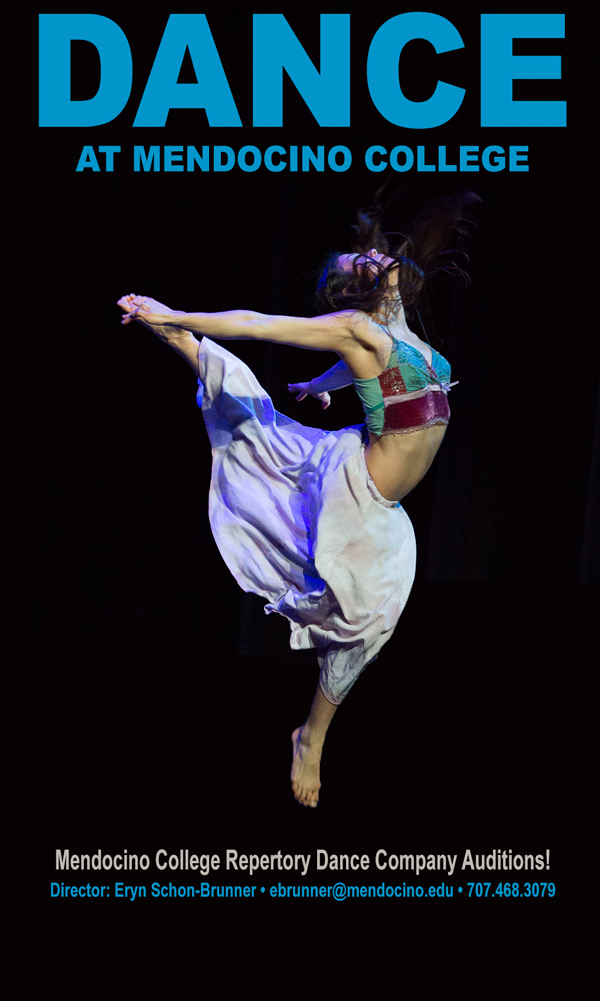 Mendocino College Repertory Dance Company Auditions! 
Director: Eryn Schon-Brunner 
Informal Question and Answers:  Saturday, Aug. 8th, 2020 at 11am on Zoom  
            https://us02web.zoom.us/j/88504715440   Meeting ID: 885 0471 5440 
MCRDC Orientation/Auditions: Tuesday, Aug.18th, 2020 at 3:30pm on Zoom  
             https://cccconfer.zoom.us/j/91791171171   Meeting ID: 917 9117 1171 
Rehearsals: Rehearsals begin Thursday, Aug 20th over Zoom. (Repertory rehearsals tentatively scheduled for Tuesday & Thursday 3:30-6:00pm and Friday 5:00pm-6:30pm—actual schedule depends on casting) 
Auditions will be for the MCRDC Fall 2020 Repertory Dance Concert, November 13-15, 2020. The company will perform dance works by guest artists and local choreographers. MCDRC is directed by Eryn Schon-Brunner.
Please contact us for more information at ebrunner@mendocino.edu or 707.468.3079 
Mendocino College Repertory Dance Company and Apprentice Company
The Mendocino College Repertory Dance Company is a diverse group of dancers who share an interest in dance as a performing art.  The company, which formed in 1986, produces at least one concert each year, featuring choreographic works by students, faculty members and guest choreographers.  Although the company maintains a primarily Modern Dance/Contemporary Dance repertoire, performances occasionally include dance theatre, jazz dance and ballet.
Company membership is by audition and varies in number from 12 to 30. Company membership consists of dancers with varied strengths, experience and technical levels.  In 1994, the company introduced an apprentice program, whereby less experienced students gain valuable experience while performing as company members.
Some of the our most innovative dance presentations include Behind the Masks:  Journey Into the Mist inspired by the Native peoples of the Pacific Northwest Coast, Vivaldi's Gloria which was presented in conjunction with the Mendocino College Masterworks Chorale and the Ukiah Symphony.  Over 100 performers participated in this magnificent evening length work. 
The company occasionally presents its special children's presentation A Symphony of Movement which introduces elementary age children to the art of dance.  As part of this series, the company has presented contemporary versions of "Peter and the Wolf," "Carnival of Animals" and many other favorites! Click here to see photos of past performances, and here to see a YouTube presentation of a Company repertory piece.
Goals
To develop and maintain a high level of technical and artistic expertise in a variety of dance modes, both individually and as a group.
To present at least one major dance performance a year.
To educate the public in dance.
To develop a repertoire of dance pieces in a variety of dance modes and styles. 
To challenge and support artistic growth, both individually and as a group.
To represent and promote the dance program at Mendocino College.
To provide dance education to our communities.
To develop and maintain the skills for working together as a team in order to accomplish these goals.
To provide company members who have studied techniques in choreography, an opportunity to choreograph dances.
Company Membership
All Company members are selected through an audition process.  Prospective members are evaluated on technical skills, ability to learn a choreographed phrase, potential as a choreographer, and improvisational skills.  It is preferred that members have strengths in all of the above areas.  However, individuals may be chosen for Company membership based on specific areas of strength.  The goal is to maintain a well-balanced performing base within the membership that represents the diversity of our program.
Expectations of Company Members
In order to maintain and grow in skill level, Company members are required to take at least one approved technique class per week in ballet, contemporary/modern dance or other forms of dance as agreed upon by the director.  An intermediate or advanced technique class is recommended.
Company members should attend at least four dance performances (other than Repertory Company) a year.
Company members are expected to seek and attend special workshops and master classes.
Company members must enroll in all specified dance courses related to the Repertory Dance Company.  Members are expected to be punctual.  If a member is not able to attend class, he/she is expected to contact the instructor.
All company members are expected to participate in full company dances when one is scheduled.  Members who do not wish to participate in the company dance but would like to dance in the performance may perform in one dance as a guest performer. 
Company members are expected to explore areas of dance that are less familiar to them and to grow in experience in those areas.
Company members are expected to attend company meetings and are expected to be punctual at those meetings.
Company members are responsible for working in a positive, productive and supportive way with other members.
Company members may be called upon to participate in additional rehearsals.  Individuals are responsible for attending these rehearsals.
Members are responsible for practicing, on their own, dances they are performing in.