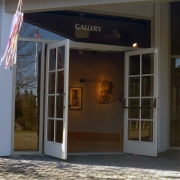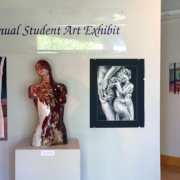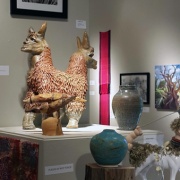 The Mendocino College Art Gallery is housed in the Center for Visual and Performing Arts (CVPA). Since its inception in 2005, the gallery has made a significant contribution to the cultural life of Mendocino County, presenting more than 100 exhibitions during this time. Celebrating regional artists, the gallery stays true to its educational role and provides students an opportunity to learn first hand about gallery management, exhibition design and instillation practices.  
The mission of the Mendocino College Art Gallery is to:
Showcase local and regional artists.
Expose the college community and the broader community of Lake and Mendocino Counties to artists, art trends and ideas from other parts of the state and country.
Provide opportunities for students to prepare, present, and view their work in a professional gallery setting.
Present exhibits which support and engage multiple disciplines.
Expose students, faculty and area residents to art that otherwise would not be available without travelling to distant urban centers.
Help establish Mendocino College as a cultural center and shaping force in the district we serve.
The gallery is open Tuesday 12-3, Wednesday 3-6, and Thursday 12-3 when exhibitions are installed during the academic year (closed in summer).  It is also open for most performances in the theater, and by special appointment.   For further information call 707.468.3207 or e-mail gallery@mendocino.edu.