Mendocino College Symposium
At Mendocino College, part of our Mission is to be an intellectual, economic, and cultural anchor for the region and it is our responsibility and honor to act in a leading public role in the district. Many Americans today are standing up demanding change throughout the US and in our own communities. This is not an easy time, but it is an important one. Change and open, honest discussions are needed.
To better serve our community, we have launched a public lecture series focused on our social and community challenges. This series features our professors speaking on topics of interest/research for them and invited speakers from the community or outside sharing their experiences and expertise. These lectures are a forum for our students and our community to explore the challenges facing our home and our country. We hope this provides a chance to learn, examine and grow in positive and meaningful ways as we strive for a more equitable world where we come closer to achieving the promises of the American Dream for equality, justice and opportunity.
Next Symposium: Tuesday, April 26th, 6:30 PM via ZOOM: https://mendocino-edu.zoom.us/j/94053534554 
The Struggle for civil rights
From Dr. King to Current Voter Law Reform
Mendocino College Symposium
Presented by attorney and long-time civil rights activist Dr. Charles O. Prickett
Dr. Charles O. Prickett is a civil rights worker, lawyer, judge, and educator. He attended the March on Washington in 1963, was a project co-director during the Mississippi Freedom Summer in 1964, and helped organize the Selma-Montgomery March in 1965. He is the author of Remembering Mississippi Freedom Summer and was honored by the NEA with their Carter G. Woodson Memorial Award in 2019.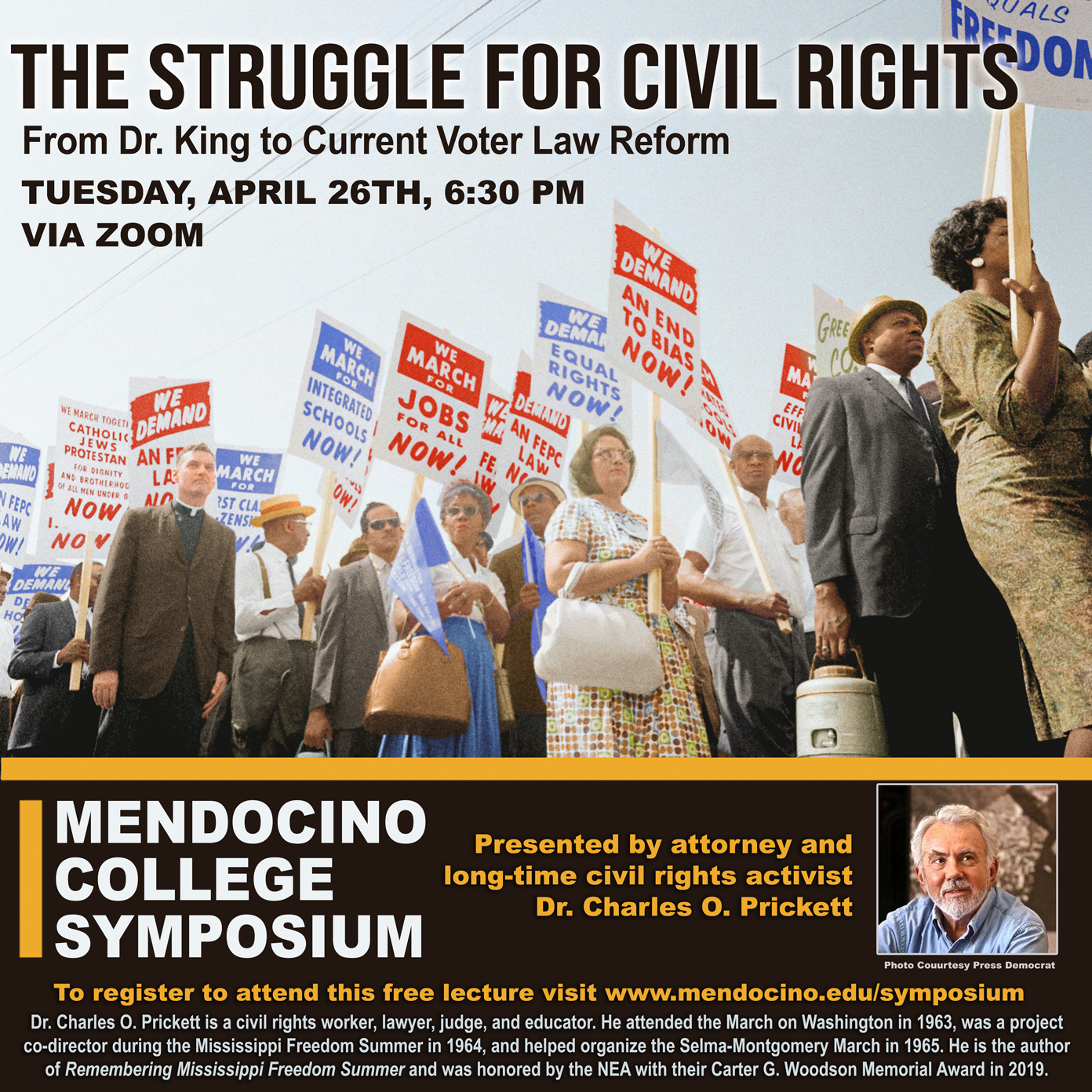 PREVIOUS TALKS
From Zombies to Planet B; Environmental Toxicology and Justice  (Power Point Presentation)
Caring Classrooms and Communities: Supporting Mendocino County Students' Mental Health Needs Now and Beyond the Pandemic (PowerPoint presentation)
Curious Reactions: Vaccines and Social Response (PowerPoint & Additional Information)
Voter Suppression and Gerrymandering 
Understanding our New Wildfire Crisis: Can We Tame the Blazing Beast?
ADA Compliance: Persons with disabilities needing accomodations, please notify the Public Information Office phone at 468-3012 or email at jbird@mendocino.edu no later than 24 hours prior to the scheduled meeting or event.