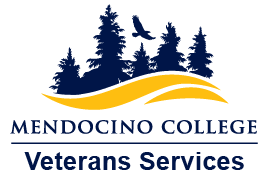 Welcome to Mendocino College Veterans Services and the Veteran Resource Center!
Connect with us at: veterans@mendocino.edu or 707-468-4602
Visit us in MacMillan Hall Room 1240
We can help you with the following services:
Assistance with the Mendocino College application and registration process
Eligibility for priority registration
Evaluation of military transcripts and DD-214s for college credit
Information regarding VA education benefits
Initiating and processing VA education benefits
Evaluation of educational progress toward degree and certificate programs
Connection with community resources
Textbook Lending Library
Applying for graduation
HOURS OF OPERATION
Monday, Tuesday, and Thursday: 10am-4pm
BECOMING A MENDOCINO COLLEGE STUDENT
We want you to succeed and achieve your goals and so require that all new and transfer students complete the matriculation process.  The following 
RESOURCES
California Department of Veterans Affairs (CalVet) - www.calvet.ca.gov
Department of Veterans Affairs - www.benefits.va.gov/gibill/
eBenefits - www.ebenefits.va.gov/ebenefits/homepage
Lake County Veterans Services - http://www.co.lake.ca.us/Government/Directory/VeteransServices.htm
Post 9/11 GI Bill U.S. Department of Veterans Affairs Facebook Page - https://www.facebook.com/gibillEducation/
Mendocino County Veterans Services - https://www.mendocinocounty.org/government/health-and-human-services-agency/adult-services/veterans-services
Joint Services Transcripts - https://jst.doded.mil/official.html
United Veterans Council of Lake County, California - http://www.uvclc.org/
WEAMS - http://inquiry.vba.va.gov/weamspub/searchInst.do#content-area
PAY RATES
The following link provides access to the most current pay rates for educational benefits:  http://www.benefits.va.gov/gibill/resources/benefits_resources/rate_tables.asp
Follow us on Facebook!