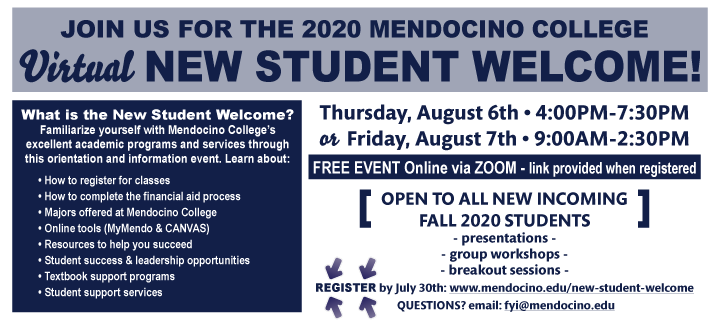 Join the sessions on August 6 &/or August 7 by clicking on the session links below!
New Student Welcome/Bienvenida
You can attend the sessions below by clicking on the title of the session on the correct day and time. The titles will be linked to the Zoom meeting links on August 6 & August 7. You can participate in all sessions or just the ones that are helpful to you.  Note: FYI, EOPS and CAMP students are required to participate in their corresponding program session on August 6 or August 7.
Para participar en una sesión, haga clic en el título de la sesión en el día y hora correspondiente.  Los títulos tendrán un vínculo a Zoom el 6 y 7 de agosto. Puede participar en todas las sesiones o solo las que sean de interés para Ud.  Nota: Estudiantes nuevos en los programas de FYI, EOPS y CAMP necesitan participar en una sesión correspondiente a su programa el 6 o 7 de Agosto.
Thursday, August 6/jueves, 6 de agosto
Required for all new FYI students

Information on FYI services & how to obtain them

Required for all new EOPS students

Information on EOPS services & how to obtain them

Required for all new CAMP students

Information on CAMP services & how to obtain them

For any interested students

Information on how to succeed at Mendocino College

Para estudiantes interesados

Información acerca de como tener éxito en Mendocino College

Learn about financial aid options at Mendocino College

 

Learn about the online resources you will use at Mendocino College (Canvas, MyMendo, online tutoring, etc.)

 

 

 

Get direct support from IT staff

Get direct support from Admissions staff

Get direct support with questions on how to become a student at Mendocino College

Get direct support from financial aid staff

 
Friday, August 7/viernes, 7 de agosto