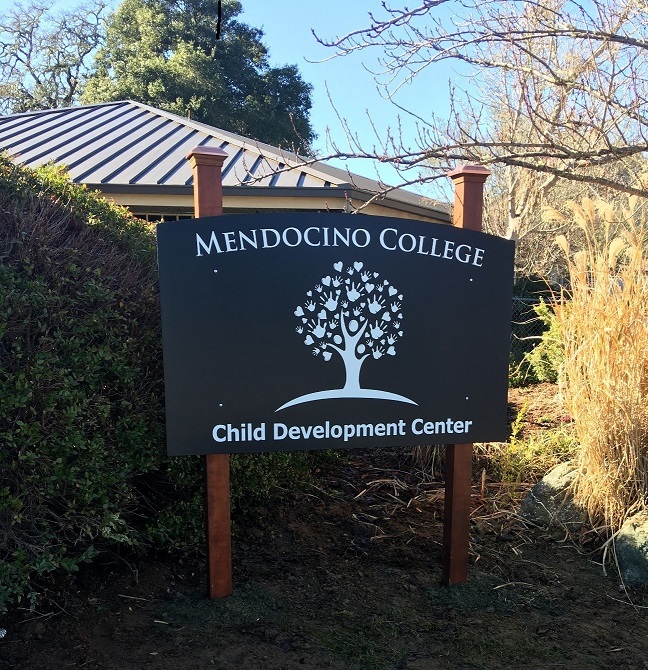 The Mendocino College Child Development Center has been serving the college community since 1978. It is a child development center for children 18 months to 6 years old and is designed to serve three goals:
Child Care
Student Training
Parent Education
Child Development students observe and work with children in the daily program.
PHILOSOPHY
The staff at the Child Development Center believe that a high quality early childhood education program will provide a safe and nurturing environment, which promotes the physical, social, emotional, and cognitive development of young children while responding to the needs of  families. We offer a well-planned, developmentally appropriate curriculum based on individual needs of the children. We provide a consistent core of well-trained staff and referral/support services for families as a whole. The Child Development Center is operated on a non-discriminatory basis offering equal treatment and access to services without regard to race, color, religion, sex, national origin, or ancestry.
TEACHING STAFF
The teachers are well qualified, certified professionals in Early Childhood Education. The associate teachers have units and experience in ECE. Parents and Work Study students also assist in the classrooms. Students enrolled in Early Childhood Education classes participate in the classroom to gain experience.
TODDLER PROGRAM
The Child Development Center has one classroom-which we refer to as the Duckling room-for children who are 18 months to 30 months old. The Ducklings classroom focuses on respect for the child in all interactions and activities and sensitivity to cultural background. The teachers attend to the individual need's, which create the important bond between child and caregiver in the absence of the parent. Routines such as diapering, toileting, eating and sleeping are considered key learning experiences for the children as well as activities in art, music, large and small motor, sensory play, pretend play, and language.
PRESCHOOL PROGRAM
The Child Development Center also offers care for children for 2 ½ -6 years in two preschool classrooms: the Starfish and Dolphins. The program provides a developmentally appropriate approach that includes periods of child-initiated play and Teacher-directed activities. The Center staff strives to create an atmosphere in which individual needs of the children can be met in a comfortable, supportive setting. Indoor and outdoor activities include art, music, fine and gross motor activities, woodworking, dramatic play, rich language experiences, science and nature, cooking, and emergent ideas that the children develop. Healthy meals and snacks are provided in a relaxed, family-style manner, and an opportunity or rest is included in a typical day. Occasional walking field trips are taken on-campus, and community resources are brought into the classroom for added interest and exposure. The primary goal is to maintain a child-oriented, nurturing environment that is rich with variety and choice.
SCHOOL HOURS
The Child Development Center follows the college calendar- opening the first day of classes and closing the last day of finals. The Child Development Center also runs an intersession during winter and summer months.
The Child Development Center is open from 7:45 am-5:15 pm Monday through Friday.    
PARENT PARTICIPATION
All parents are encouraged to participate in the children's programs. College units can be obtained for regular weekly participation. All student parents receiving subsidized childcare are required to register for 1 unit of CDV 70, which requires two hours of parent participation per week and scheduled parent meetings.
FUNDING AND FEES
Depending on your income and need for childcare, you may be eligible for subsidized childcare under a grant from the Department of Education.
SUBSIDIZED
Subsidized childcare is provided for families that qualify. There may be a monthly co-pay based on a families'gross monthly income.
 PRIVATE PAY
The Child Development Center also has childcare slots available on a private basis, for families who do not qualify for full or partial subsidy.
Private pay charges are as follows:
TODDLER
18 months-3 years old        Full day (6.5 hours or more)                $55.50
PRESCHOOL
3 years- 6 years old        Full day (6.5 hours or more)                $42.00
                
If you are interested in visiting please call (707) 468-3089.
If you are interested in applying for a slot at the center for your child, please complete the application and then:
Email it to jwood@mendocino.edu, or
Fax it to (707) 467-1059, or
Mail it to Child Development Center, 1000 Hensley Creek Road, Ukiah CA 95482
Feel free to call the Child Development Center at (707)468-3089 if you have any questions, need to update information on your application, or would like more information.