March 30, 2019 - 9:00am
to
March 31, 2019 - 4:45pm
The Ukiah Uke Tones in partnership with the Mendocino College Recording Arts and Technology Club present the Ukiah Uke Fest 2019! Featuring Daniel Ward and Heidi Swedberg, Workshops, Jams, Open Mic, U-Bass Petting Zoo, with an evening concert starting at 7 PM in the Mendocino College Little Theatre. Evening show tickets are $15 in advance and can be purchased at the Mendocino Book Company, Mazahar, and online at brownpapertickets.com. For more information go to our Facebook page: Ukiah Uke Fest 2019.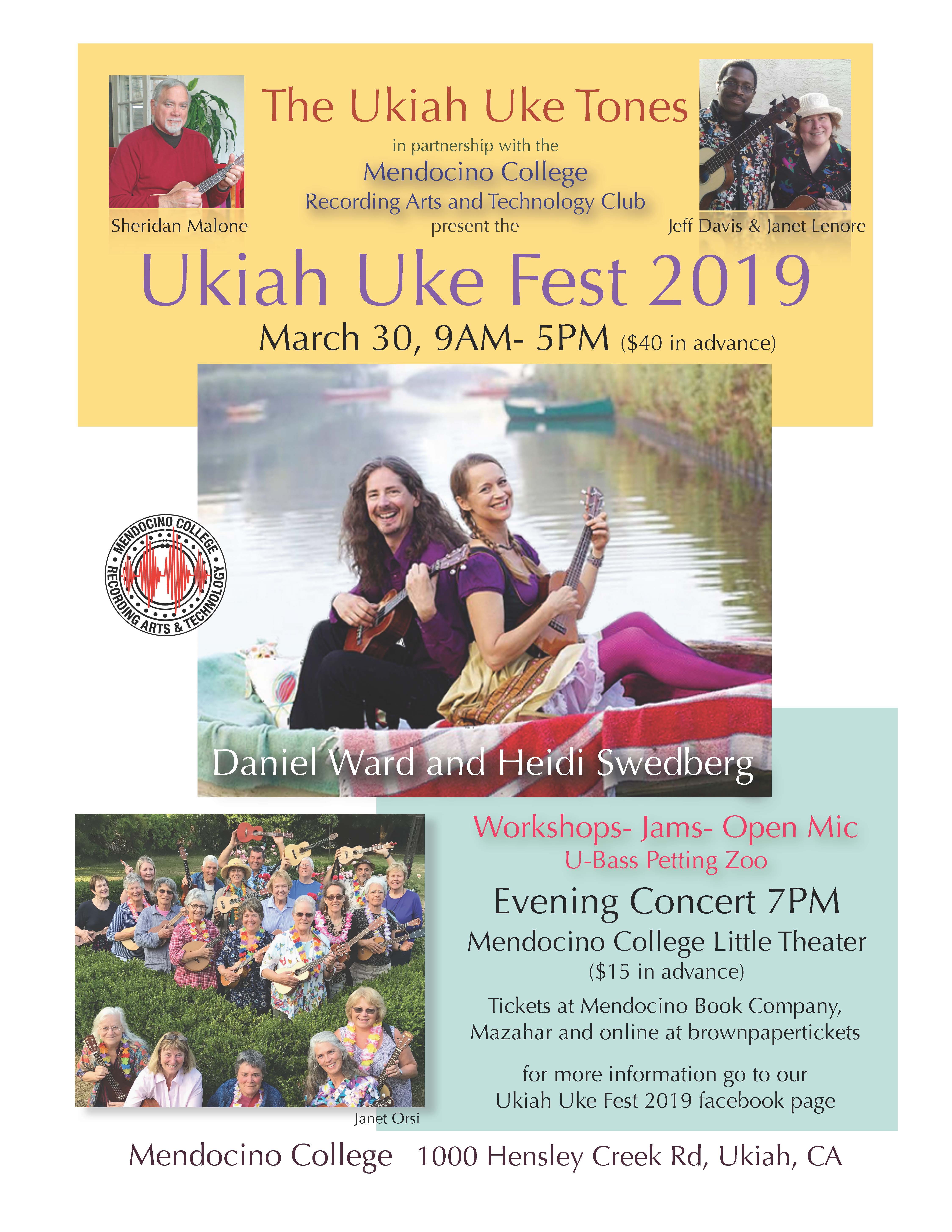 Ukiah Ukulele Festival featuring Daniel Ward & Heidi Swedberg
Saturday March 30, 2019 9AM-9PM
Admission: $50.00 for workshops plus evening show package
$40.00 for workshops only
$15.00 for evening show alone
Tickets for all events will be $5.00 higher at the gate.
Tickets will be available locally at the end of January 2019
Mendocino Community College
recording arts and choral music rooms.
Lowery Library small theater
1000 Hensley Creek Rd, Ukiah, CA 95482

UUF 2019 Tentative Schedule
9-10 Sign in / Group Jam w/ the Ukiah Uke Tones- Little Theater
10-10:15 Welcome and Instructor/ Workshop Intros
10:30- 11:40 Workshops
Heidi Swedberg- Hawaiian for Beginners- Band Room
Daniel Ward- Melodic Meditations- Choral Room

11:40-1:10 Lunch/ Small Group Jamming/ Open Mic

1:20- 2:40 Workshops
Heidi- Monkey Around- Band Room
Daniel- Latin & World Strums- Choral Room
Jeff Davis- Intro to u-bass- Piano Room
3:00- 4:10- Workshops and Activities
Janet Lenore- Beatles Song Circle- Choral Room
Sheridan Malone- Beyond Strumming- Band Room
4:25- 5 Group Jam/ Farewell - Little Theater

7-9 Concert- Little Theater
Ukiah Uke Tones, Janet and Jeff, Special Guest?, Heidi and Daniel

New! Teacher Bio Info:

Heidi Swedberg
Heidi Swedberg was born in Hawaii, the youngest in a family of of four girls where music was a regular part of family life. Singing at church, in the car or around the piano are her most treasured memories. When she was 5 years old the Easter Bunny left ukuleles for all four Swedberg girls, and she has played one ever since. Her family relocated to New Mexico, where she grew up in suburban Albuquerque. Her love of literature led her to acting, and she studied at the University of New Mexico before moving to Kentucky to study as an acting apprentice and costume intern at Actor's Theatre of Louisville. While there, she was cast in her first film, Norman Jewison's "In Country", launching a 20+ year career in film and television. Having children re-focused her life. Singing and playing ukulele with them brought her so much joy that she found herself drifting away from auditions and into the classroom. Teaching led to recording which led to performing. Collaborating with Daniel Ward opened vast musical doorways. Heidi enjoys sharing music with all ages. She especially loves performing in schools, museums and libraries, which she considers the saviours of the universe.

Daniel Ward
Daniel Ward was born in the atomic city of Los Alamos NM, where his father was a scientist and classical music conductor. Growing up in New Mexico meant being exposed to a wide variety of musical styles, including Mexican mariachi, Spanish flamenco, world music and jazz. By the time Daniel completed his degree in classical guitar and composition, he was also playing electric jazz, flamenco guitar with dancers, percussion, trumpet, lute and world beat music.
Since then, he has become a premier ukulele performer and clinician known for his command of Latin and world styles, with an expressive right hand that delivers beauty, speed and force. He has been a featured performer and workshop instructor at festivals across the United States and abroad and enjoys contributing lessons to both Ukulele Magazine and Acoustic Guitar Magazine. His CD El Ukulele is an adventure in what the ukulele can do.
Daniel is known as a teacher who can break down complicated forms and techniques in ways that enable players of all levels to absorb and enjoy the material. He is a well-rounded musician, who loves working with children and adults. As a performer and a teacher, Daniel believes the ukulele holds an important place in music and music education for all ages. Learn more about Daniel, access his video lessons and find his catalogue at his website, danielward.net.

Jeff Davis
For Jeff Davis, playing the electric bass guitar is a favorite form of expression. Jeff and Janet lead an informal U-Bass workshop at the 2018 Mendocino Ukelele Festival and they've been asked to make it official in Ukiah this year. He has played at large and small ukulele jams and performances for several years including the Berkeley Ukulele Club, Santa Cruz Ukulele Club, Ukes on the Loose and Bronco Billy's Fremont Ukulele Jam. Jeff's current bands emphasize blues, pop, singer-songwriter, and folk. In his past performances, he supported Brazilian jazz, Irish sessions, and pre-War jug band blues in addition to the usual rock and pop songs. Originally from New York, Jeff's musical influences include bassists Stanley Clarke, Paul McCartney and James Jamerson. He makes his home in the San Francisco East Bay with singer-songwriter Janet Lenore.

Janet Lenore
Janet Lenore has taught week-long classes for adults at the California Coast Music Camp and Puget Sound Guitar Workshop. In 2019, she'll be teaching ukulele at Lark Camp. She's previously taught ukulele workshops and performed at the Mendocino Ukulele Festival, Napa Valley's Wine Country Ukulele Festival, Ukiah Ukulele Festival, Santa Cruz Ukulele Club, Burning Uke, Smoldering Uke, the San Francisco Free Folk Festival, and several Ukes On the Loose events. Janet has been a jam leader at the Ukulele Magazine Christmas Jam, the Kate Wolf Music Festival, the Palo Alto Festival for the Arts, the Berkeley Ukulele Club, Bronco Billy's (Fremont) Ukulele jam, and the Alameda Ukulele Club.
By age 15, Janet became a performing singer/songwriter. Coming from a family of educators, she starting teaching guitar while still in high school. Janet has two recordings, "The Ladies of My Family" and "Pie & Four Other Tasty Treats." She makes her home in the San Francisco Bay Area with her bass playing husband Jeff Davis and their two kitties.

Sheridan Malone
Sheridan Malone has lived in Ukiah since 1972. He's a singer and songwriter and has been playing and singing since he was in seventh grade. A teacher of vocal technique and harmony, he also plays ukulele, guitar, and upright bass. He's taught for the last six years at RiverTunes Camp, plus workshops at Ukes On The Loose, California Bluegrass Association Camp, Walker Creek Music Camp, El Cerrito Free Folk Festival, and an Art Stay voice and ukulele workshop at Emandal in Willits. He performs regularly around Northern California, and gives private voice lessons. He loves experimenting on the uke and has made a workshop out of double stops, which embellish nearly every style of music.