Sustainability at Mendocino-Lake Community College District
What is sustainability?
"Sustainable development is development that meets the needs of the present without compromising the ability of future generations to meet their own needs."
Prioritizing sustainability is imperative to preserve the environment and address climate change. Sustainable choices also often save money and lead to better health, well-being, learning, and productivity.
The district is prioritizing sustainability in policies and decisions related to energy, water, and waste reduction and diversion.
Energy Use
As a state entity, the district is required to comply with Executive Order B-18-12 that orders all newly constructed state buildings, major renovations and 50% of existing state buildings to be Zero Net Energy (ZNE) by 2025. To reach Zero Net Energy, a building or campus must use only as much energy as is produced annually on site from renewable sources. The district aims to meet and exceed this goal by reaching Zero Net Energy at all sites by 2030.
Mendocino College already receives about 52% of its electricity each year from our solar field, installed in 2009. The campus's total energy use (including electricity and gas) and solar energy generation are shown below.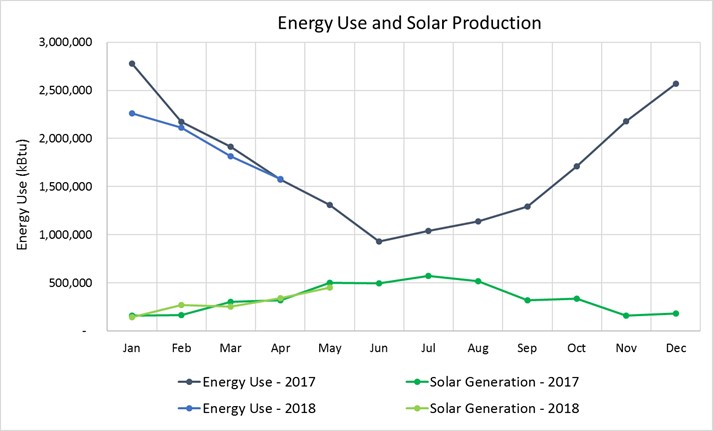 The district has worked to reduce its energy use through many energy efficiency projects, such as installing occupancy sensors for heating and air-conditioning in most buildings and LED lights in multiple buildings, in parking lots, and along walkways. Combined these upgrades save enough electricity to power 9 average homes.
The facilities department also continues to replace older, less efficient equipment, and ensure heating, air conditioning, and lighting systems are not on during breaks and when spaces are not in use.
In 2018, we have used 10% less energy than in the past 5 years at Mendocino College – preventing the release of about 40 metric tons of greenhouse gases into the atmosphere!
Look out for our solar electric security cart around campus! Thanks to the Sustainable Technology solar class students for helping us power our cart on renewable energy!
-MLCCD Facilities Department