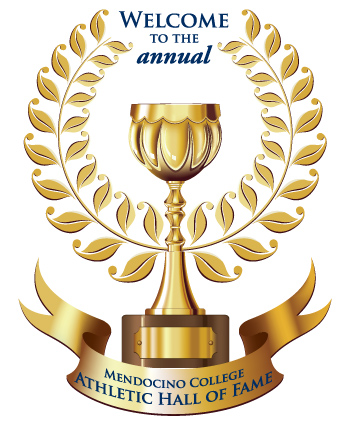 If you would like to nominate someone,
please download the form below
Hall of Fame Nomination Form - pdf format
Hall of Fame Nomination Form - Word format
May 6th, 2017 10th Annual Hall of Fame
Inductees:  2004 Mendocino College Softball Team; Shane Roberts, Baseball; Bryan Schmidt, Baseball; Bob Babson, Football; AJ Antoni, Softball
Purchase tickets here: brownpapertickets.com
April 18th, 2015 9th Annual Hall of Fame:
Inductees: Summer Adams, W/Basketball & Softball 2002-04; Ed Morgan, Baseball 1990-91; Michael Nordyke, Football 2001-02; Bruce Weselsky, M/Basketball 1973-74; Kurtis Woodard, Football 2000-01.   And, the Special Recognition Inductee is: Charley Myers.
September 7, 2013 8th Annual Hall of Fame:
Inductees:  Kevin West (1997-1999) Baseball; Archie Jean (1989-1991)
Baseball; Jim Brown (1973-1975) Baseball; Corie Wachter (2002-2005)
Softball; Megan Farr (2002-2004) Softball; Jermaine Jacobs (2006-2008)
Football; & Bob Willeford, Special Recognition.
March 24, 2012 7th Annual Hall of Fame:
Inductees: Jo'Dane Craigman (2004-2006) Football; Sue DeWilde (1990-1992) Volleyball; Erin Furlong Kuh (1999-2001)  Cross Country, Track & Softball; Johnny Smith (1978-80) Football & Baseball; & Dan Stacey (1976-1979) Baseball.
2011 6th Annual HALL of FAME:
This year's student/athlete inductees include: TJ Bird (Baseball 1998-2000), Lisa Falleri (Volleyball/Basketball), Ben Riley (Basketball 1996-98), Brian Sallee (Football 2002-03), Marc Selberg (Football 1999-2000).
2010 5th Annual HALL of FAME:
This year's student/athlete inductees include: Damien Bird (Baseball 1998-99), Tommy Curry (Football 1999-2000), Kevin Smallcomb (Baseball Coach 1992-2002), Jody Steliga (Basketball 2007-2009)
2009 4th Annual HALL of FAME:
This year's student/athlete inductees include: Kelsey Dent (Volleyball 2001-02), Jerry Dietrick (Football 1977-79), Peter Garrett (Football 1999-2000), Justin Lappin (Football 1999-00), Sean Leslie (Baseball 1992-94).
2008 3rd Annual Hall of Fame:
Student/athlete inductees: former Eagle and University of California scholarship football player Jeff Schueller (1988), All-State softball athlete and Sonoma State graduate, Desiree Schroeder (2001-03), MC college All-American baseball player, Academic All-American, and scholarship athlete at Cal State Fullerton, Matt Belfanti (1988-89), Former MC basketball standout and Chico State athlete, Yancy Clark 1979-81, and two sport athlete (baseball and football), from the Eagles first football program, Dale Fischer (1977-79).
2007 2nd Annual Hall of Fame:
NFL player highlights Mendocino College 2007 Athletic Hall of Fame selections Five new members were selected to the Mendocino College Athletic Hall of Fame in December, 2006.                      
Ronnie Cruz, who played football from 2000-2001, was selected to first team all-conference both seasons.  He is the single season rushing leader for Mendocino College with 1,752 yards.             
After being named all-state and finishing second in the state in rushing in 2001, Cruz accepted a scholarship to play at Northern State University (SD).           
The former Clearlake High School standout was the starting fullback for the National Football League's (NFL) Kansas City Chiefs this season prior to being injured.           
As an outfielder, Tim Angiolini (Upper Lake High School) was selected first team all-conference, All-Northern California and All-American in 1996 and 1997.  Along with his accomplishments on the field, Angiolini also achieved success in the classroom and was named academic all-conference in 1997.           
After playing for Mendocino College, Angiolini earned a scholarship to the University of South Carolina and was named All-Southwestern Conference.
Bernie Sopp (Ukiah High School) was selected all-conference and all-state as a defensive lineman in 1993 and was a member of two championship teams in 1993 and 1994.  Sopp earned a scholarship to the University of Montana, where he was a two year starter.      
Angela Mantele (Lower Lake High School) played volleyball from 2000-2001 and was selected all-conference and academic all-conference.  In 2001, Mantele was selected California Community scholar athlete of the year and earned a scholarship to Holy Names University in Oakland, CA.             
Warren Galletti (Ukiah High School) played both basketball and baseball while attending Mendocino College from 1984-1986.  Galletti was selected first team all-conference in baseball and was captain on the basketball team.  Galletti earned a scholarship to play baseball at Division I University of San Francisco and presently is the head basketball coach and principal at Point Arena High School.           
Receiving special recognition is Glenn Erickson, who served for several years as the Ukiah Daily Journal's sports editor.
12 Inducted to 1st Annual Athletic Hall of Fame at Mendocino College 
Monday, February 20, 2006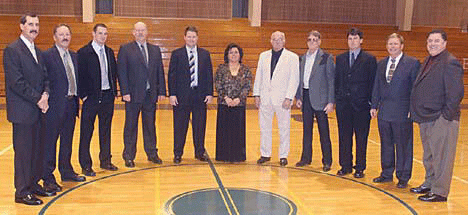 By Brian Sumpter -- Record-Bee sports editor
Inductees: Rick Hayes (football, 1976-77) and Drew (1976-2005) were former Clear Lake High School standout Randy Sondag (football, 1998-2000), former Upper Lake High School star Jerry Ward (baseball, 1973-75), Rod Dockins (baseball, 1973-75), Jeff Burrell (baseball and football, 1976-78), Dennis Willeford (football, baseball, 1977-78), John Gastineau (basketball, 1977-79), Kurt Ehmann (baseball, 1989-90), Anne Ibarra-Bobich (softball, 1990), Paul Cronin (football, 1992-94), and longtime Mendocino teacher, coach and athletic director Ed Boyle (1973-present).
The inductees all received beautiful 10-karat gold Hall of Fame rings as well as plaques. Identical plaques will also be on permanent display in the foyer at the Mendocino College gym in the designated Hall of Fame section.
Many of the induction speeches were memorable, if for different reasons.
Please be advised that this site is the only sanctioned site that provides information about our program, coaches and student / athletes. Mendocino College does not sponsor any other athletic sites, and you are advised that information provided at other sites about our program may be inaccurate, misleading and is being done without the consent of Mendocino College.