Set against the backdrop of an eternally rotating cosmos, in the 1630's Spain of the Inquisition, in which the Kingdom of Castille seemed to be the center of the universe, José Rivera's modern play Sueño brings to life swashbuckling soldiers, a prince locked in a desolate tower since his birth, love affairs, political humor, and scenes of violence mixed with moments of poetry and dreams. This is the world of the latest creation of the  Mendocino College Theatre Arts Department: José Rivera's Sueño, a contemporary adaptation of Pedro Calderón de la Barca's classic Spanish drama about love, revenge, dreams and forgiveness.   The play will run October 20-29 in Mendocino College's Center Theatre on the Ukiah Campus.  According to the director, theatre professor Reid Edelman, "Sueño is an entrancingly beautiful and poetic play, one which asks eternal questions about the nature of our humanity."  

Sueño opens on Friday October 20, 2017. Performances will run for two weekends only, through October 29. Performances are Friday and Saturday October 20 and 21 at 7:30 PM, Thursday, Friday and Saturday October 26, 27 and 28 at 7:30 PM, and Sunday October 29 at 2 PM. Tickets ($20 general; $15 students and seniors) are available at the Mendocino Book Company, Mendocino College Bookstore, and online at www.ArtsMendocino.org . The performance on Thursday October 26 is a special discount night, with all tickets costing only $10. Audiences are encouraged to purchase tickets in advance. 
Sueño, meaning "dream" in Spanish, is the story of Prince Segismundo, heir to the Spanish throne.   Imprisoned at birth when astrologers predict his reign as king will result in the country's ruin, the brilliant and passionate Segismundo is raised in isolation.  When his father, King Basilio, finds his own life ending without an heir, he releases his son and places him on the throne.  He reasons that if the young prince is gentle and civilized, he will be allowed to reign. If he is wild and barbaric as the stars predict, he'll be sent back to his prison and told that his brief moment of freedom and power was only a dream.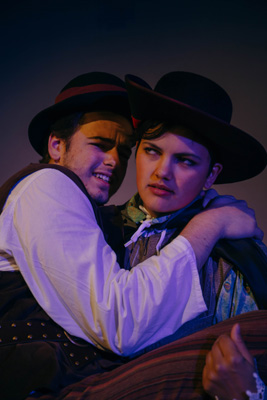 Owen Browne (Clarin) and Lindsey Chapman (Rosaura) in the Mendocino College production of José Rivera's Sueño.   (photo by Ilena Yeru Pegan)
The play was written in 1998 by José Rivera, a contemporary American playwright born in Puerto Rico.  Rivera has written extensively for theatre, film and television, and is perhaps most famous for his award-winning screenplay for the 2004 film Motorcycle Diaries.  Rivera's sharp  language endows Calderón de la Barca's classic Spanish play with a sharp contemporary edge while remaining true to the poetic and dreamlike quality of the original.  The play will be performed in English, though a plot summary in Spanish will be available.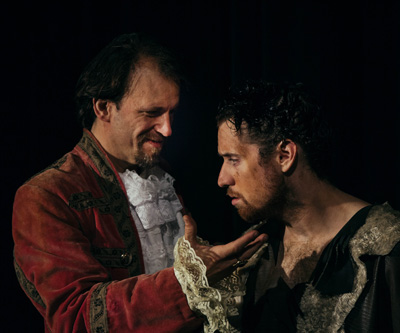 Kevin Klay (King Basilio) and Schuyler Marcier (Segismundo) in the Mendocino College production of José Rivera's Sueño.   (photo by Ilena Yeru Pegan)
The Mendocino College production showcases the emerging talents of nine Mendocino College conservatory students. Among these are Lindsey Chapman as the fiery Rosaura and Owen Browne as her travelling companion, the good-hearted clown Clarin.  Schuyler Marcier plays the central role of Prince Segismundo, and Kevin Klay plays his tormented father King Basilio.   Christopher Griffith and Rickie Farah, as the King's niece and nephew Estrella and Astolfo, add layers of comedy and social commentary through their boundlessly ambitious pursuit of power.   The cast features veteran local actor Jonathan Whipple as the royal advisor Clotaldo.  The talented and energetic cast also includes Jasmine Byerley, Teresa Etter, Joni McLeod, Marcus Phillips, Paloma Rodriguez and Ari Sunbeam.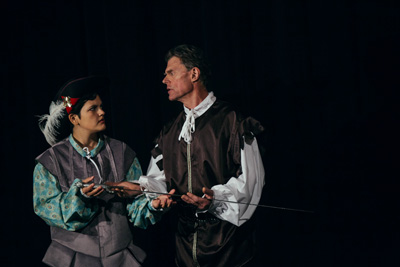 Lindsey Chapman (Rosaura) and Jonathan Whipple (Clotaldo) in the Mendocino College production of José Rivera's Sueño.   (photo by Ilena Yeru Pegan)
The production's impressive scenery, lighting, costumes, and sound design are being created by Mendocino College students under the direction of faculty & staff members Steve Decker, Kathy Dingman-Katz, and David Wolf.  Professional Bay Area fight director Carla Pantoja, a visiting guest artist, is building the play's exciting stage combat scenes. College dance director Eryn Schon-Brunner is creating the dance sequences. Stage management is by conservatory student Kristin Hills with the assistance of Virginia Hanley, Joni McLeod and Cheyenne Sheehells.  The assistant director is Ilena Yeru Pegan.
For information, call (707) 468-3172 or visit http://www.mendocino.edu/the-arts/theatre.