Mendocino College invites you to the upcoming film screening of More Than a Word.  The screening will be hosted on the Mendocino College Ukiah Campus at 1:30 p.m. on October 10th in the Little Theatre (Lowery Building).
More Than a Word analyzes the Washington football team and their use of the derogatory term R*dskins.  Using interviews from both those in favor of changing the name and those against, More Than a Word presents a deeper analysis of the many issues surrounding the Washington team name.  The documentary also examines the history of Native American cultural appropriation.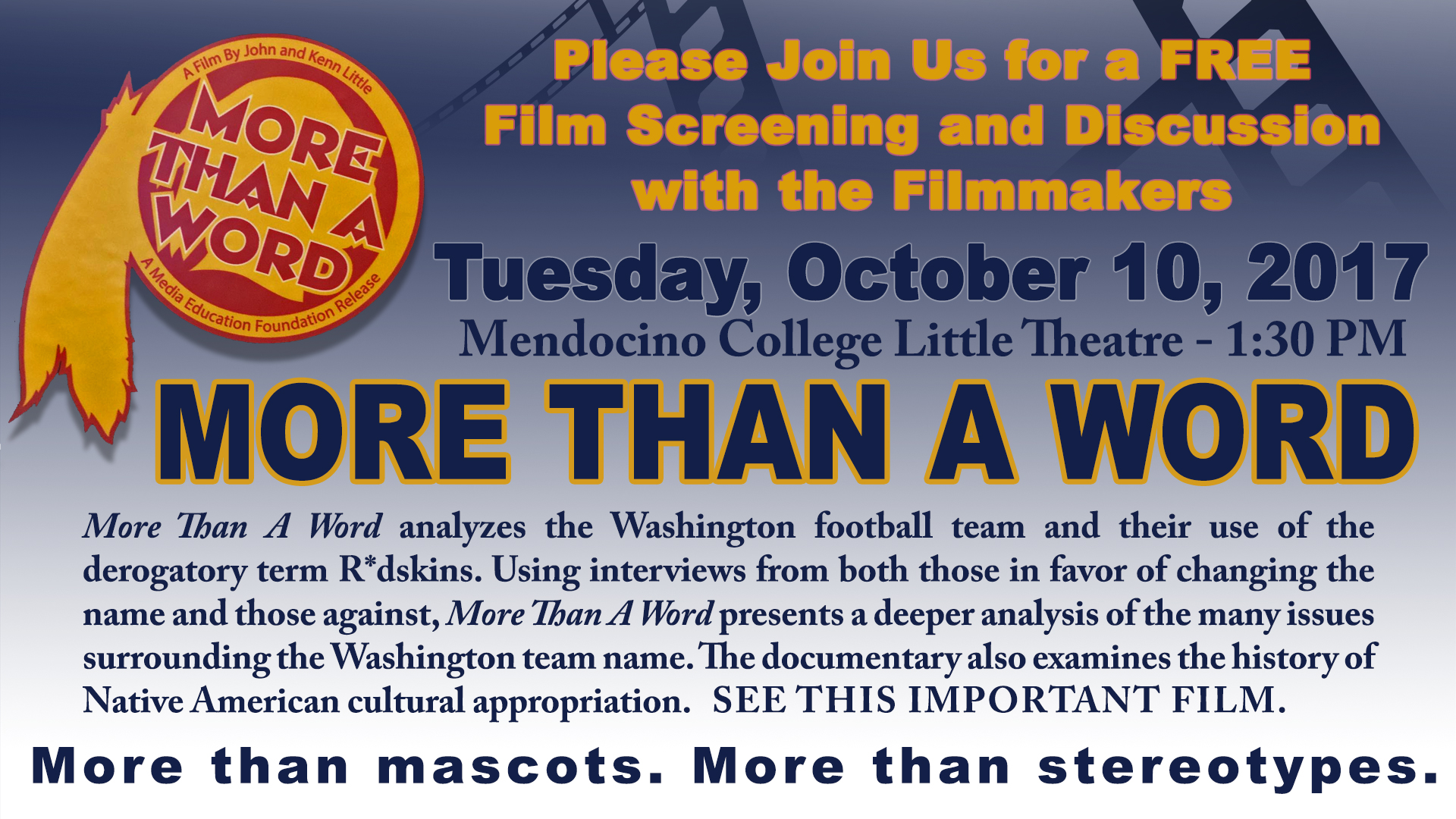 Please join us for this important film, including an opportunity to meet the filmmakers!  Founders of Black Tongue Dakota Media, filmmakers John and Kenn Little, will be present for a Q&A and filmmakers discussion.  
Filmmaker John Little is enrolled in the Standing Rock Sioux Tribe. He was born and raised in Denver, Colorado and South Dakota. He graduated with his BA from South Dakota State and MA in history from the University of South Dakota. His goals are to write Indigenous people into the historical narrative and help Native students into higher education. His main focus is on Native American veterans, music, cultural appropriation, and mascots. He is currently a PhD student at the University of Minnesota.
Filmmaker, Kenn Little is enrolled in the Standing Rock Sioux Tribe. He was born and raised in Denver, CO and currently lives in Kansas City, MO. He received his BA in Graphic Design and New Media from Full Sail University in 2013. He is a multifaceted artist, writer, videographer and musician and often combines those abilities on his projects.
For more information please visit www.mendocino.edu or www.morethanawordfilm.com.