The Mendocino College Art Gallery is excited to announce its new exhibit, Tomiko Jones:  the space between here and there which opens with a reception on Thursday, September 21 from 4-6 p.m.  Ms. Jones will also be giving an artist's talk on Thursday, September 28 at 4 p.m. on the Mendocino College Ukiah Campus in room 5310 of the Center for Visual and Performing Arts (CVPA).  Following her talk, she will provide a guided tour of the exhibition.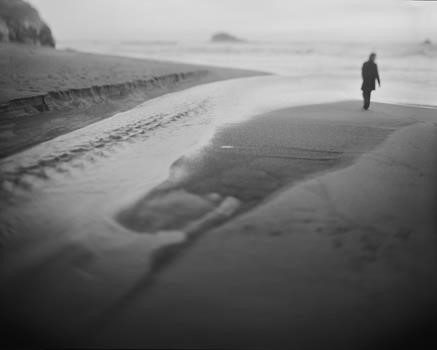 Hatsubon, 2016  
Tomiko Jones is a photographer who explores the external and internal geographies of place.
"Almost every summer, my father would pile us into the car and take us to explore the treasures of the nation, our public lands. In the most classic of touristic gestures we would set forth in a camper. We visited "feats of human engineering" --- dams, bridges and buildings were favorite stops on our way to admire "feats of nature" such as Yellowstone, Yosemite and Niagara Falls. Many, many miles of open land lay between our excursions, and watching the American landscape pass by out the panoramic window of the camper shell had a profound effect on me over the years. I would want to stop and explore, but as we were always headed for a destination, there was never enough time. This created in me a longing to return.
The overarching element throughout my work is a relationship to place, a loose mapping of a landscape and interiors that echo the internal terrain of thought. Water is ever present, shaping my identity. It represents generational migration from Japan to Hawai'i to California, to Washington and is imaged in photographic works and as reflecting pools for projected video in site-responsive installations. Growing up in multiple cultures and countercultures, changing paradigms in technology, science and society continues to have an effect on my practice.
Exploring the geography of changing landscapes, I search for places I can feel a sense of communication.  I often work at dusk, when color bleeds from the sky and the sublime reveals itself. As the light of day dims, time and movement become an integral part of the photographic process. I find quiet, yet significant moments in the transitional place between land and water, destruction and reclamation, thought and action."  - Tomiko Jones, Artist Statement, 2017

Jones received her Master of Fine Arts in Photography with a Certificate in Museum Studies from the University of Arizona in Tucson. She is the recipient of awards including the Center for Photography at Woodstock AIR Program, En Foco New Works Fellowship (New York), 4Culture and CityArtists (Seattle), and Pépinières Européennes pour Jeunes Artistes (France). Tomiko was an invited Resident Artist at Museé Niépce in Chalon-Sur-Saône, France, and a Fellow at The Camargo Foundation, Cassis, France.
As Visiting Artist and Curator-in-Residence at California Institute of Integral Studies (CIIS) in San Francisco, Tomiko developed Cumulus, an exhibition and programming series examining environmental issues. As an educator, Tomiko taught in the MFA Program at CIIS, worked as Assistant Professor and Photography Program Coordinator at Metropolitan State University of Denver, redeveloping curriculum to reflect interdisciplinary practices; full-time Faculty at New Mexico State University; and Visiting Professor at Drury University Summer Institute for Visual Arts. She is a national board member of the Society for Photographic Education.   Currently, she is teaching photography at Mendocino College while engaged in a self-directed residency in the Anderson Valley.  For more information, visit http://tomikojonesphoto.com
Tomiko Jones:  the space between here and there runs from September 21 – October 19, 2017 at the Mendocino College Art Gallery, Center for Visual and Performing Arts, 1000 Hensley Creek Road, Ukiah, CA 95482.  Regular gallery hours are Tuesday, Wednesday, and Thursday from 12:30-3:30 p.m. and by appointment.  Contact us at gallery@mendocino.edu or 707.468.3207.